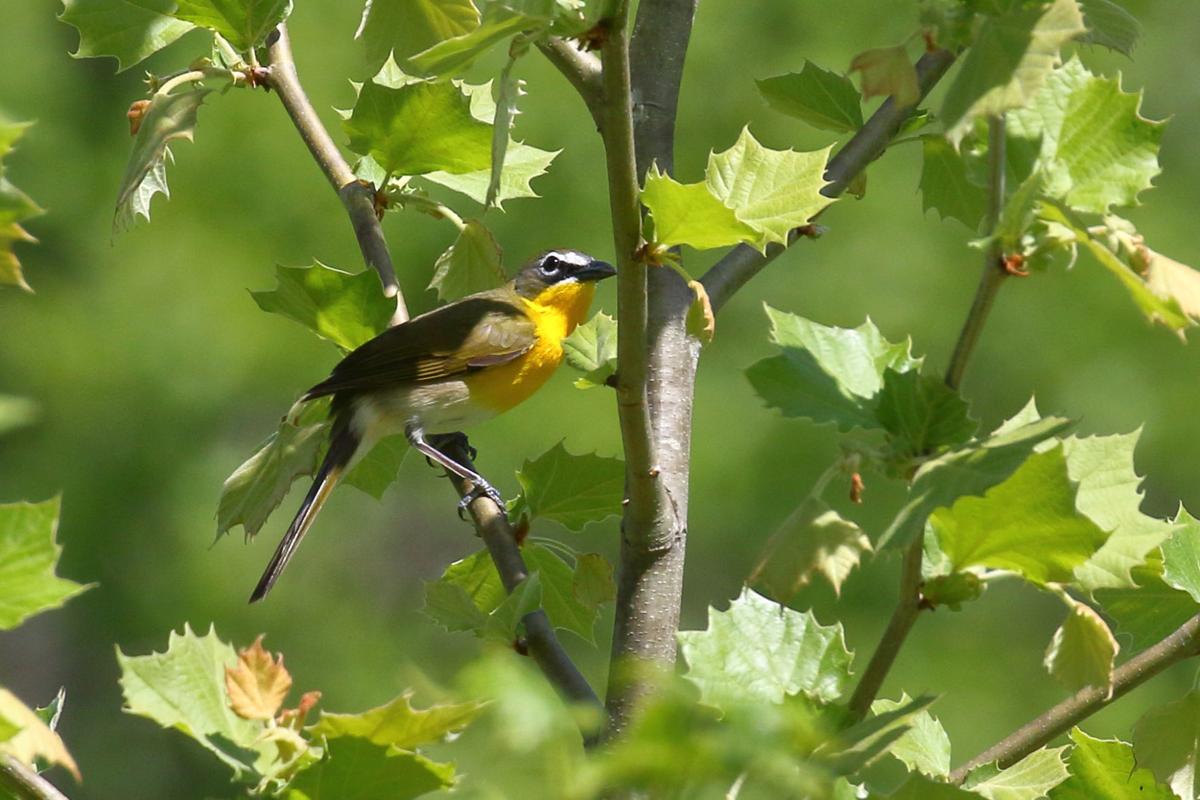 Long Creek Park, 5801 Bethania Tobaccoville Road in Bethania, offers new opportunities for birders and other nature watchers.
Long Creek Park, a relatively recent acquisition by Winston-Salem Parks and Recreation, was a privately owned golf course until it closed in 2016. The owner sold the land to The Conservation Fund and the City of Winston with the understanding that a new park would be developed. Forsyth Audubon bought additional acreage to be added to this park. Piedmont Land Conservancy developed and will hold a conservation easement on a portion of the land.
Several white pines surrounding the parking area attract brown-headed nuthatches, chipping sparrows and pine warblers. Utility poles near a dilapidated service building are a favorite hangout for a mockingbird who was rehearsing his repertoire when I visited recently. The blue-gray gnatcatcher's fussy notes, the red-bellied woodpecker's "chur" and the mewing of a catbird were just the first of several songs he mimicked.
Three former golf fairways branch out from the parking lot, and the old cart paths make for excellent walking through the park, with several miles of trails traversing its 164 acres. The fairway on the left leads to the better variety of bird habitats.
On the left fairway path, the first thing to catch your eye is a dead tree that serves as a favorite roost for turkey vultures and black vultures. Both species will perch with wings spread, either to dry their feathers after a rain or simply to warm in the sun after a chilly night.
At the end of the fairway, the path crosses Muddy Creek on a sturdy foot bridge and climbs steeply into an oak-beech forest. The landscape flattens quickly and opens again, with a second fairway on the right and a broad expanse of dense, scrubby vegetation, formerly the rough of the fairway, on the left.
Indigo buntings, common yellowthroats, prairie warblers, white-eyed vireos and yellow-breasted chats are fond of this scrub habitat and each sings its own unique song. The prairie warbler sings several buzzy notes, each one higher in pitch that the previous one.
Until recently, the yellow-breasted chat was thought to be in the warbler family; however, its coloration — gray back paired with its name-sake yellow breast — was about the only feature that suggested warblers. The chat is much larger than warblers and has a fundamentally different series of vocalizations. Chats are skulkers, and this habitat is perfect for staying hidden, but the bird's general proximity can be easily found by following its peculiar voice, consisting of chirps, whistles, chatters, trills, cackles and more. This variety of calls is reminiscent of the brown thrasher and mockingbird, both renowned for mimicking the sounds of other birds, but there's less mimicry by the chat and more simply odd sounds.
Riparian habitat along Muddy Creek attracts a different suite of birds. An Acadian flycatcher sings its explosive call near the footbridge and a kingfisher announces his presence with his rattling call as he courses along the stream. The Louisiana waterthrush that sang its tumbling series of notes has gone quiet, probably well along with rearing babies that are tucked into a nest hidden at stream's edge.
Even the old fairways, still closely mowed, play host to their share of birds, with chipping sparrows and goldfinches gleaning tiny seeds from dandelion puffballs.
Although the pathways don't venture into adjacent woodland, islands of vegetation between the former fairways hold a variety of mature trees, and woodland birds can be seen along the edges of forested areas. When I last visited, this edge habitat appeared to be particularly attractive to flycatchers. Kingbirds, phoebes, Acadian flycatchers, and great-crested flycatchers had clearly found good insect-hunting in this area. These birds catch more than flies; most flying insects are at risk when a flycatcher is near. They often perch on exposed branches and sally out to pick an insect from the air; usually returning to the same perch where it manipulates the prey in its beak, discarding the legs, then swallowing the more nutritious soft parts.
To get to Long Creek Park, drive north on Bethania's Main Street, cross the bridge over Muddy Creek and the park entrance is on the right.
Improvements to the park have not yet begun, but the paths are open, offering new opportunities for birders and walkers, alike.
If you have a birding question or story idea, write to Bird's-Eye View in care of Features, Winston-Salem Journal, 418 N. Marshall St., Winston-Salem, N.C. 27101, or send an email to birding@wsjournal.com. Please type "birds" in the subject line.