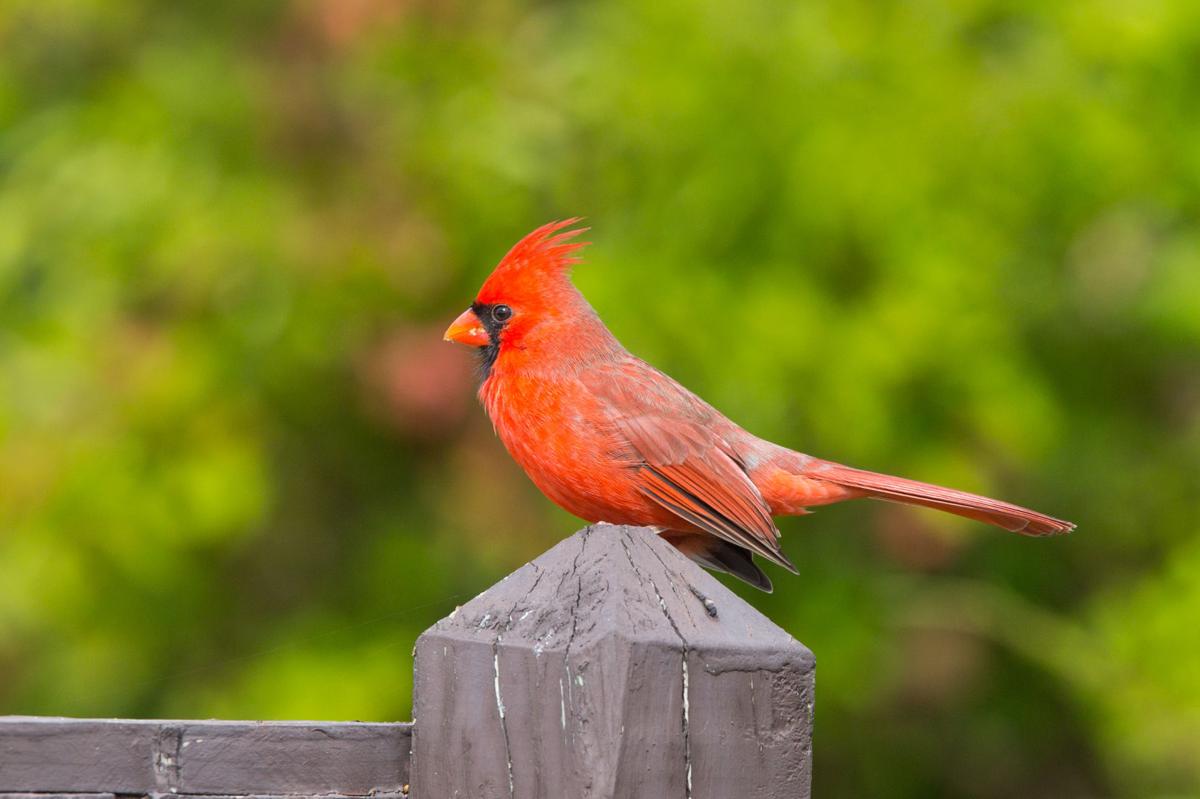 Spring sometimes motivates me to get up at an hour that seems totally unreasonable at any other time of year. And so, when I stepped outside at 5 a.m., I was surprised to be greeted by the unmistakable ringing notes of a cardinal's song. The red bird was already hard at work an hour and a half before sunrise.
Many songbird pairs have very well-defined responsibilities for raising families. Males have one set of tasks, and females have another.
Typically, the male establishes a territory — the place that he has staked out for his family. He does this by singing, often from a conspicuous perch. Singing serves two main functions. It tells his prospective mate that he is a good provider and other males that this spot is taken. If singing is effective in keeping other males away, it saves him the trouble and energy of having to chase them off. But most often, he will have to do both — sing and pursue.
The male often brings food to the female while she's on the nest and helps catch food and feed the babies, too.
The female songbird's job is to select the best place for the nest, build the nest, lay the eggs, incubate the eggs, and feed the babies while they're in the nest and after they leave.
This apportioning of responsibilities applies to most songbirds, including cardinals. But unlike most songbirds, female cardinals sing, too.
The female sings from cover while the male sings from a conspicuous perch, and she tends to sing more softly and from a concealed perch.
Her song serves the same purposes as the male's. It tells other females that the location is occupied and they ought to stay away. But it may also tell the male that it's time for him to bring some food to the nest, either for her or for their newly-hatched nestlings
Whatever her intentions, she matches her mate's songs note for note.
And that can be a lot of notes. Cardinals are known to sing at least 28 different songs and they sing them constantly.
Two of the more common songs are: CHEER, CHEER, CHEER, and PRETTY, PRETTY, PRETTY, PRETTY. See if you can match one of these mnemonics with what you hear. You might also try to see how many different songs your cardinals sing.
And if you think singing for a living is easy, watch a cardinal sing sometime. They really put their hearts into it, and that takes a lot of energy.
With its combination of beauty and singing abilities, it's no wonder that the Northern Cardinal is the state bird of North Carolina and six other states: Indiana, Ohio, Virginia, West Virginia, Illinois and Kentucky.
It's easy for you to enjoy cardinals at home. Just buy an inexpensive bird feeder and stock it with sunflower seeds. Cardinals are far less territorial in winter, and it is often possible to see half a dozen or more taking turns at a feeder — a bright spot of color in an otherwise drab winter landscape.
If you have a birding question or story idea, write to Bird's-Eye View in care of Features, Winston-Salem Journal, P.O. Box 3159, Winston-Salem, N.C. 27101-3159, or send an email to birding@wsjournal.com. Please type "birds" in the subject line.