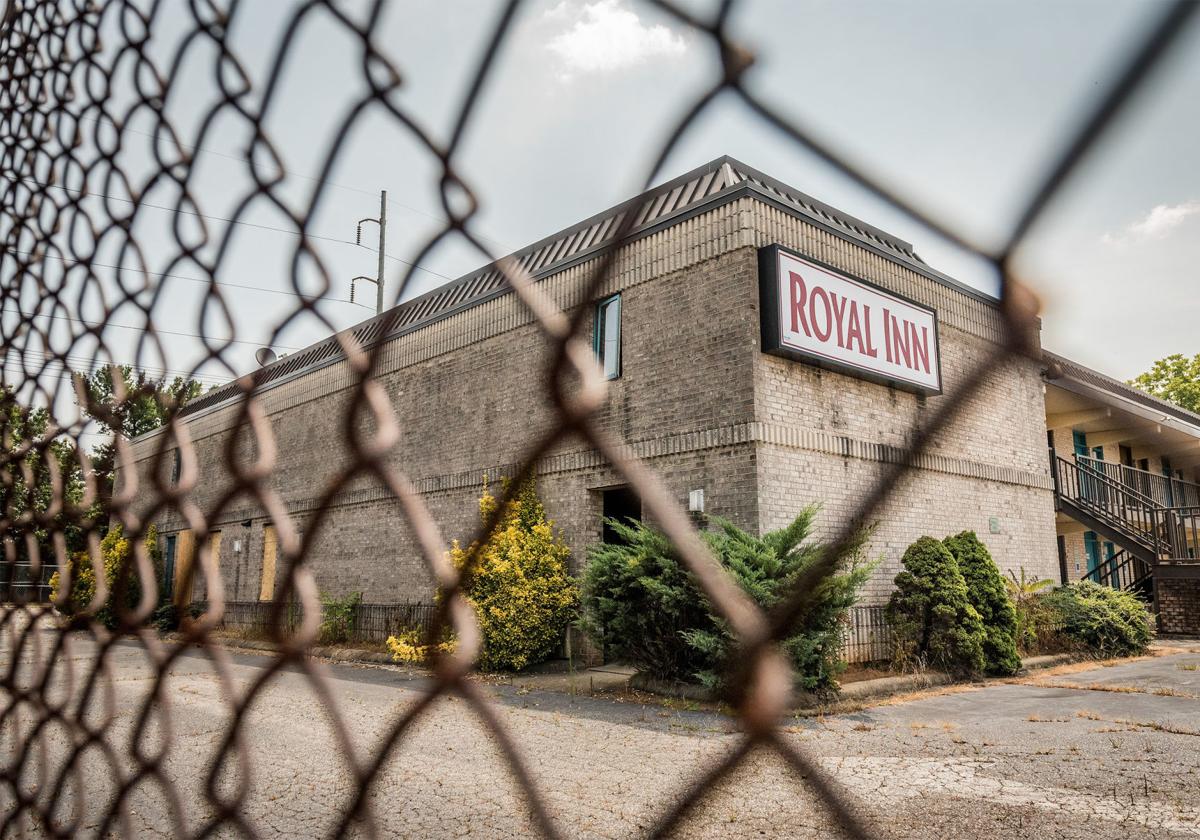 Piedmont International University, after months of local speculation, has purchased the closed and dilapidated Royal Inn property for $925,000.
The seller of the 200 S. Broad St. property was West Salem Partners LLC.
In a separate transaction, Piedmont spent another $925,000 to buy nine tracts of adjacent land — a combined 1.25 acres — from The Liberty Group LLC of Winston-Salem. The tracts are at 217, 223, 227 and 233 S. Green St., as well as 224, 226, 232, 234 and 300 S. Broad St.
Both purchases were completed Friday, according to a Forsyth County Register of Deeds filing.
The university's interest in the closed inn surfaced in June when officials said they were conducting due diligence.
The goal, university President Charles Petitt said Monday, is a phoenix-like revival of the properties while also helping to meet a short-term crunch for student housing.
Petitt said the university is likely to renovate an existing building on the additional nine tracts for administrative office space, in part to free up existing space for expanded athletic offices.
"We will have frank discussions about our options shortly," Petitt said. "There is a desire to have student and faculty input before the board of trustees makes a decision.
"We are going to create a site plan and lay out all of the new properties and existing properties to determine the best use. There is the possibility of constructing a signature building on the inn site."
"This is solid demonstration of the success of the university, and its renovations and repurposing will add to the revitalization of the area," Mayor Allen Joines said.
Piedmont, founded in 1945, has about 1,000 undergraduate, graduate and online students. The current campus sits on 10 acres.
Piedmont, once known to the general public as a training ground for Christian missionaries, has experienced a major growth spurt in recent years.
Seven times in the past five years — five through mergers and two through outright acquisitions — Piedmont has acquired similar schools.
Petitt said the university is anticipating increased undergraduate admissions for the fall of 2019, which would make the student housing pinch tighter.
"We have run out of basically all residential hall space," Petitt said.
Signature building maybe. Donors definitely.
The city condemned the motel in 2015, declaring it a legal public nuisance and forced the owner to sell. A steady stream of arrests for drugs, prostitution, petty theft and low-level assaults were factors in the city's decision.
West Salem Partners paid $560,500 for the property in November 2015.
The purchases represent a significant neighborhood investment for Piedmont, given it wasn't all that long ago that Petitt considered relocating the university because of security concerns.
Petitt said the university would create security barriers at the acquired properties similar to what is being used now on campus.
Petitt said an option is demolishing the motel and constructing a four- to seven-story building at the site that would represent a capital investment in the tens of millions of dollars.
If Piedmont went that route, the plan would be to have the building debut about the time that Business 40/Salem Parkway reopens in 2020.
Petitt said if the decision is to go with the signature building, the university would only need a small portion of that building now. He said that, at seven stories, a proposed building could offer a view into BB&T Ballpark and a new view of the downtown skyline.
"We have our needs for the immediate future, and if we continue to grow, we recognize our needs will be different 10 years from now," Petitt said.
"We would need to find partners and tenants to make that happen with condos or apartments or other uses."
Petitt said one element of the site plan would be to gauge the need and potential risk for downtown rental housing units, as similar projects have come online or are being built.
"We have two hotel operators coming on our board, and our chairman was in the hotel business for years," Petitt said.
"It would have to be a compelling possibility for our donors to get them to write checks because I don't want to borrow our way into this kind of building," Petitt said.
Hotel for
college credit?
Another option is to spend hundreds of thousands of dollars on retrofitting the existing motel property in time for student housing next fall.
"We could renovate and use it for two years for student housing since no one can get to it easily until Business 40 re-opens," Petitt said. "There's the potential for building a residential hall on our property, and then converting the inn property into a hotel."
Petitt said he got the idea for the urban motel property from the College of the Ozarks, a university in Point Lookout, Mo.
Petitt said College of the Ozarks uses a hotel property as a hands-on hospitality curriculum, allowing students — with faculty supervision — to run the hotel from maintenance to management for credit hours.
Piedmont is considering a similar initiative that could include a minor in hospitality. Such a project would allow Piedmont to further capitalize on the business programs gained from its recent acquisition of John Wesley College.
"John Wesley College basically set up a business degree program using the Wharton School of Business model, plus some Bible ethics courses added in," Petitt said. "With no money from marketing, that degree took off for them.
"Now it's ours, and it might be our largest undergraduate degree program the first year we ever offer it."
As city officials have seen, albeit on a larger scale with Wake Forest and Winston-Salem State, universities make for reliable real-estate development partners.
For example, and coincidentally, Wake Forest on Friday completed spending $28.45 million to buy the 328-bed Deacon Place residential community that's located just off the Polo Road entrance into its campus.
Wake Forest also said its acquisition was aimed at easing an on-campus student-housing crunch.
"We are thrilled about the possibility," Councilman John Larson of the South Ward told the Journal in June when asked about Piedmont buying the Royal Inn property.
"If it happens, Piedmont International is in a renaissance, and it will be a major boon for the city as a whole," Larson said.
Petitt said the result with the new properties is to add a showcase look to the neighborhood and Business 40/Salem Parkway corridor.
"We will clean up the entire block to fit in with the new Salem Parkway look and to offer another face into our campus," Petitt said.
"We have the same desire to make it lovely and beautiful as the neighborhood does."