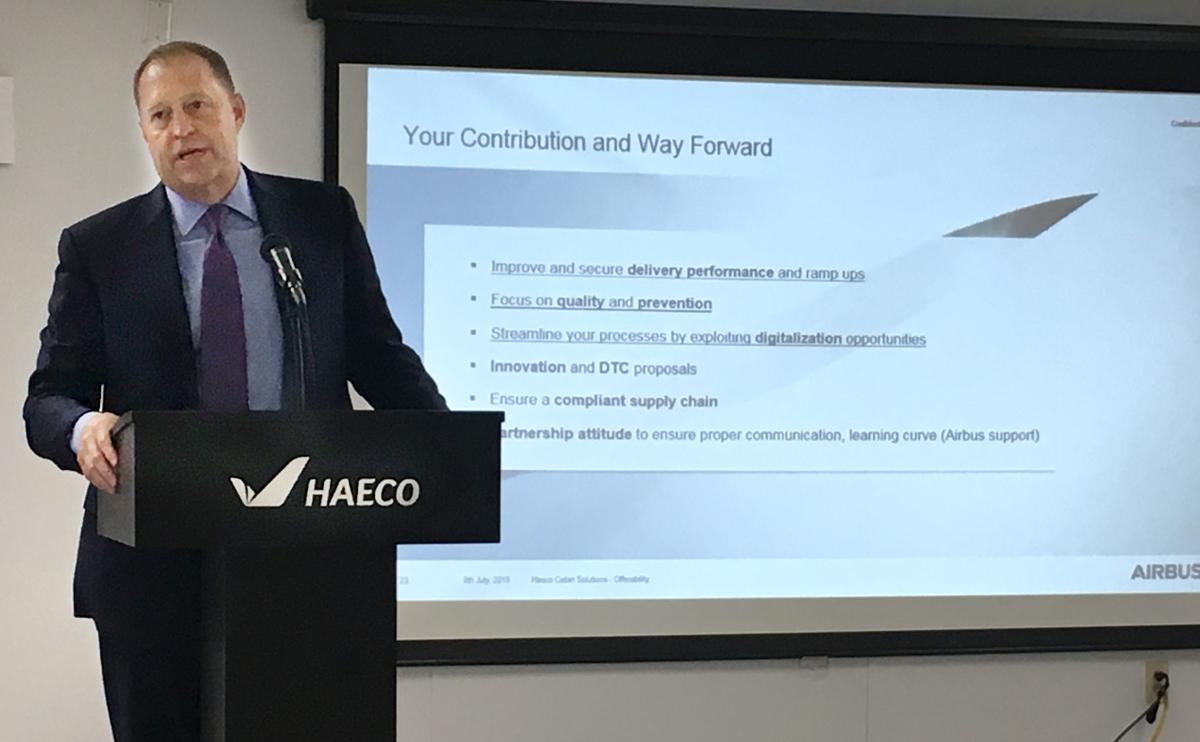 WALLBURG — Two seating lines made by HAECO Cabin Solutions officially gained Airbus' seal of approval Monday for inclusion in its supplier catalog.
HAECO's Vector lines for Airbus' A320 and A350 aircrafts are now included in the catalog for new and retrofit seating. The catalog gets updated once a year in July.
Airbus typically provides customers with the airplane shell and offers a catalog of recommended suppliers from which airlines can customize their interiors.
The Cabin Solutions division designs, engineers, tests, assembles and certifies the Vector brand in Wallburg. The seats feature carbon-fiber construction, which simplifies the production process and reduces raw material and production costs.
The contract signals that Airbus "believes HAECO makes a good product ... that is reliable in terms of design, product, production process and quality," Jorg Schuller, an Airbus senior vice president for cabin procurement, said at a contract signing event in Wallburg.
However, HAECO officials declined to say how many employees it expects to add at the 120,000-square-foot plant off Gumtree Road. It had about 300 employees there in June 2016 when it gave media tours of the Vector seating expansion.
"Adding line-fit (new) offerability demonstrates the trust Airbus had placed in HAECO Cabin Solutions to deliver this seat platform to customers with tighter lead times," said Doug Rasmussen, HAECO's president and group director of the cabin division. "Adding Vector to the Airbus catalog will expedite the process for airline customers to select the platform."
Keith Debbage, a professor of geography and sustainable tourism and hospitality at UNC Greensboro, said the Airbus contract "is a huge deal" for HAECO.
"It's hard to overestimate its potential impact. Airbus is, of course, a major player, and the A320 in particular, is one of the best-selling plane models in the world. "It is heavily used by many major airlines, including American Airlines. It gives HAECO tremendous additional exposure. It's a big plus for the Triad."
Business good for airlines
The Vector seats are part of HAECO's strategy for tackling the long-standing industry challenge of providing comfortable seating, whether in economy, business or first class, while responding to airlines' desire to reducing weight to cut fuel costs.
Rasmussen said HAECO had pursued entrance in the Airbus catalog for years. HAECO achieved Federal Aviation Administration certification in March for its Vector premium seat. It gained the same certification in 2016 for Vector economy seating.
HAECO announced at the ceremony it has signed to provide the new Vector seating to "a sizable carrier in Asia" that it declined to identify.
"We believe we will be able to announce more contracts sooner than later," said David Kelly, the division's vice president of marketing and strategy for HAECO Americas.
Timco pledged in September 2010 to create 500 jobs over seven years to fully qualify for up to $2 million in state incentives under the Job Development Investment Grant program, and a $750,000 grant from the Golden Leaf Foundation for equipment purchases. It also received a $750,000 state community block grant with Davidson County as the conduit.
Commerce spokesman David Rhoades said Timco received $794,491 in state incentive payments under the JDIG program. It also received $159,700 from the One North Carolina Fund.
"The company is no longer participating, as of February (2018), in either grant program," Rhoades said. 
The $388.8 million sale of Timco Aviation Services Inc. to HAECO, formally known Hong Kong Aircraft Engineering Co. Ltd., in February 2014 produced elements of promise and nervousness for the local economy given the size of its workforce.
Aviation analysts say many airlines are trying to reach a fleet balance between keeping aging aircraft operational as long as possible while buying new aircraft that are more fuel-efficient.
Kelly said that before the spike in oil prices occurred a few years ago, airlines wanted a 30- to 35-year lifespan for a plane. Most airlines responded to the spike by ordering newer planes and lowered the projected lifespan to 25 to 27 years.
The catalog placement could be a big boost for HAECO and the Wallburg plant given that Airbus has a current backlog of orders for 7,793 planes, said John Marcheschi, director of procurement for Airbus Americas. The company estimates there could be up to 35,000 new planes ordered globally by 2038.
"Business is good for airlines, so that means business is good for Airbus and hopefully will be good for your company," Marcheschi said.
Addressing the HAECO employees at the presentation, Marcheschi said "you should expect to be challenged by global competition, and you will have to respond with innovation, performance and on time with quality."
"This is the marketplace today, very demanding, but we believe you can meet these demands."
Rasmussen said HAECO is hopeful the catalog placement is just the "first step in what we are confident will be a long-term relationship as a seat provider to Airbus."