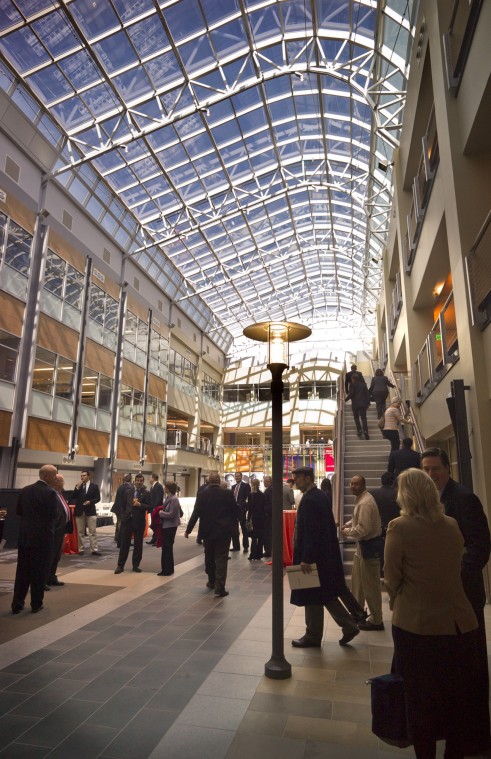 Faith may be a belief in things unseen, but it doesn't hurt to gain two tangible pieces of evidence that Piedmont Triad Research Park is delivering on its promise of transforming Winston-Salem.
Tuesday's debut of the $100 million Wake Forest BioTech Place and Monday's groundbreaking for an $8 million Center for Design Innovation represent a pivotal two days for a community banking on design, life sciences and innovation to drive its economy forward.
The facilities give the park, whose plans surfaced in 1992, clear anchors to its North and South districts, with hopes of stretching the economic potential in between.
The 242,000-square-foot BioTech Place at 575 N. Patterson Ave. is the biggest project in the park and is considered the largest capital investment in downtown Winston-Salem.
Gov. Bev Perdue, speaking Tuesday at a ceremony to introduce the building to community leaders, said she is "hard pressed to find a better example in America of how a community and a region can transform itself from one century into the next" than through examples such as the rebirth of the former R.J. Reynolds Tobacco Co. warehouse building.
The facility will house about 350 Wake Forest Baptist Medical Center researchers and scientists, with some moving in next week. There is room for 100 other employees, such as the park's administrative and marketing employees, as well as space for a business accelerator, the Childress Institute for Pediatric Trauma and Carolina Liquid Chemistries.
"The opening of this modern, high-tech research and innovation center represents a major milestone in Wake Forest Baptist's development and growth of a new biotechnology-based economy in Winston-Salem designed for the 21st century," said Dr. John McConnell, chief executive of Wake Forest Baptist.
McConnell said he has confidence in that statement because the facility meets three key criteria: space for collaboration among scientists and between scientists and entrepreneurs; cutting-edge laboratory space; and elbow room and new resources.
"Facilities are very important to attracting the best scientists to Wake Forest Baptist," McConnell said. "This facility demonstrates our commitment to research and the advancing of that research into commercialized products to benefit health care."
The entrance to the building will have a branch of Allegacy Federal Credit Union and a café open to the public, but the main atrium and other spaces will have restricted access.
The building features two floors filled with rows of lab space for biochemistry, microbiology, immunology, physiology and pharmacology.
The facility will help facilitate enhanced discussions, for example, between physiology and pharmacology researchers on resolving the growing epidemic of obesity, said Floyd "Ski" Chilton, a professor of physiology and pharmacology and the director of the Wake Forest Center for Botanical Lipids.
"Connecting the best addiction research with the best in nutrition and genomics will help us help those who are susceptible to addiction involving food," Chilton said.
The building exemplifies public-private partnerships, with up to $34 million in historic tax credits and buy-in from local government on supporting the project's infrastructure. Wexford Science and Technology LLC of Baltimore is the developer of BioTech Place. It is leasing the facility to Wake Forest Baptist.
One significant step was Forsyth County and the city of Winston-Salem agreeing to split the $6.2 million cost of infrastructure upgrades. Mayor Allen Joines said a key component to the city's involvement was that Wexford would own the building and thus pay property taxes on it, which Wake Forest Baptist, as a nonprofit, would not have been required to pay if it owned the building.
Dan Cramer, a regional executive for Wexford, said BioTech Place represents "a powerful beginning to what we hope will be a transformation of this historical manufacturing district into a state-of-the-art, knowledge-based community."
Cramer has said Wexford has no specific phase two projects on the table, but expressed confidence the company will remain active, since "we're not as attracted to one-and-done projects."
At the southern end of the research park off Rams Drive, the Center for Design Innovation broke ground Monday on a building expected to open in fall 2013. The four-acre site, established in 2005, is focused on two areas: motion-capture techniques and rapid prototyping. It's a joint research center for Winston-Salem State University, UNC School of the Arts and Forsyth Technical Community College.
Joines used the BioTech Place conversation to pitch a third phase of the community's economic evolution beyond manufacturing and knowledge to a "creative molecular economy."
One definition of such an economy, according to the Global Rural Network Project, is the "integration of molecular technologies, such as microprocessors, microsensors, nanotechnology, new materials science and biotechnology, with creative individuals and groups connecting and disconnecting simultaneously in processes of continuous innovation."
Joines said successful cities of the future "will be those that embrace a culture of innovation and be willing to take quick action. Wake Forest BioTech Place is a tangible example of creating an environment of innovation and a culture for rapid change."
Sen. Richard Burr, R-N.C., said the facility is an example of what can happen when capital and science are leveraged for the good of society.
"The facility will help to highlight and resolve the challenges of health care, and it will find ways to do it cheaper, faster and with higher quality," Burr said. "
Michael Suggs, executive director of Goler Development Community Corp., said being next door to Wake Forest Baptist, the county's largest employer, "has a reassuring effect on property owners and developers considering making a considerable investment in our community."