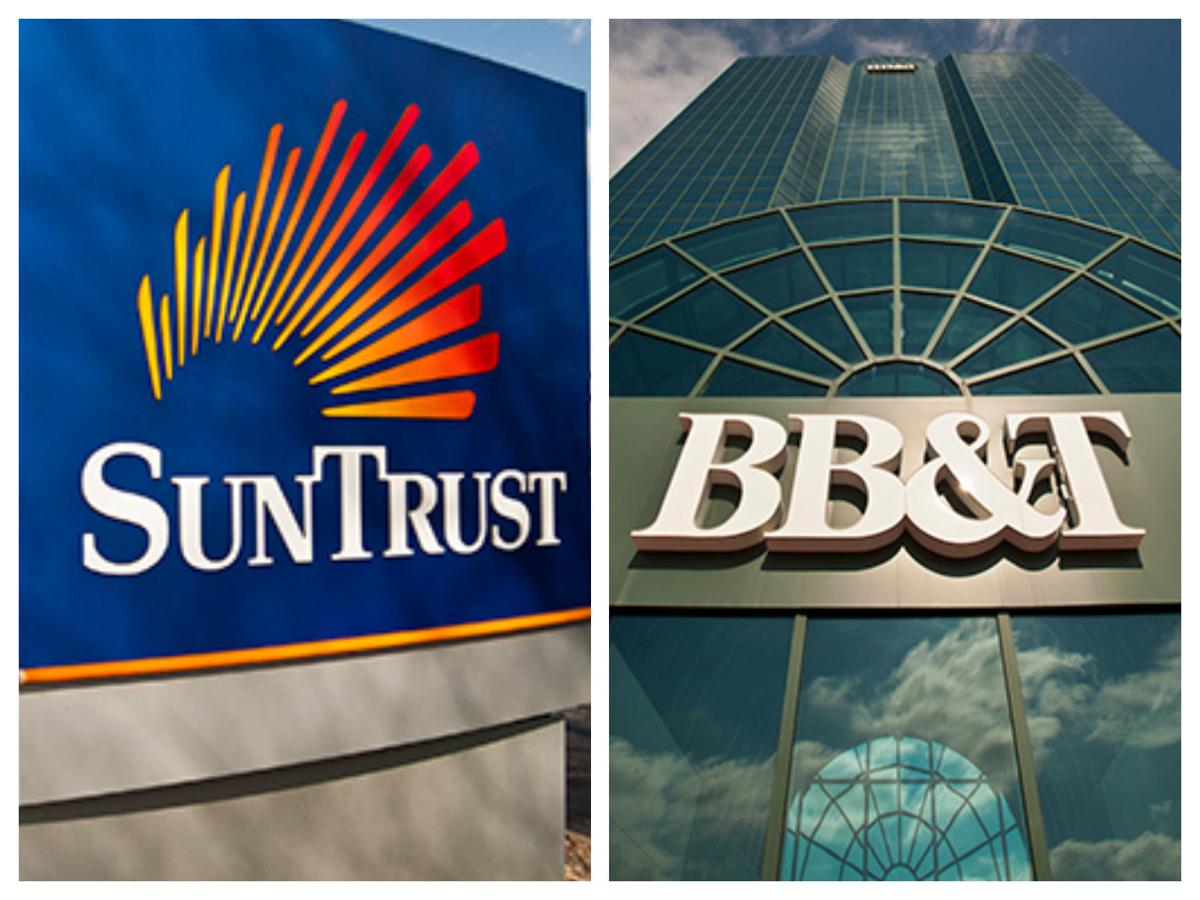 BB&T Corp. and SunTrust Banks Inc. have spent the past five decades trying to perfect the art of the bank deal.
They have completed combined more than 100 bank purchases since 1984.
However, they will face their biggest challenge over the next nine to 11 months getting regulatory and shareholder of their $66 billion mega-deal — the industry's largest in a decade. The combined bank would have $442 billion in total assets.
The goal is completing the deal in the fourth quarter, although some analysts say it is likely it could spill over into early 2020 depending on how tight the regulatory scrutiny they face.
"In a relatively short period of time, we were able to put the deal together because it's just such a logical deal," Kelly King, BB&T's chairman and chief executive, told analysts. "There's nothing that I can see that will stand in the way of this combination. This will be the best merger of equals in the history of banking."
William Rogers Jr., SunTrust's chairman and chief executive, said the mega-deal represents "we're doubling or tripling down on organic (growth)."
BB&T has made 106 bank deals in its history, including 43 since its seminal $2.2 billion purchase in 1995 of Southern National Corp. of Winston-Salem, which led to BB&T's move from Wilson to here.
SunTrust's seminal deal came in 1985 when Trust Co. of Georgia merged with SunBanks Inc. of Florida.
Banking analysts said the merger will be a major test of how the Trump administration's regulatory agencies view industry consolidation.
It could be the first of several deals of banks between $50 billion and $450 billion in total assets, or it could serve to further chill interest in such deals.
"I've always thought federal regulators would be in favor of having a top-10 banking tier covering most of the country and community banks and credit unions filling in the gaps," said John Allison, who retired as BB&T's chief executive and chairman in 2009 and 2010, respectively. Allison was considered by President Donald Trump as a potential U.S. Treasury secretary candidate.
"Regulators could be supporting such a system because having just a few national banks makes for an easier regulatory oversight."
King stressed the banks "have excellent relationships with our regulators."
"While we obviously can't disclose any confidential discussions with our regulators, you might expect that we wouldn't announce something as large as this without feeling confident that our regulators would be positive with regard to such a combination."
"So, there really are no obstacles that we see that will be insurmountable."
Selling the deal
The banks have to persuade customer advocacy groups and politicians of the positives from forming the sixth-largest U.S. bank.
The potential socioeconomic ripples from the announcement already has U.S. Rep. Maxine Waters, D-Calif., and chairwoman of the House Finance Committee, expressing her concern.
She said Thursday that the mega-deal "is a direct consequence of the deregulatory agenda that Trump and Congressional Republicans have advanced."
"The proposed merger raises many questions and deserves serious scrutiny from banking regulators, Congress and the public to determine its impact and whether it would create a public benefit for consumers."
In May, Congress passed a bill that redefined what constitutes a systematic important financial institution, also referred to as "too big to fail."
The law raises the total asset level — from $50 billion to $250 billion — for a bank to be required to undergo semi-annual stress-test reviews and be subject to tighter regulatory standards. At $250 billion, the number of banks subject to the tighter regulatory standards would drop from 38 to 12.
The combined BB&T and SunTrust, at $442 billion in total assets, would be subject to tighter regulatory standards upon completion of their merger.
However, they also would have additional combined revenues to pay for the additional regulatory expenses.
The theory among some banking analysts is that reducing or eliminating those financial regulatory costs would free banks to provide more funding for loans, particularly to companies that could benefit from increased business spending on equipment.
However, those same analysts caution that even if there is more funding available, there still has to be enough confidence among companies, suppliers and consumers about the U.S. economy to extend themselves by taking on new loans.
"Last Congress, I and other Democrats warned that Senate Bill 2155, which Republicans claimed to be a bill to benefit community banks, was in fact a broader deregulatory giveaway to large banks that would fuel mergers, accelerate industry consolidation and make it more difficult for community banks to compete," Waters said.
"Nonetheless, Republicans pushed the bill through and it was signed into law.
"At the same time, the Trump administration's appointees to the bank regulatory agencies are providing regulatory relief to very large banks, creating further incentives for big banks to get even bigger," Waters said.
Warren's concerns
A large bank deal tends to draw focus to their overall lending patterns, particularly to minority neighborhoods and communities as it is evaluated through the federal Community Reinvestment Act.
Although there have advocacy questions in the past about BB&T's CRA-related investments as it sought permission for bank deals, in June, it received the top rating of "outstanding" from the Federal Deposit Insurance Corp.
BB&T submitted as part of the CRA requirements that it made: $9.6 billion in affordable home lending, providing more than 63,000 loans, for the low- and moderate-income community; $17.6 billion in small business and farm loans; $4.55 billion in general community development loans; and $924.6 million in low-income housing tax credits.
"We see this outstanding rating as more than an evaluation," Sharon Jeffries-Jones, director of BB&T's CRA/Community Development. "For us, it's an affirmation we're fulfilling BB&T's mission to make the world a better place to live."
Meanwhile, the last CRA report from SunTrust had it with an overall "satisfactory" score.
Those scores didn't stop U.S. Sen. Elizabeth Warren, D-Mass., and a likely Democratic presidential candidate for 2020, from citing the BB&T-SunTrust deal as another symbol of financial institutions getting lax oversight from federal regulators.
In a letter she wrote Thursday to Federal Reserve Chairman Jerome Powell, Warren said the Fed board's record "of summarily approving mergers raises doubts about whether it will serve as a meaningful check on this consolidation that creates a new too-big-to-fail bank and has the potential to hurt customers."
Warren has been the most vocal and fiercest political critic of Wells Fargo & Co. since its customer fraudulent account scandal surfaced in September 2016. She has on numerous occasions called for the Wells Fargo board of directors to fire Chief Executive Timothy Sloan because he was part of the management team that allowed the account issues to fester in the first place.
"If the board believes a proposed merger would create a monopoly, poorly serve the 'needs of the community,' or otherwise pose risks to the financial system, it can block the transaction," Warren said.
BB&T has had a goal since its seminal $2.2 billion merger of equals in 1995 with Southern National Corp. of Winston-Salem of being one of the top five banks in terms of deposits in every state it serves.
Based on 2018 data from the Federal Deposit Insurance Corp., BB&T has a top-five deposits market share in Georgia (fifth), Kentucky (fourth), North Carolina (third), South Carolina (third), Virginia (fifth) and West Virginia (first).
By comparison, SunTrust is in the top five in Florida (third), Georgia (first), North Carolina (fifth), Tennessee (third) and the District of Columbia. (fifth).
Combined, the banks would remain first in Georgia and West Virginia, move up to first in Virginia, and rise to second in Maryland and North Carolina.
Merger of equals
Analysts said there have been as many examples of merger of equals struggling, if not failing, as succeeding because they failed to mix different cultures and massage management egos.
King and Rogers said they believe the combined bank would buck those odds because of their commitment that it would be an equal deal.
Though the top executives said the merger talks only accelerated "a few weeks ago," they quickly determined the 14 executive management roles — seven from each bank — by Thursday's announcement. The board of directors also will be equally split.
King would remain as chairman until March 12, 2022, and as chief executive until Sept. 12, 2021 — his 73rd birthday. Rogers will succeed King in both roles.
From the BB&T side, Daryl Bible and Clarke Starnes will retain their roles as chief financial and chief risk officers, respectively, with the combined bank. David Weaver, BB&T's top community bank official, will serve in that role.
King said top executives will dedicate at least one entire day each week toward prepping both banks to start full integration the day after the deal closes.
"That's what we did when we did the Southern National merger," King said. "It works."
"This would be equal in terms of my role for a period of time, and then a following role for Bill," King said. "This will be equal in terms of all the way through the organization as we select products and processes and systems and people."
King said the banks "are already working on a second operating committee that will be a high level of executives that will have multiple operating duties."
"We will tackle methodically which deposit system, which loan system. We will start immediately focusing on the branch closure."
There are at least 740 locations across their combined branch networks where they have offices within two miles of each other.
Although Bible acknowledged that "the effort required will be significant, we believe there will be a number of factors that should give you comfort in our ability to do this."
"We both have deep experience successfully integrating acquisitions. We will have a very deliberate, diligent and highly governed process to ensure all work streams move forward in an organized and structured fashion. We understand each other's business, footprint and competitors very well.
"We each care deeply about our clients, communities, shareholders, teammates and associates, and we both have very similar and conservative risk cultures.'
Approval likely
Chris Marinac, managing principal at FIG Partners of Atlanta, said that "BB&T is an excellent partner when it comes to 'all cards on the table' with respect to the important social issues."
"In our experience, not every merger partner has the same level of integrity. BB&T is highly likely to perform well here."
Lee Burrows, chief executive of Banks Street Partners in Atlanta, said that while "there could be some political grandstanding, but at the end of the day (the deal) will be approved."
"The Justice Department will look at deposit concentrations in certain markets and could require some divestitures, but that analysis will take a little time."
Bible told analysts that "the divestitures are pretty minimal here, approximately $1 billion plus or minus in just a few markets."
Burrows said the megadeal "just makes too much sense and is just the beginning of further consolidation in the industry, driven by technological advances that render massive investments in bricks and mortar somewhat obsolete."