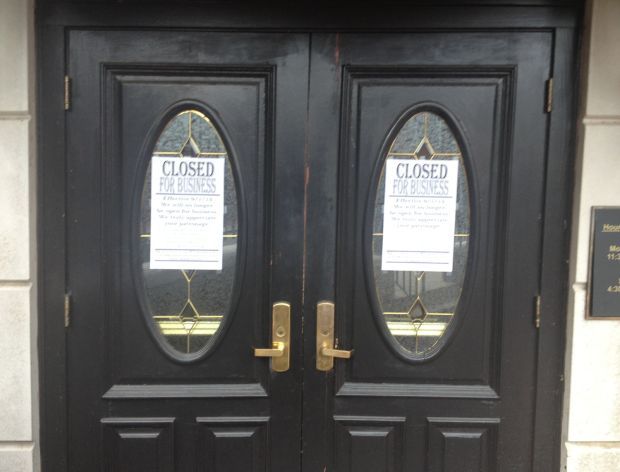 Happy hour – and every other hour – is over for Twin City Chop House, one of Winston-Salem's fine-dining restaurants.
The restaurant at 115 S. Main St. near City Hall has gone out of business, effective Sunday.
A sign on the restaurant's doors said "we will no longer be open for business. We truly appreciate your patronage." It said questions about the closing could be sent to info@tblinvestments.
The restaurant was one of four Chop Houses operated by Keith Hall, owner and president of the N.C. restaurant chain. Its signature steak and chops entrées ranged in price from $28 to $59 for dinner.
It opened in early 2001 on the first floor of City Hall South as an old-fashioned Chicago-style steakhouse with 218 seats. Its debut was cheered by civic and elected officials as a symbol of downtown's economic turnaround.
Employees informed the Winston-Salem Journal on Friday that they had been told the restaurant was closing.They said 50 employees were affected.
Neither Hall nor Stephen Butcher, the restaurant's manager, could be reached for comment about the decision Friday or Monday. Christa Hahn, a spokeswoman for TBL Investments, said Tuesday the closing affected 30 employees.
Both the door signs and a voice message for the restaurant's phone number said unused gift certificates could be redeemed at its restaurants in High Point, Raleigh and Wilmington.
The restaurant was considered as a destination choice for lunch and dinner because it was located several blocks away from the restaurant row sections of Fourth and Trade streets. It was nearby to workers at the financial hubs of BB&T Corp. and Wells Fargo & Co., as well as City Hall, the central part of Wake Forest Innovation Quarter and several law firms.
"The restaurant business is very competitive and I am sorry to hear about this downtown business closing its doors," Jason Thiel, president of Downtown Winston-Salem Partnership Inc., said Monday.
"We have had strong restaurant growth in downtown over the past 10 years. As some restaurants close, we have typically had strong interest from other parties who are interested in taking over the space due to the existing restaurant infrastructure being already in place," Thiel said.