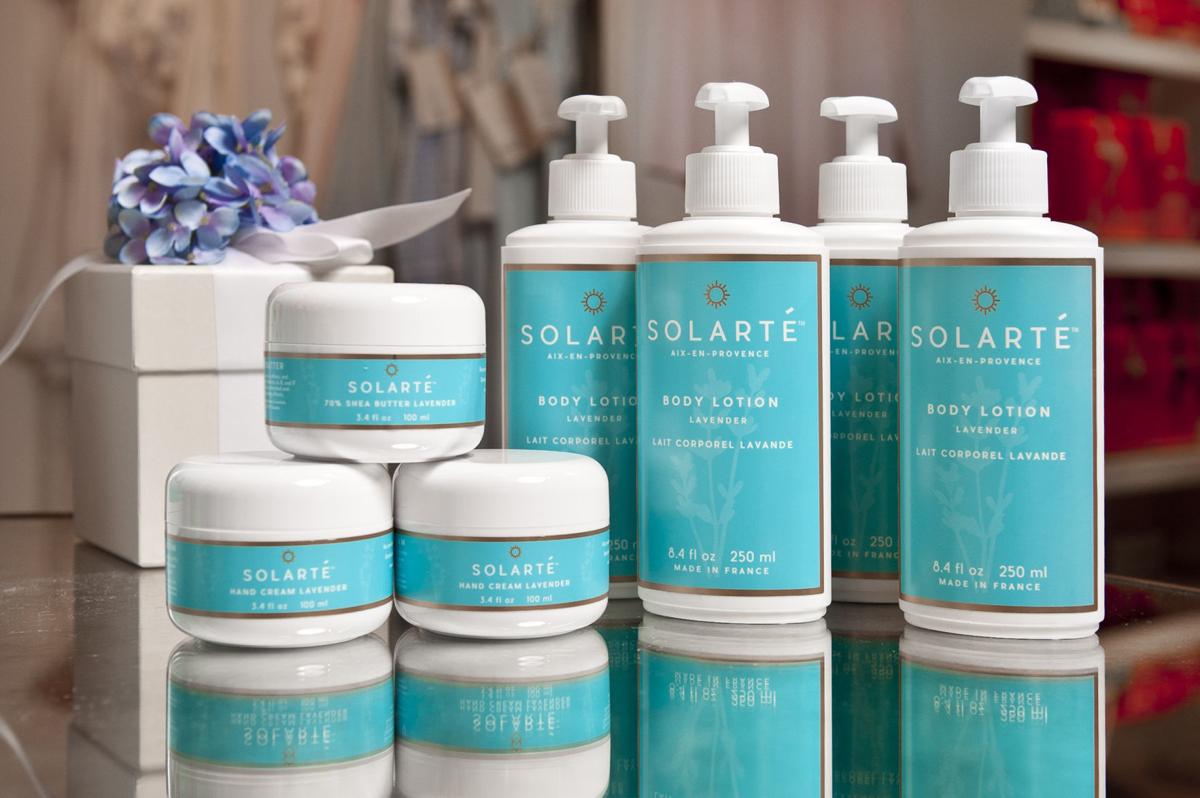 All the signs that Angela Jenkins was eager to enter the business world were present when she was quite young.
"For a backpack in kindergarten, I went to school with a Mickey Mouse briefcase," Jenkins said.
She still remembers an outfit she wore back then.
"I had like a jumpsuit — kind of like a pantsuit on — and a scarf around my neck," she said.
Today, Jenkins is the chief executive of Solarté Collections LLC, a maker of French skin-care products. The products were originally formulated and are made in France, but Solarté is based in Winston-Salem. The company's offices are downtown in Winston Starts in the former GMAC Building.
There are 10 products in the Solarté Collections line, from full-size products to mini sets, including body lotion, shower cream and hand cream in lavender and verbena scents. The company offers industrial sizes for hotels, spas and clubs.
Solarté states that its products "use natural, paraben-free, ethically produced ingredients."
The high-end products are sold throughout the country in spas, hotels, resorts, gift shops and online at SolartéCollections.com. In Winston-Salem, they can be found at Reynolda House Museum & Gardens, Graylyn International Conference Center, McCalls in Reynolda Village and Old Town Club.
Last month, the company raised more than $25,000 in a Kickstarter campaign to introduce its shower-cream product in lavender and verbena, with shea body and vitamins A, B, E and F.
Professional journey
Jenkins, now 45, grew up in Winter Park, Fla., a suburb of Orlando, Fla. Her business career started in the banking industry. She said she climbed the ranks and was doing client portfolios in Orlando when a frightening experience caused her to reconsider her career choice.
"What got me out of banking was I was held at gunpoint in a bank robbery," Jenkins said.
She believed there had to be more she could do because of her entrepreneurial drive and spirit, and understanding of business.
After researching private companies, she got a job in 2003 as Solarte's national brand ambassador, primarily developing markets in Florida.
Solarté's original owners started the business in Winter Park, Fla., in 1996.
When they retired in 2004, Jenkins said that she acquired the brand and all its assets.
She said she was able to build relationships with such businesses as Biltmore Hotel in Miami and Isleworth Country Club in Orlando, and started developing markets in Florida through hotels, spas and boutiques.
From 2004 to 2008, she gained 50 retail accounts, she said.
In 2008, just as the economy was tanking, Jenkins put her business on hold. She had sold through her inventory and it was time to reorder products.
"Looking at the financial climate of the time, as a small company working with suppliers internationally, I just made the decision to put the company on hold in order to redesign and repackage," Jenkins said.
She also got married, had a child and focused on her family.
In 2017, the Solarté brand re-emerged.
Jenkins declined to give company sales but said business has been great.
"We've got the partnerships forming with the J. McLaughlins of the world," she said, referring to the company that features classic American clothing and accessories. "We have 10-full-time retailers and reorders are happening quarterly."
Solarté product prices range from $10 for mini body lotions to $52 for a 3.4-ounce, 70 percent shea-butter body cream.
The body lotion is a lightweight formulation with 5 percent shea butter, and the hand cream contains 20 percent shea butter. Shampoo and conditioner will be introduced in 2019.
Over the next five years, Jenkins wants to increase her international sales, as well as see growth on the East Coast, in the Midwest, and in the Texas, Oklahoma, Louisiana, Arkansas region.
Solarte products will continue to be produced in France.
"We want to stay true to the heritage of the formulas and the brand," Jenkins said.
Customer comments
Susan King DeRamus, a long-term care planner in Winston-Salem, uses three of the Solarté products and describes them as "pearly creamy."
"It's just luxurious," DeRamus said. "It smells good, feels good, is lightweight and has some of the shea butter."
DeRamus said she believes Jenkins is doing all the right things as she restarts her business, including getting involved in the community and having her pulse on what's happening.
McCalls has been carrying Solarté products for about a year.
"We love her Solarté products, the quality, the packaging and particularly her mission behind it," said Sara-Peyton McCormick, the owner of McCalls.
The business news you need
With a weekly newsletter looking back at local history.