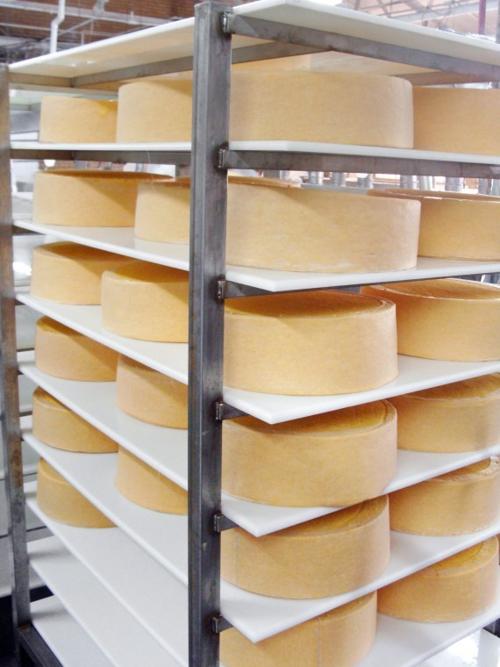 Ashe County Cheese Company in West Jefferson makes a lot of cheese, 30,000 to 35,000 pounds a week.
And its products can be found all around the southeast and as far west as Texas.
Of the 40 cheese makers in North Carolina, Ashe County Cheese is the state's largest by far and one of the few who make cheese from cow's milk, according to the state department of agriculture. Most of the others are farmsteads that use their own goats' milk.
The factory's 15 employees make cheese four to five days a week, going through about 35,000 gallons of milk a week. Next to the factory three large milk tanks, shaped and painted to look like cows, each of which store milk waiting to be made into cheese.
The milk comes from dairy farms within 50-70 miles, said Josh Williams, co-owner of the factory and manager of its cheese store, but Ashe County Cheese no longer buys directly from farmers.
"Dairy farms in this area in general are pretty small, so they co-op together to make a larger company," he said. "It is easier for us, and kind of like a union, gives the farmers a little more power in the whole dairy industry."
Ashe County Cheese is the state's oldest cheese company. The Kraft Corporation built the factory in 1930, consolidating smaller operations that had sprung up around the area's many dairy farms. The new factory had the size and technology necessary to distribute cheese nationwide.
Kraft operated the plant until 1975, when it was sold to longtime manager Chesley Hazlewood. The factory changed hands several more times before Mike Everhart and Tom Tutleson, a pair of Wisconsin cheese makers, bought it in 1994. Everhart moved his family to Ashe County in 1995 to manage the operation, while Tutleson stayed in Wisconsin, where he still lives.
In 2010, Mike Everhart sold his shares of the cheese factory to his son, Luke Everhart, and son-in-law, Josh Williams, who now co-own it with Tom Tutleson. The factory store is now an independent company owned by Mike Everhart, but the operations of the two companies are closely tied.
The factory buys milk from three area dairy cooperatives, Dairy Farmers of America, Maryland and Virginia Milk Producers, and Piedmont Milk Sales, all of which sell milk from farms in western and piedmont North Carolina and southwest Virginia.
Ashe County Cheese makes mostly cheddar-style and Monterey Jack cheeses. The cheese making process involves steam-heating milk while adding rennet, an enzyme traditionally squeezed from a cow's intestine. Williams said Ashe County Cheese uses a plant-based microbial rennet, which is more widely available at a lower cost and allows the cheese to be truly vegetarian.
Williams said visitors to the factory often ask about cheddar cheeses.
"We have to explain that it's the age that makes the cheddar sharp, not a flavor you add. It takes about a year to have a good sharp cheddar compared to 0-3 months for mild cheddars," he said.
By volume, Ashe County Cheese sells more hoop cheese any other. Hoop cheese is a cheddar-style cheese that is not aged. Hoop cheese is pressed into 22 pound wheels that are sold wholesale to distributors in the southeast and as far west as Texas. Distributors package and sell it to various grocery stores and delis, usually under the store's brand name.
Ashe County also sells their private-label cheeses to stores mainly in North Carolina, including Washington Perk in Winston-Salem. These 12-ounce bricks of cheese, sold in varieties such as Mountain Cheddar Extra Sharp, Jack and Dill, and Carolina Blue Marble, are becoming a larger part of the company's overall sales but are still a small minority, Williams said.
Ashe County Cheese Store, located across the street from the factory, sells more cheese curd than any other product.
"Everyday that we make cheese, we have fresh cheese curds," Williams said. "You can usually only get those at a cheese factory, because they're best the day they're made."
The store also sells bricks of Ashe County's private label cheeses in a variety of flavors, hoop cheese, butter, North Carolina wines, and gift boxes.
Williams said Ashe County Cheese would like to continue to grow their private label and pre-packaged cheese sales.
"More and more people are wanting them prepackaged because some sellers aren't equipped to cut and package, and we can do it more economically," he said.
Ashe County Cheese does not conduct tours, but visitors to the factory can watch cheese making in action from the viewing room that overlooks the factory floor where most of the cheese making process occurs.
"There is also a video that shows some of the stuff you can't see or that they might not be doing at the time such as packaging or aging," Williams said.
About Ashe County Cheese Co.
Address: 106 E. Main St., West Jefferson
Products: Cheese and butter sold wholesale to distributors and retail in their own store and online: also sell locally to Washington Perk and Provisions
Price: Average price for 12-ounce brick of cheese: $ 5.75
Hours: 8:30 a.m. to 5 p.m. Monday through Saturday
Phone: (800) 445-1378
Website: www.ashecountycheese.com