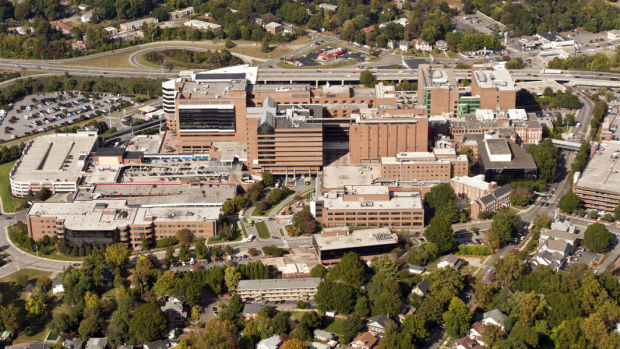 Wake Forest Baptist Medical Center said Thursday that it will cut 350 jobs as part of additional cost restructuring.
The reduction is across all of the medical center's locations, including nine jobs at Wake Forest Baptist Health – Lexington Medical Center.
Jobs being eliminated are clinical administrative support, managers, technical support and laboratory technicians.
No bedside registered nurses will be affected, the medical center said.
Overall, the medical center has 14,686 employees combined at its locations.
Wake Forest Baptist said that the move is aimed at helping "close the increasing gap between growing expenses and declining reimbursement from federal and state health insurance and other revenue sources."
The medical center said that its announcement was not unexpected given recent national announcements. The medical center mentioned a recent report by Moody's Investor Service on the fiscal state of not-for-profits in the health care sector that said, "Factors leading to the decline in performance include low rate increases from commercial payors and rate cuts from Medicare and Medicaid."
Dr. John D. McConnell, chief executive officer of Wake Forest Baptist Medical Center, said that health care is highly dependent upon external sources for revenue.
"As revenues decline and expenses continue to increase, we must realign our cost structure to attain fiscal balance in order to ensure we efficiently provide the quality of care that our patients need," he said. "Wake Forest Baptist is committed to reducing its costs in order to make health care and the overall enterprise more efficient and affordable."
Wake Forest Baptist said that it is redesigning the organization around community needs, including quality patient-centered clinical care, in convenient, low-cost environments in the region. The medical center also said that like most other institutions, it is experiencing a decline in inpatient volumes.
McConnell said that letting people go was not an easy decision.
"We see them every day and work side-by-side," he said. "This action was taken in a very thoughtful and careful manner. It is truly unfortunate and very hard on everyone, especially those who will leave us. I'd like publicly to thank each and every one of those affected for their dedication and service during these challenging times."
Wake Forest Baptist said that it began notifying employees late last month that their positions had been eliminated. The employees losing their jobs are being given 45 days of paid notice with health benefits, followed by a severance package determined by length of service and position.
McConnell said that Wake Forest Baptist hopes to place some of the newly released employees in available positions. Currently the medical center has several hundred open positions.
"We're having major growth on the out-patient side of medical delivery," McConnell said. "Our HR department is really being very thoughtful and careful to try to match people who are being eliminated from positions, to see if there are other opportunities."
The medical center said it is also working with other employers in the area to determine potential openings and will assist with placement support, including resume preparation.
Wake Forest Baptist's last big announcement of job eliminations was in November 2012, when it said it was cutting 950 positions.
The medical center said that 420 of those were current employees and 530 were closed, unfilled positions, or employees who left through attrition or retirement.
The medical center said that since the November 2012 announcement, the state has reduced Medicaid payments to providers statewide and early last year decided not to expand Medicaid.
McConnell said he cannot rule out more job cuts in the near future.
Gayle Anderson, president and chief executive of the Winston-Salem Chamber of Commerce, said the news obviously is disappointing for those losing their jobs, but that she wasn't surprised by Wake Forest Baptist's announcement.
"They've been saying all along that their business is evolving and this is very similar to what's happened across the country," Anderson said. "We've seen health care consolidation after decades of expansion, given all the circumstances surrounding it."
David Meyer, a senior partner with Keystone Planning Group of Durham, said that Wake Forest Baptist has been struggling for a few years.
"This is a period of change in health care in our country, especially for providers," Meyer said. "Everybody knows that health care costs have been going up. They are extremely expensive and it's hurting society at large."
As a result, he said, there's more emphasis on hospitals and providers being conscious of cost.
He said that the recession and a slow job market have kept financial pressure on hospitals, as people lose their jobs and became uninsured or underinsured.
"But the bigger picture gets back to changing the model of health care away from fee for service to a more coordinated process that has that accountability for cost control and a focus more on quality," Meyer said.