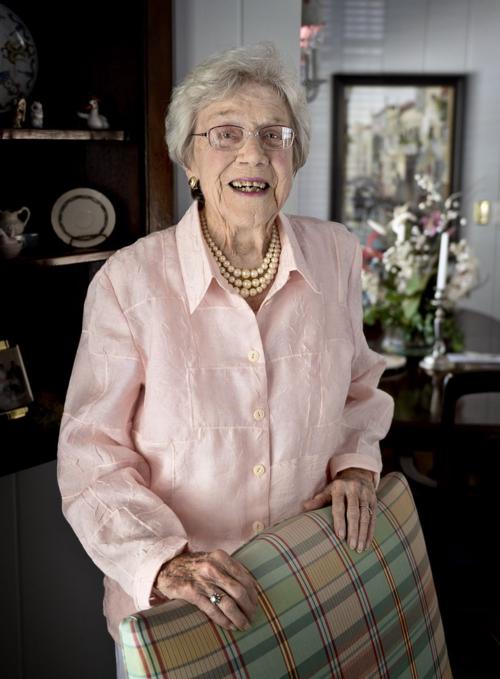 Mary Ann Parrish said her decision to become part of the real-estate industry in the early 1960s was "a match made in heaven."
Now 94, she has slowed down a bit but is still working as a broker for Berkshire Hathaway HomeServices Carolinas Realty in Winston-Salem.
"I still go to my office," Parrish said.
She said she follows real-estate ads, goes out to look at properties and keeps up with what's available so that she can answer questions and refer clients to the proper source.
Parrish doesn't know how many houses she has sold during her career, but she remembers that her first sale was in the Buena Vista neighborhood.
The spark in her eyes and the strength and playfulness that comes through in her voice matches her stamina — and desire to remain in the field she loves.
Parrish is considered a trailblazer for women in real estate, especially in Winston-Salem.
She said that when she became a real-estate agent, only a handful of women were in the industry in North Carolina.
In 1975, 37 percent of the National Association of Realtors' members were women. This year, 58 percent are women.
The association's overall membership is currently more than 1.1 million.
"I think that, in general, becoming a Realtor can be a very lucrative career for a woman," said Adam DeSanctis, a spokesman for the association. "Women are attracted to the real-estate industry, and they've been very successful."
Local roots
Parrish grew up in Winston-Salem and is an alumna of Salem College. She wrote a book titled "Parrish the Thought: A Woman at Work, Stories from her Scrapbooks."
Prior to real estate, she worked various jobs, including secretarial work and as A Town Talk reporter for The Sentinel, an afternoon newspaper that closed in 1985.
She married Fred M. Parrish Jr., a Winston-Salem attorney, in 1948.
She said she got into real estate after her husband died from a brain tumor in 1965 because she had two daughters, Louise, then 11, and Ann, then 13, to take care of and raise on her own.
Parrish credits Henry Nading, the owner of Nading Realty Co., for helping her initially learn about the industry and study for her real-estate license.
She said Nading told her, "This is the best way that a woman can get a little better pay, if she becomes interested in real estate."
She recalled seeing mostly men taking the real-estate exam at the same time she took it in Raleigh in the early '60s.
Parrish said it was truly a man's world at that time.
"I thought, 'What am I doing here?' '' she said. "I can't pass that test."
She even did something she wasn't supposed to do:
"I wrote the chairman of the real estate commission a thank-you note that I felt privileged that I could take this course, and if I passed, I would look forward to doing the very best I possibly could in real estate, and I hope I survive that."
Parrish passed the exam, got her license and started working for Nading in 1963. Then she joined Ferrell Realty Co. in 1969 as that firm's residential sales manager.
In 1974, Parrish and Robert Helms co-founded Helms-Parrish Properties Inc. The firm began as a staff of four — Parrish, her daughter Ann Parrish Griffen, Helms and Ida Rose Dillon. By 1979, the firm had 28 sales associates. Her daughter Ann died in 2005 of multiple sclerosis.
Helms, a retired chairman and chief executive of Prudential Carolinas Realty, said he decided to team up with Parrish as business partners because he considered her the most successful female Realtor of her time in Winston-Salem and he had some success in commercial and residential real estate.
"We just thought we'd start a male-female company, which was very unusual," Helms said of that period.
He said they didn't always agree but they made sure their decisions were in the best interests of the company.
He added that he learned a lot from her in those early days as they built their company.
"She had a great work ethic and a high level of integrity," Helms said. "She didn't take no for anything. She would follow through on everything."
He said Parrish knew how to take care of customers.
"She communicated with them with a written note when she would leave town," Helms said. "She'd tell them where she was going, how long she'd be there, and if they needed her, how to get in touch with her."
Changes in industry
Merrill Lynch bought Helms-Parrish in 1986, but Helms and a group of four other partners reacquired more than 30 sales offices in North Carolina and South Carolina and returned them to local ownership under the name of Prudential Carolinas Realty in 1991.
In August 1997, the partners sold the company to Prudential Real Estate. Then Helms bought back 18 branches in the Triad, Triangle and Charlotte area, from Prudential Real Estate. Prudential Carolinas was bought by HomeServices of America Inc., a Berkshire Hathaway affiliate, in 2004. The same year, HomeServices bought Graham & Boles and folded it into Prudential Carolinas, now Berkshire Hathaway HomeServices Carolinas Realty.
The Winston-Salem Journal is owned by BH Media, a subsidiary of Berkshire Hathaway.
Parrish said she tried to be a mentor to women and men in the industry. Her hope is that she did her part to help open doors for women in real estate.
She said she "rattled some cages" early on in her career.
"I went through that and I survived," she said.
Friends said that real estate is Parrish's life.
Dillon, now a retired broker, considers Parrish her mentor.
"The most wonderful teacher anyone could ever have," Dillon said. "All I ever had to do was just be around her and watch her and learn from her."
She called Parrish "a ball of fire."
Ron Rosenberg, broker-in-charge of the Winston-Salem office of Berkshire Hathaway HomeServices Carolinas Realty, said Parrish has amazing energy.
"It's always been high energy at every age," Rosenberg said. "She just doesn't stop."
Parrish has seen a lot of changes in the industry from consolidation to technology.
"I think it's necessary, but you certainly don't have as much personal contact as we (once) had," she said of computers.
She said she was partly successful in the industry because she entertained her clients.
"I would have a party and invite my newcomer friends," she said. "And I have retained their friendships."