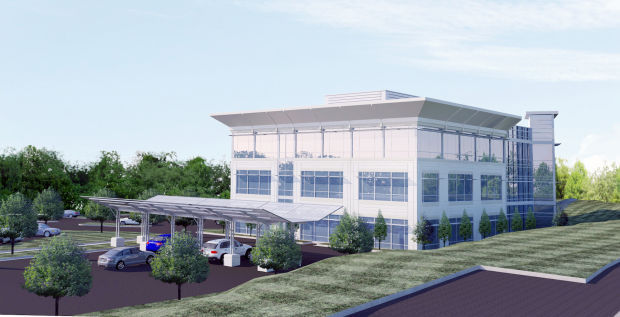 Piedmont Advantage Credit Union plans to showcase a more modern way of offering financial services when its new headquarters off Stratford Road opens next summer.
The credit union is moving its 65 employees from Liberty Street to the corner of Stratford and Burke Mill roads, serving as an anchor in a 21½-acre business park to be named Piedmont Advantage Park. A groundbreaking ceremony for the 40,000-square-foot building was held Thursday.
Piedmont spent $1.5 million on its three-acre site, according to Forsyth County Register of Deeds data. Judy Tharp, chief executive of Piedmont, said she does not have a final figure for how much the project will cost.
Piedmont was organized in 1949 to serve Piedmont Aviation and Piedmont Airlines employees. It has 10 branches and is open to residents in Duplin, Forsyth, Guilford, Iredell, Mecklenburg, New Hanover and Rockingham counties.
Tharp said the new site will enable it to better serve the majority of its local membership, particularly because the site is closer to the US Airways reservation center and its nearly 1,100 employees. Piedmont will maintain a presence near Smith Reynolds Airport, Tharp said.
Tharp said the on-site branch won't have the traditional barrier between tellers and customers, which they say will help expand the customer relationship. She said the branch will offer more product and service options for mobile, phone and Internet customers.
The branch will offer a technology bar, open lounge areas and enclosed glass offices and meeting space for more private transactions. The meeting space and indoor café will be available to the community.
"There won't be anything like the branch in the area," Tharp said.
Another distinguishing characteristic of the three-story building will be the use of aircraft images in the design by Merriman Schmitt Architects Inc. The drive-thru teller lines have overhangs and canopies shaped like wings, while the atrium will have the look of a traffic-control tower. Shelco Inc. is the general contractor.
Piedmont will occupy the first and third floors while it pursues a tenant for the second floor. Tharp said the credit union has plans to use all floors as growth necessitates over the next 15 years.
The headquarters will be within a short drive of the headquarters for Members Credit Union at 2098 Frontis Plaza Blvd., Truliant Federal Credit Union at 3200 Truliant Way off Hanes Mall Boulevard, and Allegacy Federal Credit Union at 1691 Westbrook Plaza Drive.
As far as the park goes, 17.5 acres are available for development. The park will include a storm water retention pond and a parking lot. Dick Anderson, land developer with Turnpike, is handling the non-Piedmont commercial aspects of the park.
The property could accommodate another 160,000 square feet of office space, which could translate into 500-600 jobs. Tharp said the park is zoned for general office use.
The park adjoins the Norfolk Southern railroad line, which is currently not in use.
However, Piedmont Authority for Regional Transportation is studying the possibility of light rail service from Clemmons to various locations in Winston-Salem, Piedmont Triad International Airport and Greensboro.