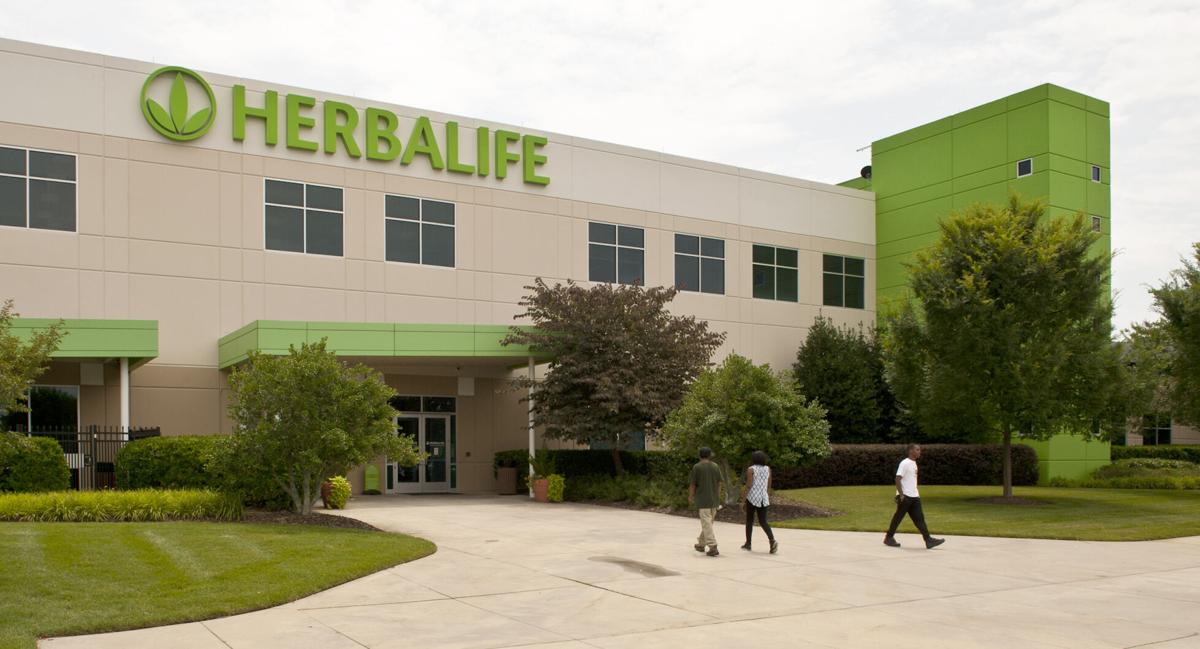 Herbalife Nutrition Ltd.'s $750 million share-repurchase program convinced its largest and most pivotal shareholder, Carl Icahn, it was time to shed another major portion of his holdings.
Herbalife has at least 750 employees in Winston-Salem at its East Coast hub operations.
Icahn issued a statement Wednesday that disclosed the selling of 14.7 million shares, reducing his stake to 15.5% and 20.5 million shares.
He had owned a 23.8% stake, or 35.23 million shares, following a 2-for-1 stock split in May 2018.
Icahn's transaction represented the vast majority of the 15.4 million shares that Herbalife repurchased at about $48.75 a share. Icahn gained about $716.6 million.
The company said 37.9 million shares were offered by investors for repurchase. The 15.4 million shares represented 10.4% of its outstanding shares as of Monday.
Icahn said in the statement that "we continue to strongly believe in the great future of the company."
Icahn's stock sale came six days after Herbalife reported a record-setting revenue performance for the second quarter, with net income soaring 50.4% to $115.1 million.
Icahn's public backing of Herbalife's management likely played a soothing role to investors given such a large stock sell-off.
The share price finished Wednesday down 92 cents, or by 1.9%, to $48.16. It reached a 52-week high of $52.89 on Aug. 6.
In October 2018, Herbalife's board of directors approved a new five-year, $1.5 billion share-repurchase program.
A company typically buys back its shares from the marketplace to reduce the number of outstanding stock shares. Because there are fewer outstanding shares, those remaining can become more valuable. Companies also buy back shares when they believe the shares are undervalued.
However, most corporations — particularly banks — have suspended such initiatives for the short term, if not for all of fiscal 2020.
Herbalife signaled its readiness May 21 when it said it would offer up to $600 million worth of senior notes toward the share repurchase initiative. Those notes have a fixed annual interest rate of 7.875% that will begin being paid March 1 and then every March 1 and Sept. 1 until due in 2025.
According to Investopedia, a senior note is defined "as a type of bond that takes precedence over other debts in the event that the company declares bankruptcy and is forced into liquidation. Because they carry a lower degree of risk, senior notes pay lower rates of interest than junior bonds."
The notes are guaranteed on a senior unsecured basis by each of the company's existing and future subsidiaries.
On July 13, Herbalife announced the initiative, saying it would pay up to $50 a share.
Icahn has served as a corporate savior for Herbalife the past eight years, even though his reputation is that of an unfeeling activist hedge-fund investor.
Icahn played a high-profile test of wills with fellow billionaire hedge-fund investor Bill Ackman that began in December 2012 — the same day Herbalife committed to opening the Winston-Salem plant.
Ackman accused the company of operating as a pyramid scheme.
A pyramid scheme typically is defined as an investment strategy, considered by some to be illegal, where contributions from new investors are used to pay off the original investors. Short selling refers to the practice of borrowing shares and selling them, with the goal of profiting by repurchasing them later at a lower price.
Ackman said Herbalife's share price has to drop below $30 before he made money. His campaign slogan of "betting on zero" inspired a documentary of the same name.
Herbalife vigorously denied Ackman's allegations, spending more than $72 million on what it called "business model attacks" that Ackman only relented on in November 2017.
After more than five years of often-antagonistic attacks on Herbalife's management and employees, Ackman ended his $1 billion bet against the company in February 2018. TheStreet.com estimated Ackman lost at least $780 million on the bet.
Following Icahn's victory, a stock sell-off was expected by investors and analysts.
Icahn wrote Wednesday that his investment group's stake in Herbalife "is a quintessential example of our activist investment strategy."
"In late 2012 and early 2013, the stock was meaningfully out of favor for a number of reasons. We studied the business and assessed the risks. At that time, we concluded that the risk/reward ratio was very favorable.
"We amassed a large position and joined the board. Our directors worked closely with management to stabilize the company."
Icahn said that for those shareholders who stuck with Herbalife and his investment group during the Ackman attack, their investment in the company since Icahn became involved has resulted in a total return of 200% as of Tuesday.
(336) 727-7376
@rcraverWSJ