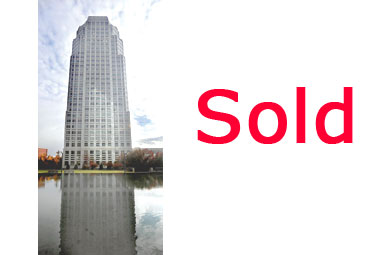 The new, and discrete, owners of the Wachovia Center have taken a $36 million gamble that they will be able to turn the 28-story building into a "trophy" skyscraper.
The N.C. Secretary of State's office lists SL Winston-Salem LLC as the new building owner. It was bought on Oct. 23 from Gramercy Capital Corp. of New York.
If the business strategy of New York investors Mark Karasick and David Werner is any indication of future performance, they are likely to make improvements to the 13-year-old building and increase occupancy.
But they also aren't likely to stick around long enough to grow local roots with the city's tallest building, which opened at 100 N. Main St. 13 years ago at a cost of $80 million.
The risk-taking investors specialize in the buying and/or selling of prominent buildings, including the Bank of America Center in San Francisco, the Aegon Center in Louisville and the Starrett-Lehigh Building in New York.
For example, the investors made at least $150 million selling the Bank of America Center about a year after they bought it.
However, their ability to flip the building for a tidy profit could come down to their relationship with the building's future majority tenant -- Wells Fargo & Co.
Wells Fargo's intent for the 17 floors that Wachovia Corp. now occupies is being watched closely since Wachovia has about 741 employees there, including 600 in its wealth-management division.
Wells Fargo has provided little detail about its plans for local Wachovia operations even though it expects to complete its deal for the bank by year's end.
SL Winston-Salem, which was formed on June 27, lists Karasick on the incorporation filing as a member of the limited-liability company. He also is listed as president of 100 North Main Manager LLC.
Karasick and Werner are generally reluctant to speak to the media and they could not be reached for comment.
In a mini-profile that ran in October 2004 in Crain's New York Business, Werner was described "as even in the fast crowd that he travels with, he is the ultimate flipper." Werner rarely plays with his own money, industry insiders told the magazine. Instead, Werner usually fronts for an investment group, generally flipping his properties to another partner for a nice profit.
The Wachovia Center, which was built to serve as Wachovia's headquarters, is about 83 percent occupied, according to Bobby Finch, a partner with Triad Commercial Properties who is handling the leasing for the new owners.
Wachovia occupies floors 1 through 14, 16 and 27 through 28, or about 400,000 square feet.
"The Wachovia Center has about 95,000 square feet of Class A space available, with floors 18, 19, 20 and 21 vacant," Finch said.
Finch said that Wachovia signed a "very long lease at a low rate" with American Financial Realty Trust. American paid Wachovia $39.6 million for the Wachovia Center as part of a $546 million purchase of 150 bank properties it made in May 2004. The nearby Park Building was included in that round of transactions.
Gramercy acquired the building when it bought American Financial for $3.3 billion on April 1.
Lease obligations
Some local commercial real-estate officials said that the length and low cost of the lease might compel a cost-conscious Wells Fargo to keep jobs in Winston-Salem. Wachovia has about 2,900 employees in Forsyth County.
"We're hoping that the low cost of the lease will be attractive and compelling to Wells Fargo as it evaluates the Winston-Salem and Charlotte operations it is taking over from Wachovia," Finch said. "Perhaps, Wells Fargo will send more jobs back this way."
Finch said that Triad Commercial Properties has not contacted the real-estate officials for either bank about the plans for the building.
"We will do so once the transaction is completed," he said.
"The new owners have to believe there is an opportunity to flip the building even though they don't know for sure what Wells Fargo is going to do," said Ray Collins, the president of Collins Commercial Properties Inc. "Gramercy may have been more risk-adverse, whereas the new owners are willing to roll the dice on a calculated upside in the value of the building.
"That opportunity won't happen overnight, but might take 24 to 36 months. It will all depend on if they can increase occupancy over time, and charge higher lease rates over time."
Having Karasick and Werner as landlords is expected to be positive for the building and for downtown Winston-Salem -- at least in the short term -- the real-estate officials said.
Because the Wachovia Center was built to be a bank headquarters, real-estate officials have been challenged to fill it out as a multi-tenant building since 2003.
The Wachovia Center represents about a third of the vacant Class A space in Forsyth County, said Michael Clapp of Michael S. Clapp & Associates Inc., a real-estate appraisal company.
Finch said that the asking price in the Wachovia Center is $19.50 per square foot, but the landlords plan to be flexible. Clapp said that rate is about the same as the average price in the downtown area of $19.54.
Finch said that the new owners are going to be aggressive in leasing the remaining space.
"They can be more nimble than most real-estate investment trusts," Finch said. "They tend to bring value to the buildings they have owned, which not only makes the properties more valuable, but also more attractive to tenants."
'Gem of a building'
Meridian Realty Group, the previous marketing agent for the building, leased about 100,000 square feet over the past two years, said Cindy Christopher, a vice president for Meridian. She said that other tenants include B/E Aerospace, Deutsche Bank, Noregon Systems Inc., Smith Barney/Citigroup, U.S. Veterans Administration and Wake Forest University Health Sciences.
"It's a gem of a building, not only in the Triad, but in the state," Christopher said.
Clapp said he is encouraged that the vacancy rate in the Class A market has decreased from 16.2 percent in January to 13.2 percent in July. But he cautioned that the county's ability to absorb more Class A space may be limited because of the economic downturn.
"I'm not sure having a different owner and different leasing group is going to create more demand for space there unless they drum up the support themselves, including from outside the area," Clapp said.
Local demand
Local real-estate officials said that the new owners may be speculating that there will demand for office space migrating from Piedmont Triad Research Park as startup companies there mature and new entrants want more prestigious executive space than down the hall from a wet laboratory.
The city of Winston-Salem provided nearly $5 million to Wachovia toward the building, mostly in subsidy payments for the adjacent parking deck. Those payments ended in 2005.
"Having a local owner to work with would have been nice, but that's not the nature of how most real-estate investment trusts work," said Allen Joines, the mayor of Winston-Salem.
"It's encouraging that an investment group of their stature has seen enough potential in the Wachovia Center to buy it and hopefully improve it."
Finch said he will market the vacant space to not only companies in the research park, but also businesses in Class B space that are ready to move into more attractive office space. He also plans to market the space on a regional and statewide basis.
"I really believe it's an exciting time for this building," Finch said. "It already has a good tenant mix, and now has a very creative ownership.
"We believe that combination will help us attract tenants who may not have made the move otherwise."
---
Local landmark
The Wachovia Center was built to serve as the headquarters of Wachovia Corp. at a cost of about $80 million.
• DIMENSIONS: Tallest in Winston-Salem at 460 feet and 28 floors of office space.
• DESIGNER: The building was designed by Cesar Pelli, who also designed Wake Forest University's Worrell Professional Center for Law and Management and what is now the Bank of America Corporate Center in Charlotte. Pelli was chosen from five architects who competed for the project.
The gardens around the building were designed by landscape-architect Diana Balmori, Pelli's wife.
• EXTERIOR: In addition to glass, the building's exterior is made of gray-speckled white granite that was quarried in Sardinia, an island in the Mediterranean. The rock was shipped in big blocks and then cut into slabs.
• OWNERS:. Wachovia (1995-September 2004); American Financial Realty Trust (May 2004-April 2008), Gramercy Capital Corp. (April 2008-October 2008); SL Winston-Salem LLC (October 2008-present).
• AMENITIES: Cafeteria, dry cleaner, fitness center, parking garage, 24-hour security, Wachovia branch.