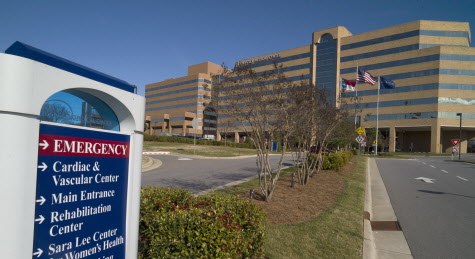 The risk of transmitting Creutzfeldt-Jakob disease to patients by contaminated surgical equipment is considered extremely low by federal health officials.
The rare but fatal degenerative brain disorder is caused by a rare type of protein that can adhere to surgical equipment and withstand standard sterilization.
However, the exposure risk from such equipment may be higher than commonly known.
The 18 patients at Forsyth Medical Center potentially exposed to CJD are involved in the latest of at least seven high-profile, and eerily similar, incidents in the United States over the past 14 years.
The largest incident, according to media reports, was about 4,000 patients at University of Pittsburgh Medical Center Presbyterian potentially being exposed from April 2001 to April 2002. The hospital performed surgery on a patient in April 2001 to treat a condition of the nervous system. The hospital confirmed the patient died in the first quarter of 2002 from the disease.
Forsyth informed the public of its CJD incident Monday. Patients were exposed to surgical equipment used on a neurosurgery patient operated on Jan. 18. That patient was diagnosed with CJD by Feb. 6. The potential risk timeline was Jan. 18 to Feb. 6.
Jeff Lindsay, Forsyth's president, said "any exposure is simply unacceptable."
In October 2004, Emory University Hospital in Atlanta acknowledged that at least 516 patients had been exposed to CJD after a brain surgery patient tested positive for the disease in September 2004. There were 98 brain or spinal surgery patients and 418 other non-neurosurgical patients affected by the incident.
More recently, in September 2013 officials at Catholic Medical Center in Manchester, N.H., said eight patients were exposed to equipment used on a patient who was operated on in May. The patient later tested positive for sporadic CJD and died. The N.H. Department of Health and Human Services said another five patients from Connecticut and Massachusetts were exposed.
Altogether, at least 4,719 patients were exposed in incidents that also include hospitals in Denver (six), New Orleans (eight) and Odgen, Utah (155). Some exposure incidents were cited in a 2010 article in the New England Journal of Medicine on the ethics of hospitals informing patients of "near risk" exposure to harmful or deadly diseases.
If there is any silver lining for the Forsyth hospital patients, it's that from the other six incidents there have been no known cases of patients exposed to CJD by contaminated surgical equipment being harmed by the disease. According to a September 2013 article in Scientific American, published soon after the New Hampshire incident, the magazine reported that none of the exposed Pittsburgh patients have shown signs of CJD.
The CJD exposure at Forsyth has gotten the attention of state health regulators and The Joint Commission, officials with those groups said Wednesday. The commission is an independent nonprofit organization that accredits hospitals in the United States.
It remains unclear whether Forsyth and Novant will face state or federal regulatory sanctions.
Kevin Howell, a spokesman for the N.C. Department of Health and Human Services, said Friday its division of Health Service Regulation "takes the enforcement of state licensure rules and federal CMS regulations very seriously."
"However, federal CMS policies prevent DHHS from disclosing any potential investigation or potential enforcement action that may be taken against any state licensed and Medicare certified facility."
CMS officials have not responded to questions submitted Wednesday about the Forsyth incident.
Similarities in exposure, response
In all seven incidents, patients were exposed because enhanced sterilization measures were not used following the surgery on the patient later determined to have CJD.
Abnormal forms of normal cellular proteins that cause sporadic CJD, the most common version, are not eradicated by standard sterilization process, according to the Centers for Disease Control and Prevention.
The Joint Commission issued a sentinel warning in June 2001 about CJD exposure from contaminated surgical equipment after the 2000 incidents in Denver and New Orleans.
The commission stressed "regular sterilization techniques are not yet proven to be effective against the CJD organism." The commission recommended "the disinfection or disposal of instruments used in neurosurgery in general and when CJD is suspected or confirmed, and the quarantine of such surgical instruments until an unclear diagnosis or biopsy is clarified."
Dr. Jim Lederer, a Novant Health Inc. infectious disease expert, said Monday said there were "reasons to suspect" that the patient had the disease or another brain disease at the time of the surgery. "The extra cautions should have been taken, but were not," he said.
Hospital officials in each incident expressed remorse over the failure to take the proper enhanced sterilization steps. They stressed the extremely low risk that any of the patients will contract CJD through the variant version of CJD.
They committed to providing medical assistance to the exposed patients, who may not know for years, if not decades, if they have CJD because it has such a long incubation period. They all committed to using enhanced sterilization methods for any equipment used in future neurosurgery.
The authors of the New England Journal of Medicine article described CJD among "the most vexing large-scale adverse events involving potential injuries that cannot be definitively diagnosed and have no treatment."
The Winston-Salem Journal submitted Wednesday a series of medical and logistical questions to Forsyth and Novant. It included asking about the cost of replacing the contaminated surgical equipment. "Prevention of surgical transmission of CJD is possible but cumbersome and costly," the authors said.
Hospital spokeswoman Jeanne Mayer said in an email Thursday that "Our primary concerns right now are: ensuring that processes are in place to provide the absolute safest care to our current and future patients; and supporting the affected individuals and their families."
"In the meantime, we are conducting an extensive review of the events that led to this process failure. When we have completed our review, we will be happy to provide more information with you."
The authors wrestled with the ethical responsibilities of hospitals when faced with a CJD exposure risk.
"A duty to tell the truth might be outweighed by a duty of non-malfeasance," the authors wrote.
"The fear and worry that could accompany disclosure may constitute a greater and more permanent harm in the case of CJD than in other large-scale adverse events without any corresponding benefit, given the remote chance of transmission of this disease and the lack of diagnostic and treatment options.
"Arguably a patient has the right to the information. Should CJD develop in the patient, the harm is intensified by the sense of betrayal if the patient learns that providers have kept the risk of the development of a terminal, incurable disease a secret."
The authors said disclosure to a potential affected but unaware patient may prevent putting other patients at risk from contaminated surgical equipment if they have subsequent neurosurgery, and in part so that they can take advantage of potential treatments if they are developed in future years.
"Although, on balance, we believe that disclosure is often warranted, there is also greater ethical justification for nondisclosure (for CJD) than in the other type of large-scale adverse events," the authors said.
It may be too soon for the 18 patients to decide whether they will sue Forsyth and Novant for being exposed to CJD.
Drew Brown, an attorney with Greensboro law firm Benson, Brown & Faucher PLLC, said Friday it has been retain by two individuals who claim they are part of the 18 exposed patients. The law firm has run newspaper ads soliciting patients.
"What we would advise them to do is wait at least a year so that we could hire third-party medical experts to evaluate their case," Brown said. "It would take that kind of time to determine what kind of damages to pursue for their exposure risk and their mental anguish."
Brown said part of the evaluation would be determining what kind of damages can be sought for a disease that they may never have, but would represents a death sentence if they do. He said any lawsuit would have to be filed within three years to avoid statute of limitation restrictions.
"Liability does not appear to be a question given what Forsyth officials already have said," Brown said. "They now have to back up what they have committed to for what may prove to be a very long time."
In the Emory exposure case, at least 17 patients sued the hospital in the spring of 2006, about 18 months after the hospital disclosed the incident. The plaintiff accused the hospital system of medical malpractice, breach of fiduciary duty, reckless infliction of emotional distress and breach of informed consent.
Emory responded to the lawsuit by denying all of the allegations, according to a March 2006 article on the AccessNorthGeorgia website. "There are no cases in the medical literature of CJD having been transmitted following the routine measures of surgical instrument sterilization that we employed," Emory spokesman Ron Sauder said at that time.
At that time, Emory officials said they were aware of no CJD cases among the 516 patients.
Wayne Grant, an Atlanta attorney who represented 17 of the Emory patients, said in a phone interview Wednesday that his clients chose those specific claims because they believed the hospital did not following the proper sterilization steps during the exposure timeline.
"Emory fought our lawsuit hard on all fronts," Grant said. "They said the right words in their (2004) press conference, but it was just spin and lip service."
Grant said his clients' ages ranged from their 20s to their 60s. Several of his clients "were deeply affected" by knowing they had been exposed to CJD, some developing depression or paranoia.
"I'm sure the patients who have been exposed at the hospital in your area are going through similar feelings," Grant said.
"You don't know if this horrible disease is incubating inside your brain. If you start having memory lapses, what comes to mind but 'Is this the beginning of the end for me.' "
After nearly five years of litigation and depositions, the hospitals and the 17 patients reached a confidential settlement in 2011.
Grant said he could not disclose, for client privacy reasons, what damages he sought.
"It is difficult to place monetary value because each person is affected in their own way," he said.
"Emory agreed to the settlement after all the cards were put on the table and all the legal claims had been evaluated. They had sent notices to the patients not to donate blood or their organs. What does that tell you?
"There was no more hiding or denying facts,"
Janet Christenbury, Emory's media relations director, said Thursday she was trying to get comment from Emory officials about the settlement agreement.
Grant said he is not aware of any of his clients being diagnosed with CJD, although two have since died, one from a heart attack.
When asked if the settlement amount was able to satisfy the needs of his clients, Grant said "they all wished the hospital could erase what happened."
"There is no amount of money that they would have taken in advance to accept being exposed to this terrible disease since they have to live with the consequences the rest of their lives."
Creutzfeldt-Jakob exposure
There have been at least seven high-profile cases in the United States in the past 14 years where surgical equipment, mostly for neurosurgery, was used on patients after the equipment was first used on a patient later diagnosed with the disease.
The equipment appears to have been sterilized by standard procedures, but not to enhanced standards recommended by the World Health Organization when exposed to CJD. WHO officials recommend destroying the equipment when practical and cost effective.
In 2000, six patients at Exempla Saint Joseph Hospital in Denver.
In October 2000, eight patients at Tulane Hospital and Clinic in New Orleans.
In June 2002, the University of Pittsburgh Medical Center Presbyterian announced patients might have been exposed to CJD from April 2001 to April 2002. Media reports said the exposure level could have been up to 4,000 patients.
In October 2004, at least 516 patients -- 98 brain or spinal surgery patients and 418 other non-neurosurgical patients – at Emory University Hospital in Atlanta.
In January 2006, 155 patients at McKay-Dee Hospital in Odgen, Utah.
In September 2013, eight neurosurgical patients at Catholic Medical Center in Manchester, N.H.. The N.H. Department of Health and Human Services said another five patients in Connecticut and Massachusetts were exposed.
Jan. 18-Feb. 6, 2004: 18 patients at Forsyth Medical Center.
Hospital press releases; Scientific American; New England Journal of Medicine
Creutzfeldt-Jakob symptoms
In the early stages of the disease, patients may exhibit failing memory, behavior changes, impaired coordination and/or visual disturbances.
As the illness progresses, mental deterioration becomes more pronounced, and involuntary movements, blindness, weakness of extremities, and, ultimately, a coma may occur.
People are not at risk of exposure through sneezing, coughing or even sexual contact.
It is typically identified through a spinal tap, biopsy, MRI of the brain or EEG of the brain.
The sporadic version of the disease accounts for 85 percent of the annual cases, including the Forsyth patient who has been identified with the disease. A hereditary version accounts for about 14 percent.
Less than 1 percent of cases of Creutzfeldt-Jakob disease are acquired through iatrogenic and variant exposure.
Among the iatrogenic risks are contaminated surgical instruments, dura mater transplant, corneal transplant and human growth hormone. The variant risks can come from eating contaminated beef or being exposed to contaminated blood or a blood plasma transfusion.
The last confirmed case of a transmission though surgical instruments occurred in 1976. Novant said that there have been only four confirmed cases of such transmission in the world.
The incubation period for the disease can be six months to decades. Once symptoms appear, death typically occurs within a year.
Source: Creutzfeldt-Jakob Disease Foundation Inc.; Novant Health Inc.
The business news you need
With a weekly newsletter looking back at local history.