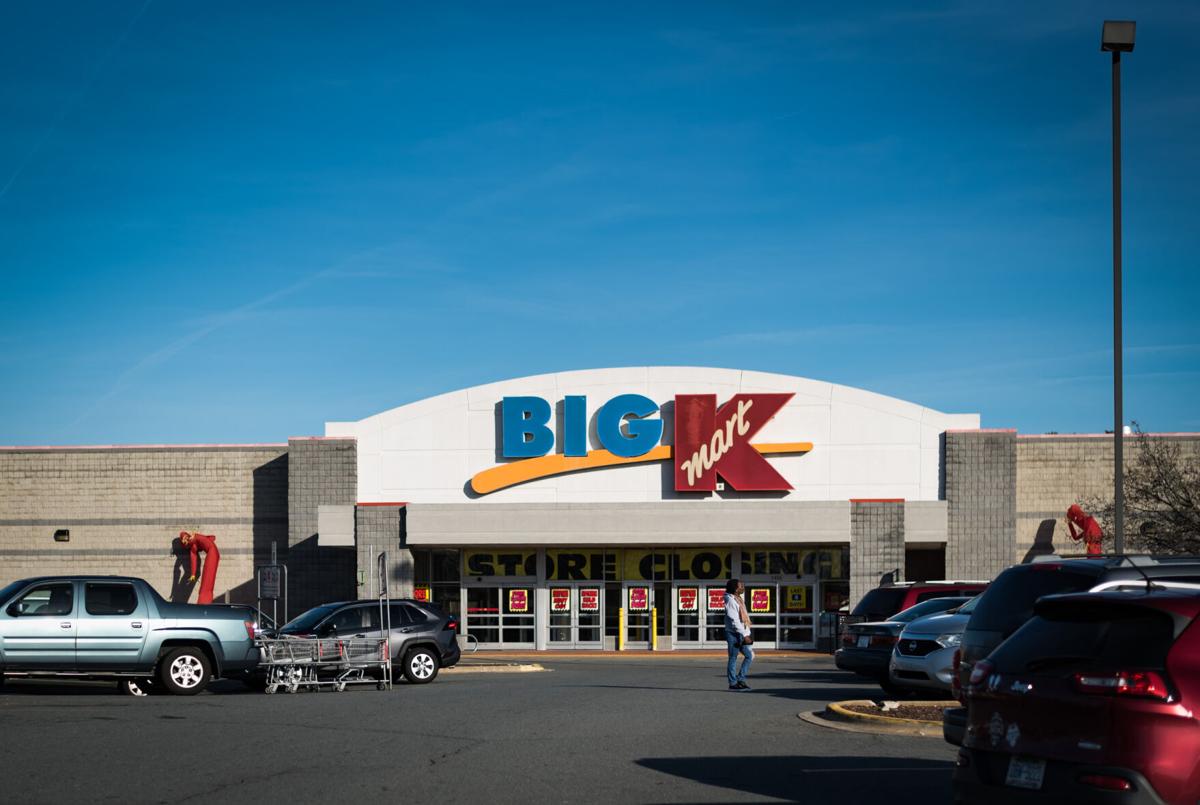 The rumors — heard around the village for several years — have come true: Clemmons is getting an Aldi grocery store.
In the midst of the COVID-19 pandemic and the accompanying surge in online shopping, personnel with Davie Construction are inside the former Big Kmart store renovating 25,260 square feet for Aldi.
Krysta Cearley, Salisbury division vice president for Aldi, said Thursday the company does not have details about when it plans to open the Clemmons store. There are plans for opening another in Greensboro at an undisclosed site.
The 94,841-square-foot Kmart space — the largest single retail site in the village since it opened in 1992 — had been dormant since December 2019.
In July 2019, an affiliate of Harbour Retail Partners of Wilmington paid $5.5 million for the building and 10.5-acre site at 2455 Market Center Drive. The property includes frontage off Lewisville-Clemmons Road.
The Forsyth County Register of Deeds website lists Aldi (N.C.) LLC as signing on Nov. 19 a 10-year lease agreement with an affiliate of Harbour Retail Partners of Wilmington. There also are four options for an additional five years each in the lease.
A brief Harbour news release confirms Aldi as an anchor tenant for the renamed Clemmons Market. Harbour said it "is negotiating letters of intent to fill the remainder of the redeveloped Kmart space."
"Aldi kicked off the redevelopment project for us," said Jim Whelan, Harbour's director of asset management.
"When we bought the property, we knew Kmart was going to close down that location.
"The retail trade area and demand had grown enough — with Clemmons drawing consumers from the south — and is dense enough that we are confident we would backfill it with one to four other tenants besides Aldi."
Four-five more tenants?
An Aldi site plan submitted to village officials shows up to five additional tenants, two of which could occupy a similar square footage to Aldi.
"We're actively negotiating with several other nationally recognized softgoods tenants to occupy the balance of the building," Whelan said.
Softgoods typically involve clothes, home decor and accessories and other personal items. 
Whelan said the potential additional tenants already have a presence in Forsyth County, but some not in the Clemmons area or Hanes Mall Boulevard. He said some have a presence in the northwest retail market, but realize another presence in Forsyth would be advantageous.
Whelan said the goal is to have Clemmons Market 100% occupied in 2022.
All tenants would have an entrance carved out of the gray building. Whelan said the site plan represents Harbour's current redevelopment projections.
An outparcel site contains a recently opened Bojangles restaurant. Whelan said there are no current plans for additional outparcels.
"The Kmart building did look like a fortress, a Fort Knox, a concrete building that wasn't very inviting," Whelan said.
"We are going to modernize it with more storefronts. It will have a cleaner look and will fit more with how retail fits in Clemmons."
Aldi's plans
Cearley said about 12,000 square feet will be available to customers, with the rest dedicated to inventory and backroom space.
"We want the best sites that are closest to our shoppers and can support a high daily traffic volume," Cearley said.
"As the demand for Aldi grows, so do our real estate options."
In Clemmons, Aldi will be joining a mix of discount grocers such as Food Lion and Walmart, and traditional grocers Harris Teeter, Lowes Foods and Publix.
Speculation about Aldi's interest in the Clemmons market surfaced in July 2017 when the chain connected to a strip mall near Starbucks off Lewisville-Clemmons Road was projected for redevelopment. Aldi was projected to open a 19,630-square-foot store there.
The Aldi store would have a curbside pickup lane and a critical access road circling the building.
"While Aldi competes with those other grocery stores in the Clemmons, they also tend to complement each other in that many consumers like the ability to shop multiple grocers," Whelan said.
"There are consumers who go to Aldi primarily, or for certain items on their list."
Aldi has committed to opening 100 new stores this year, with a particular focus on Arizona, California, Florida and the Northeast.
"We're incredibly proud to continue growing in all aspects of our business, from opening new stores to enhancing our eCommerce offerings, especially in light of the challenges businesses have faced in the last year," Jason Hart, chief executive of Aldi U.S., said in a January statement.
"Our commitment to our shoppers, new and existing, is the same — we will do everything in our power to offer the lowest possible prices every day."
Harbour background
It is Harbour's first property in the Triad, according to its website.
Harbour lists three main focuses: redeveloping existing shopping centers and/or repositioning or replacing anchor tenants; start-from-scratch projects, typically grocery-anchored, mixed-use centers; and joint ventures.
"The tenants that will be alongside Aldi can play off the vibrancy of the Clemmons market and don't necessarily have to be situated next to Aldi," Whelan said. "It matters more to be in Clemmons.
"We like to think we know the retail markets in North Carolina well, and Clemmons checked so many boxes for us with population growth, the demographics, retail demand and the site's location in Clemmons, as well as off Interstate 40.
"We thought, and we think many would agree, that the Kmart site was ripe for a better and higher use."
Whelan said that Harbour is looking for other opportunities in Forsyth and the Triad, "but nothing active right now. Our focus right now is on Clemmons and making it successful."
"We try to drive to drum up business the old-fashioned way, driving retail corridors and seeing what's shaking and leveraging relationships."
Will it work?
The site maps for Clemmons Market fit the pattern of a Harbour redevelopment project, said Raymond Collins with Collins Commercial Properties Inc. of Winston-Salem.
"Typically, a building of this size is cut up/demised for three or four larger users, all with their own front entry vestibule, in this case facing Lewisville-Clemmons Road," Collins said.
"The amount of small shops typically implemented in a redevelopment like this is minimal, as the small shops take away store frontage from larger tenants."
Collins said Harbour likely purchased the building in part because it believed it could market leased space in a growing Clemmons retail environment at a lower cost than start from scratch.
"The challenge to redeveloping a structure of this size, width and depth is that sometimes the full depth of the building cannot be repurposed in an economical way," Collins said.
"As example, more than one tenant may share loading docks with a delivery corridor behind the retail showrooms.
"Alternatively, some of the space in the extreme rear of the building may go unutilized, or leased as a secondary, non-retail purpose, such as storage."
Collins said that attracting Bojangles as a front door to the property "serves to bring new/additional traffic to the property, primarily morning drive, but also at lunch and dinner."
"This helps to rebrand the property in giving customers a new reason to come to the site."
Depending on the other anchor tenants, Collins said that "with patience, and a well-conceived game plan, Harbour will be successful in Clemmons."
"The underlying Clemmons market is strong, with many well-established neighborhoods, growth in residential rooftops, high average household incomes and solid schools.
"Clemmons is also served by I-40 and other well-established arterials providing good access from a regional secondary market."
Other tenants matter
"Aldi, like any grocery store, can act as an anchor," said Zagros Madjd-Sadjadi, an economics professor at Winston-Salem State University.
"But, there has to be a realization of the type of clientele it attracts when it comes to leasing out the rest of the properties. It will likely attract a lower-per-square-foot leasing arrangement for the other portions than would a Harris Teeter, for example."
Madjd-Sadjadi said offering separate enclosures will work better and be more profitable for Harbour.
He said it's more likely the Clemmons Market tenants will serve as a modest traffic driver to the Bojangles than vice versa.
"As for having a Bojangles as an outparcel, like most fast-food restaurants, it is not a destination shopping experience," Madjd-Sadjadi said.
"So, while it helps to bring in revenue for the mall operator, it does little to create traffic for other operators in the mall in most cases."
Brick-and-mortar revival?
Whelan said the timing for Clemmons Market is based in part "that a majority of the population is saying a mask is enough to make me feel safe, so I'm going to go out and shop my local retail outlets and local restaurants."
"We believe those retailers and restaurants that are active now will stand to benefit as consumers adapt their habits.
"The demand for retail is still there," Whelan said. "What is looks like is changing."
A local retailing and marketing expert said Harbour and Aldi's timing may be fortuitous for proceeding with Clemmons Market.
"While most forecasters predict the growth in e-commerce that has occurred during the pandemic should hold going forward, it seems inevitable there will be some retail correction ahead as brick-and-mortar stores swing their doors wide open to welcome old and new customers alike," said Roger Beahm, executive director of the Center for Retail Innovation at the Wake Forest University School of Business.
"We shouldn't underestimate the power of a good merchant."
Another factor that could benefit the developer is Beahm's sense that consumers — post-pandemic — will "want some normalcy back in their lives."
"We're seeing light at the end of this tunnel, and we may be only months away now from an 'all clear.'
"Retailers know brick-and-mortar offers advantages that online can't deliver," Beahm said. "The key is to turn those differences into a competitive advantage. Smart retailers will figure out how."
Another advantage brick-and-mortar retailers could have post-pandemic is ramping up "a more entertaining in-store experience."
"Retail will never again be as it was," Beahm said.
"But as long as consumers love to shop with their hearts, as well as their minds, and to experience shopping with all their physical senses and not just two, brick-and-mortar will have a competitive point-of-difference."