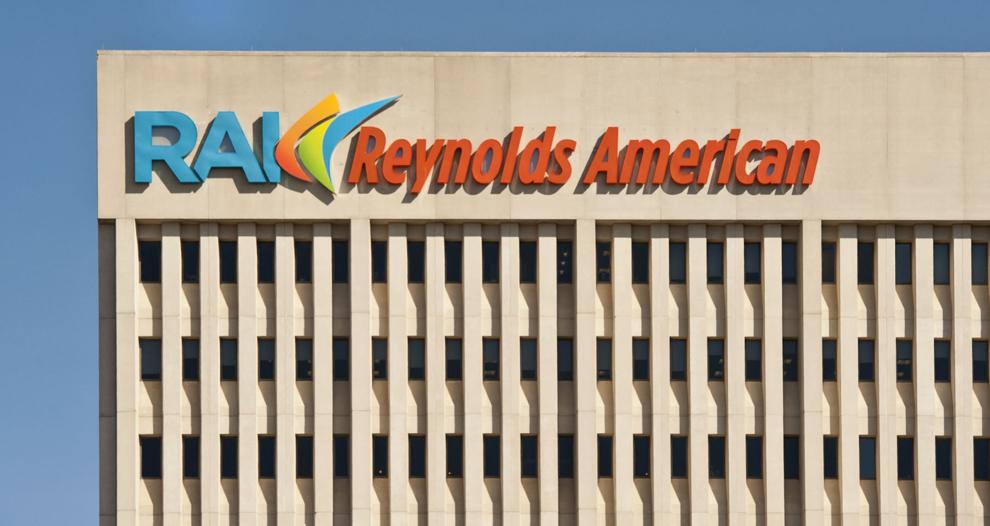 British American Tobacco Plc reported Wednesday slightly exceeding its adjusted revenue growth projection for fiscal 2020 in spite of the COVID-19 pandemic's impact on its global sales.
The manufacturer, per British financial custom, issues only first-half and full-year financial reports.
BAT is the world's largest publicly traded tobacco manufacturer. Reynolds American Inc., its largest global subsidiary, has about 2,500 employees in Forsyth County at its U.S. headquarters.
BAT estimated on June 9 adjusted revenue growth of between 1% and 3% range, down from an initial range of 3% and 5%. The range was lowered with COVID-19 related economic shutdowns affecting its U.S. and global customer base.
The manufacturer said Wednesday that adjusted revenue finished up 3.3% to $35.75 billion.
Reynolds' overall adjusted sales volume was up 11.2% to just under $16 billion, including a 9.9% increase from traditional cigarettes to $13.84 billion and 20.4% in non-combustibles to $2.12 billion.
The traditional cigarette revenue growth was boosted by list-price per-pack increases in the U.S., typically passed onto to smokers.
The tightening of Food and Drug Administration regulations on electronic cigarettes in February 2020 also contributed to increased traditional cigarette sales, according to analysts and industry observers.
"We are proud to have delivered revenue, profit and earnings per share growth, and strong cash flows, in challenging circumstances," Jack Bowles, BAT's chief executive, said in a statement.
"While the environment remains uncertain, due to the continuing challenges of COVID-19, the business is performing strongly."
On Dec. 9, BAT affirmed its June 9 projection of "mid-single-digit" adjusted earnings per share growth, down from the initial estimate of "high single digit."
On Wednesday, it reported a 5.5% increase to $4.62 for the full year.
That dividend level enabled BAT to maintain its annual policy of paying dividends valued at least 65% of its adjusted profit. That payout was worth $10.26 billion in fiscal 2020.
BAT's initial fiscal 2021 guidance includes revenue growth of between 3% and 5%, and mid-single figure adjusted earnings per share growth "reflecting continued COVID-19 impacts."
Barclays analyst Gaurav Jain said BAT's earnings guidance "is below market expectation of 7% growth. BAT expects to return to high single digit EPS growth once Covid-19 impact subsides."
"We think BAT is being cautious considering it cut guidance in June after holding on to guidance in March-May. We don't think BAT wants to be in a situation where it has to cut guidance again.
Project Quantum
Bowles said the better-than-expected fiscal 2020 performance "was fueled by our continued strong performance in combustibles and $832 million of savings" generated from its Project Quantum cost-cutting initiative.
In September 2019, BAT said it planned to eliminate 2,300 jobs, or 4% of its global workforce, by January 2020 as part of its aggressive shift toward non-traditional cigarette products.
The company did not say how the job cuts would be made, including locally, except that 20%, or 460 jobs, could come from management. It has about 56,000 employees worldwide.
"Reynolds has already worked through most of these types of decisions through the merger and integration so any reductions here would be minimal," Reynolds spokeswoman Kaelan Hollon said in September 2019.
On Wednesday, BAT said the initiative included reducing management layers "and clear accountabilities," and was largely completed.
The next phase in 2021 is improving operational efficiencies, product rollouts and supply chain productivity.
"We continued to simplify the company and drive efficiencies ... being well on track to deliver our ambitious $1.39 billion of savings by 2022, further supporting new capabilities investment," Bowles said.
New category
Bowles has said the manufacturer is focused on three main priorities: ratcheting up non-traditional cigarette product revenue; diversifying next-generation product innovations; and gaining market share in traditional cigarettes sales.
New category business includes electronic cigarettes, snus and heat-not-burn traditional cigarettes.
Reynolds has featured products for BAT in Vuse, the No. 2 electronic cigarette in the U.S., and top-selling Camel Snus.
BAT is developing its own heat-not-burn product in Glo, which is focused in Europe and Japan, and purchased oral tobacco product Dryft during 2020.
Bowles said non-combustible products produced $3.62 billion in fiscal 2020 revenue, represented about 10% of overall revenue and reaching double-digits for the first time in a fiscal year.
As of Dec. 31, BAT had 13.5 million non-combustible product consumers, up 3 million from fiscal 2019. The goal is having 50 million by fiscal 2030.
"Vuse is well on the way to global leadership and was the fastest growing vapor brand in 2020, reaching 26% value (market) share across our top-five markets," Bowles said.
BAT launched in January a pilot cannabis program for Vuse, branded as Vuse CBD Zone, in Manchester, England.
Bowles said BAT ratcheted up its investment spending on those products to just under $600 million in 2020.
"We have a clear purpose to reduce the harm footprint of our business. We are uniquely positioned to encourage the switch to reduced-risk products," Bowles said.
"Our well-embedded, consumer-centric, multi-category strategy is activated on a global scale, leveraging our insights on consumer satisfaction, innovation needs and taste preference.
"We are confident about the future for BAT and are committed to our 2025 new category (annual) revenue ambition of $9.33 billion," he said.
One reason for optimism is that in an age of ever tightening litigation and regulation, when menthol products may be completely banned so impacting sales of the Newport brand one sees BATS seeing great growth in tobacco alternatives.
Stephen Pope, managing principal at London-based Spotlight Ideas, said sales of the Vuse and Vype brands for vaping climbed 52%, with online vape sales up 40%.
"The company said it had attracted 17,500 people to sign up as regular subscribers to BAT's brands," Pope said.
"Good as such figures are, one must wonder if vaping is on the cusp of being a mature market and such stellar growth will simply fail to be repeated in forthcoming quarters."