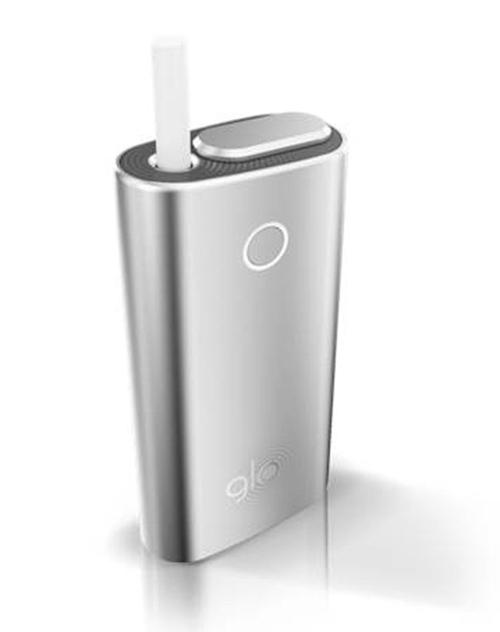 As British American Tobacco Plc plans to expand the global reach of its heat-not-burn traditional cigarette glo, a recent medical research report finds a prominent reduced-risk role for the products.
BAT is the world's largest publicly traded tobacco manufacturer. Reynolds American Inc., its largest global subsidiary, has about 2,500 employees in Forsyth County at its U.S. headquarters.
The publication notes the four primary researchers are employees of either BAT or R.J. Reynolds Tobacco Co., and that BAT holds the intellectual property rights to the research. The report listed that glo is not risk-free and can be addictive.
Researchers reviewed smokers of traditional and heat-not-burn cigarettes for 12 months, of which the most recent release is based on a six-month period. The smokers were between ages 23 and 55, in good general health, and either did or did not want to quit.
The smokers who did not intend to quit were randomized to either continue smoking cigarettes or switched to using only glo, while smokers who indicated they wanted to quit smoking received nicotine-replacement therapy and access to a cessation counsellor.
A group of never smokers was included to act as a control group, and continued not to use any tobacco or nicotine products. The only intervention was a monthly clinic visit where samples of blood, urine and other measurements were taken.
"Our findings support the notion that the deleterious (causing harm or damage) health impacts of cigarette smoking may be reduced in smokers who completely switch to using tobacco heating products," according to the report.
The results, BAT said, showed that switching completely to glo "resulted in statistically significant changes across a range of 'biomarkers of exposure' and indicators of potential harm, known as 'biomarkers of potential harm' compared with continuing to smoke."
BAT touts the report as the "first-ever, long-term study showing sustained reduction in exposure to certain toxicants and indicators of potential harm in smokers switching completely to glo."
"For most biomarkers measured, the reductions seen in people using glo were similar to those in participants who stopped smoking completely."
Dr. David O'Reilly, BAT's director of scientific research said the findings "allow us to understand the potential for reduction of risk that switching completely to glo can deliver."
Market presence
Glo has not been approved for sale in the United States, but is available primarily in Japan where it has a 6.2% market share among all nicotine products.
Analysts cite that BAT is playing catch-up to Philip Morris International, which has garnered the lion's share of attention and public-health criticism with its pledge to eventually snuff out traditional cigarette sales.
For example, the Food and Drug Administration approved in June 2020 the company's international version of heat-not-burn traditional cigarettes being marketed as modified-risk tobacco products.
The heat-not-burn product is marketed globally as IQOS, but in the United States is being sold as Marlboro HeatSticks.
The glo study comes as BAT is in the early stages of a transformation from traditional cigarettes to potentially reduced-risk tobacco and nicotine products.
Already holding a U.S. leadership role in electronic cigarettes, moist snuff and snus, BAT is attempting to raise the profile — and legitimacy — of its initiative.
"This paper is a comprehensive summary of more than 300 peer-reviewed scientific papers and other evidence published by an estimated 50 institutions over the past decade," O'Reilly said in June.
"We hope this paper will be used as a resource by public health authorities, and support adult smokers seeking to understand the breadth of scientific evidence that exists to inform their choices."
Deep skepticism
As BAT highlights how its efforts are increasingly in line with public-health goals to reduce U.S. and global traditional cigarette consumption, it continues to face deep skepticism from anti-tobacco and public health advocates.
Most anti-tobacco advocacy groups scrutinize smokeless innovations to determine whether they could serve a public-health benefit, or work as gateway products to cigarettes, particularly for youths.
In January 2020, then-U.S. Surgeon General Dr. Jerome Adams released a 30-year update on smoking-cessation efforts that provided a mixed message on the effectiveness of electronic cigarettes.
E-cigarettes are not currently approved by the Food and Drug Administration as a quit-smoking aid, and are not considered as safe products for any user.
"E-cigarettes, a continually changing and diverse group of products, are used in a variety of ways," Adams said in the 20-page consumer guide.
"Therefore, it is difficult to make generalizations about efficacy for cessation based on clinical trials involving a particular e-cigarette. More research is needed on whether e-cigarettes are effective for smoking cessation and to better understand the health effects of e-cigarettes."
Adams also cited the need to "connect with smokers where they are."
BAT has said it believes the cumulative nature of the report will "show that, over the past decade, the number of people who incorrectly believe vaping is as harmful or more harmful than smoking conventional cigarettes has risen in the UK, Europe and the U.S."
"This is despite several scientific reviews, published in the same period showing, that vaping products manufactured in accordance with quality standards present less risk to health than cigarettes."
"The scientific evidence is clear — but consumer misperceptions remain," BAT said.