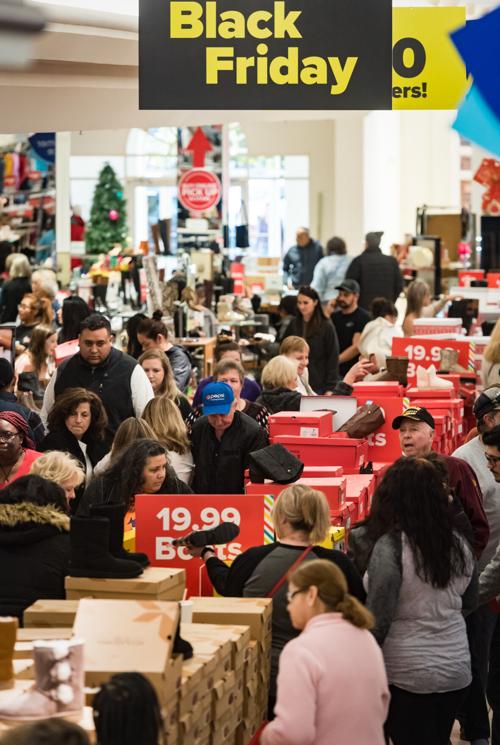 An unleashing of pent-up shopping and gift-giving is projected for the holiday shopping season, which has kicked off in recent years on Thanksgiving and Black Friday.
Economists, retail analysts and even consumers aren't sure, however, how much people will be spending this year and what the split will be between brick-and-mortar and online retailers.
For example, the latest High Point University Poll of 968 North Carolina residents found that just 18% plan to do most of their shopping at brick-and-mortar stores, while 37% plan for online and 32% both equally.
"The proportions of shoppers going online and not shopping in stores have changed significantly since before the COVID-19 pandemic," according to a poll news release. The 2019 poll found 32% did most of their shopping online and 24% in-person.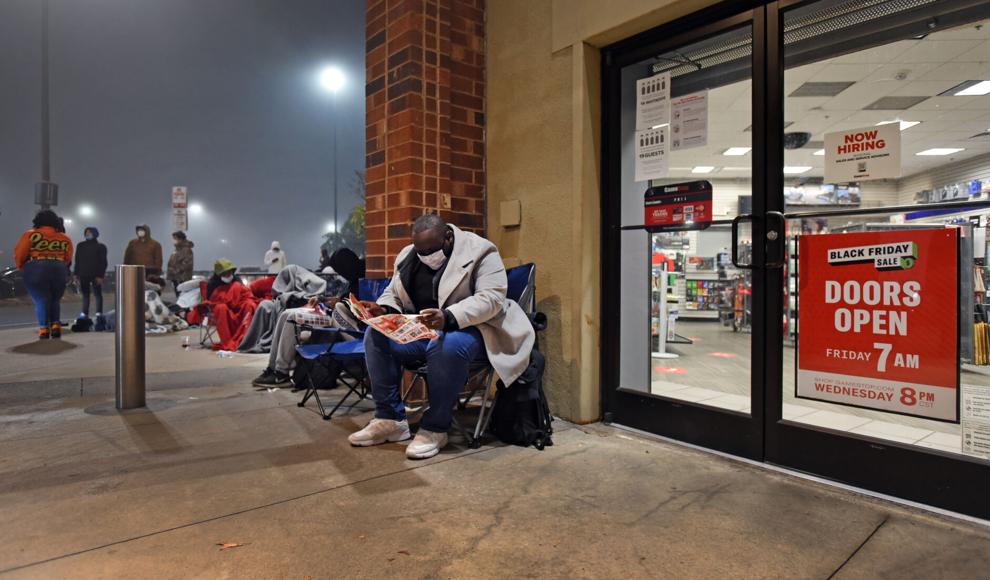 The 2021 poll found 33% of respondents plan to spend less on the holidays this year, while 46% say they will spend about the same amount of money and 21% will spend more.
Overall holiday spending projections, which include food and decorations, decreased from $949 in 2019 to $744 this year.
By comparison, Bazaarvoice Inc. said its global consumer survey found that 55% plan to spend the same amount as last year, while 15% expect to spend more.
Perhaps more concerning for brick-and-mortar retailers is that 58% say they won't shop on Black Friday. That's compared to 38% for the 2019 holiday-shopping season.
"Changes in shopping behavior may be a result of the concern people have about the risks associated with COVID-19," according to poll officials.
Nearly 40% said the pandemic "affected their decision about where to shop this year a lot or some."
"Along with the on-going return to normalcy, we see some return to brick-and-mortar shopping," says Daniel Hall, interim dean of HPU's Phillips School of Business.
"This return, however, is not happening on Black Friday, which historically refers to brick-and-mortar, and Cyber Monday to online shopping. Some may be shopping earlier than Black Friday in anticipation of supply chain constraints."
Mark Owens, president and chief executive of Greater Winston-Salem Inc., said he believes local retailers will be at an advantage this season.
"Holiday spending is projected to be up, and with supply-chain shortages across the country, the best place to get what you are looking for is at your local businesses," Owens said.
"By shopping local, you can leave the store with the item you are looking for and help support members of our community at the same time."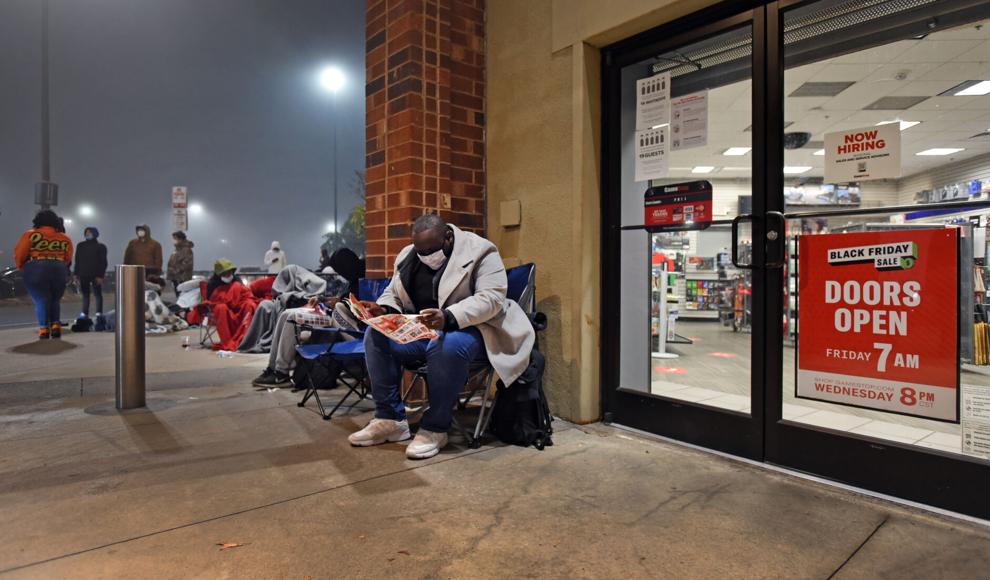 Spending projections
The National Retail Federation's holiday-shopping forecast projects record-breaking consumer spending, up between 8.5% and 10.5% over 2020 to between $843.4 billion and $859 billion. Consumers are expected to spend an average of $997.73.
The jump in sales is expected in part because more families who are fully vaccinated will be able to gather compared with last year.
With supply-chain concerns, particularly regarding electronics, many consumers began shopping in earnest in October. The NRF survey found that 66% of consumers plan to shop in-person or online over the five-day shopping period from Thanksgiving through Cyber Monday.
"Consumers are starting earlier than ever to be sure they can get what they want, when they want it, at a price they want to pay," said Matthew Shay, NRF's president and chief executive.
"Black Friday stopped being a one-day event years ago, and this year some consumers started shopping for Christmas as early as Halloween. NRF is encouraging consumers to shop safe and shop early, but retailers are confident they have enough inventory on hand to meet holiday demand.
"For those shopping during the weekend, deals that are 'too good to pass up' remain the top reason, cited by 58% but tradition continued to come in second at 28%."
Return to normalcy?
In recent years, in-person shopping on Thanksgiving and Black Friday has been noticeably down, particularly with fewer consumers willing to wait in line for hours, if not days, in the cold for door-busters.
Yet, some retail analysts say the desire for normalcy amid the pandemic could inspire consumers back into retail stores.
"While online shopping is very much alive and well, consumers are looking to experience — for the first time in two years — the sights and sounds and tastes and smells of the holidays in person, masks or no masks," said Roger Beahm, executive director of the Center for Retail Innovation at the Wake Forest University School of Business.
"Retailers are dialing up the experience aspects of shopping in-store this year, the one major advantage brick-and-mortar has over online ... something a laptop or mobile device just can't deliver."
With more large department and discount-store chains offering Black Friday pricing in October, Beahm said it could add to the number of lean sales days beyond the high-profile shopping days.
Beahm said that while supply-chain issues related to the pandemic have spurred earlier shopping, "the two main benefits of shopping early are avoiding the stress of waiting until the last minute ... and to make certain they get those most-important-and-desired gifts they're looking for."
"With store shelves emptying as holiday shopping picks up, and with uncertainty as to when those same shelves will be restocked with the most desired items, consumers are hedging their bets and picking up their 'must have' gifts when and while they can."
Beahm said inflation is likely the main reason why some consumers may reduce their spending.
"Most of us tend to buy gifts not just for friends and family during the holidays, but also for ourselves," Beahm said.
"With the cost of merchandise escalating at a more rapid pace right now, results to date suggest shoppers seem willing to sacrifice some on buying for themselves this season."
Limited supplies
An October survey of 1,250 small businesses owners by Digital.com found that 76% expect inventory shortage for the holiday season — in a range of 20% to 60% below normal levels.
"The majority of retailers predicting inventory shortages, 58%, will cope with the lack of stock by raising prices. Another 23% say they're still undecided, but are considering price increases," Digital.com reported.
"Businesses with the overhead of brick-and-mortar locations are more likely to raise prices on their goods this holiday season."
Although the supply chain shortage has been exasperated by the pandemic, the surge of consumer demand for goods "has caught retailers by surprise," said Zagros Madjd-Sadjadi, an economics professor at Winston-Salem State University.
"Years of using a just-in-time (supply chain) systems has kept inventories low," Madjd-Sadjadi said.
"Normally, this would be fine because necessary production levels are usually highly predictable, and supply chains are usually able to handle surges.
"But, with so many (employee) retirements and such a pronounced bounce back in demand, we are seeing the results of not having sufficient inventories to handle slack."
Another major challenger facing brick-and-mortar retailers is a shortage of individuals willing to work full and seasonal jobs, said Michael Walden, an economics professor at N.C. State University.
"With holiday spending likely to rise and prices being higher, in-person sellers will also do well — as long as they can get enough workers."
Mark Mathews, the NRF's vice president of research development and industry analysis, told RetailDive.com that "we are running at incredibly high levels of job openings right now."
NRF projected that brick-and-mortar retailers would try to hire between 500,000 and 650,000 seasonal workers nationally, including 150,000 alone by Amazon.
"Remember that this is not just about the retail industry," Matthews said.
"There are shortages across a number of different industries, so everybody's competing to get people to come back to work."
Establishing patterns
Bazaarvoice.com said that "with more digital holiday shoppers than ever before, brands and retailers need to ensure they optimize online discoverability.
"They need to be sure to provide persuasive user-generated content that helps replicate the in-store experience of touching, feeling and trying out a product."
Bazaarvoice.com said that the most important top-of-mind concerns for consumers is cost at 63%, followed by availability or whether the product is in stock at 46%.
When deciding between two gifts, price (69%) is again the biggest factor, but it is followed by customer reviews (38%), shipping options (33%) and the products' ratings (29%).
Another shift in consumer spending, according to Baazavoice.com, is more shoppers are paying for experiential gifts, such as concert tickets and trips, and services, such as massages and facials.
"Frankly, I don't think we're going to ever return to a brick-and-mortar-dominated holiday season ever again," said Keith Nealon, Bazaarvoice.com's president. "COVID has driven shoppers online, and they like it there.
"Brands and retailers need to ensure their digital offerings are simple, efficient and filled with inspiring user-generated content to help give their customers the confidence to press purchase from their sofa."
Research firm McKinsey summed up a Nov. 2 holiday-shopping report that by saying "although this holiday season will pose many supply-chain issues and labor challenges for retailers striving to hold onto their customers, companies will also face unique opportunities related to strong holiday demand and omnichannel shopping preferences."
"In thinking about inflationary pressures, retailers will also have to consider whether they can absorb the increased costs or whether they'll partly pass them on to customers.
"Companies that can stay agile, anticipate early, and pivot to face consumer demand will receive their own holiday 'gifts.'"