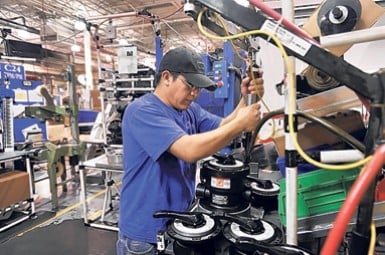 Davie County is about to enjoy the first fruits of a timely calculated risk in an industrial campus in Mocksville.
Hayward Holdings, the largest private employer in Clemmons, is set to open in October a 324,000-square-foot distribution facility in Davie Industrial Center. The facility represents a $25 million capital investment.
Hayward is a global designer, manufacturer and marketer of pool equipment and associated automation systems.
Davie economic officials unveiled plans in January 2019 for the 73-acre site at Interstate and Gildan drives off Interstate 40. The 700,000-square-foot Gildan Yarns LLC plant is near the planned campus, which also is near SouthPoint Business Park.
The goal is a three-phase roll-out that could feature more than 920,000 square feet of manufacturing and warehouse space when fully built. Hayward is the first occupant.
"Davie was able to attract this project because of our speculative building program, including a 324,000-square-foot building that was almost complete," Terry Bralley, president of Davie County Economic Development Commission, said Wednesday.
Bralley said in January 2019 that the pads for all three spec buildings would be graded, "but only Building 1 will be built. Only after Building 1 is completed and leased or sold will Building 2 and 3 go up unless it's a build to suit."
Hayward plans a workforce of 200 at the Mocksville center at full production, representing 50 new jobs and 150 employees transferred from its Clemmons facility at One Hayward Industrial Drive, where it had 747 full-time and 174 part-time jobs as of March.
Donald Smith, Hayward's chief supply chain officer, said Wednesday that "we expect to begin transitioning our workforce to the new location during the fourth quarter and ramp up to between 100 and 120 associates in the first half of 2022."
The company ranks 13th among Forsyth County's largest private employers.
Smith said Hayward's workforce in North Carolina has increased by 60% since December "as part of our capacity expansion program executed between 2019 and the present."
"The combined benefit of our new distribution center in Mocksville with our future manufacturing expansion potential in Clemmons positions Hayward and the communities we reside in to together enjoy growth and partnership for years to come."
Once the Mocksville facility opens, Hayward will have about 1.3 million square feet of space in the Triad.
The company's sprawling research-and-development, manufacturing, distribution and warehouse operations in Clemmons occupy 700,000 square feet. Nearly all of its pool products are made at the plant.
Both facilities serve Hayward's North American, European, Australian and Latin American markets.
"We're happy it has turned out to be a win-win for our region; by moving distribution to Davie, it allowed for manufacturing to expand in Clemmons," Bralley said.
Bralley said the Davie Industrial Center project follows a similar county pattern of recruiting private-sector funding and partnering with private developers.
For example, SouthPoint Industrial Park, located just north of Interstate 40 on U.S. 601, was founded in 1998 by the Hollingsworth Cos. That park consists of 10 buildings from 72,480 to 253,180 square feet.
SouthPoint has brought thousands of jobs and millions of dollars in investment to the county, Bralley said.
Bralley said Davie Industrial Center went from proposal to construction when Bill Junker, owner of Trailers of the East Coast in Mocksville, got involved by suggesting the availability of the campus land that already had most of the necessary utilities, a road and a stoplight.
Junker and the Davie officials hired Commercial Realty Advisors to evaluate the project and determine how to market it.
Junker said in January 2019 he was inspired by Bralley's decades-long vision that the corridor between U.S. 601 and U.S. 64 "would be the lifeline future of Mocksville."
Hayward background
Hayward, a publicly traded company since March 12, is in the process of moving its corporate headquarters to Charlotte from Berkeley Heights, N.J.
The company has 90 corporate jobs altogether. The plan is for the relocation to be completed by summer 2022.
The Clemmons operations will gain supply chain, quality-assurance and customer-service corporate jobs as part of the relocation initiative, according to Monty Hagler, who spoke on behalf of Hayward. The company did not disclose the number of jobs involved.
Meanwhile, Charlotte will gain the parent company's senior leadership team, corporate human resources, U.S. sales leadership, corporate finance and other strategic functions.
"This is an important strategic next step for Hayward to create greater synergies and cross-functional collaboration to improve decision-making, cycle time and customer service," chief executive Kevin Holleran said in a March statement.
"It will also result in long-term cost savings that will be redeployed back into the business, put us closer to our largest production facility and create easier access to connect with our customers, distributors and channel partners."
Hayward did not request economic incentives for the Mocksville project.
Hayward previously received $975,000 in local and state incentives in exchange for moving the bulk of its manufacturing base from New Jersey to Clemmons in 1995.