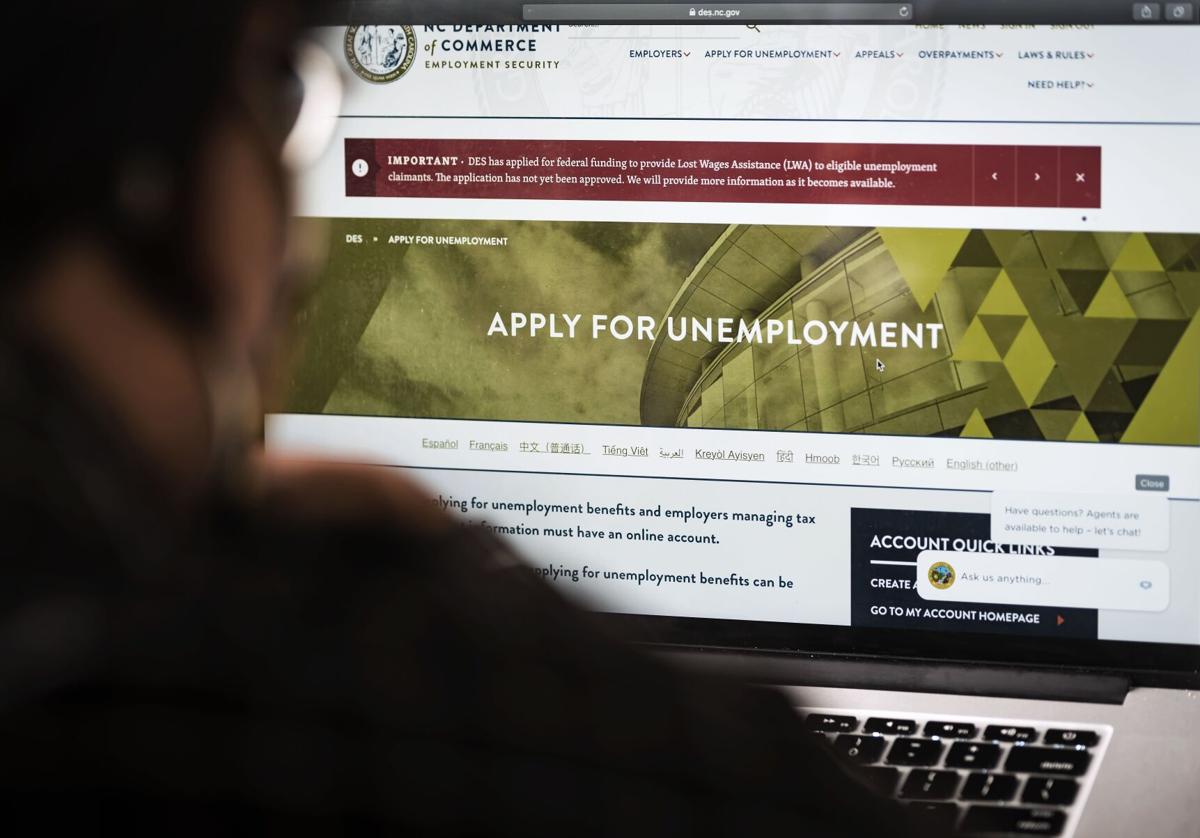 Initial daily state and federal unemployment benefit claims appear to be stabilizing in the 4,000 to 5,000 range, according to the latest N.C. Division of Employment Security report Friday.
Since the previous report on Tuesday, there have been daily claims ranging from 4,323 to 4,669.
Overall, there have been 3.37 million initial state and federal claims for the COVID-19 pandemic.
The record daily high for the pandemic stands at 43,297 claims filed on Dec. 27 when the federal PUA and PEUC programs expired temporarily. DES said in a Dec. 27 statement that "the increase in claims filed after Dec. 26 does not indicate ... new claimants entering the system."
Altogether, there have been 1.45 million initial claims. Some federal programs require filing additional state claims.
About 28.6% of the 5.01 million North Carolinians considered part of the state's workforce as of mid-December have filed a state or federal unemployment claim.
There have been $10.07 billion in UI funds paid since late March to unemployed and furloughed North Carolinians.
After $8.16 billion in state and federal unemployment benefits were paid from late March through Sept. 30, there had been just $1.91 billion since Oct. 1.
The $908 billion federal stimulus package signed into law by then-President Donald Trump on Dec. 27 restored benefits for the Pandemic Unemployment Assistance and Pandemic Emergency Unemployment Compensation programs through at least March 13 and payments through April 5.
As of 10 a.m. Friday, the PUA and PEUC programs had paid a combined $1.85 billion in benefits to North Carolinians.
A state House bill introduced Wednesday would extend eligibility until Dec. 31 for the PEUC program.
House Bill 107, sponsored by Rep. Julia Howard, R-Davie, makes two changes to state COVID-19 regulations. A companion Senate Bill 114 was introduced by Sen. Chuck Edwards, R-Buncombe.
The Federal Pandemic Unemployment Compensation (FPUC) program was restarted retroactive to Dec. 27. It also is set to expire March 13.
When the FPUC weekly benefit was worth up to $600, unemployed and furloughed North Carolinians received just under $4.88 billion from late March through July 26.
Since the resumption with the benefit currently worth up to $300 a week, FPUC has paid about $540 million in benefits to North Carolinians.
The latest federal COVID-19 relief package would increase that amount to up to $400 a week.
The federal extended benefits program is set to expire in North Carolina on Saturday because the state no longer meets federal requirements. There has been $219.8 million in payments to North Carolinians.
As of Tuesday, regular state unemployment payments are at $1.85 billion, with only about $140 million being paid out since Oct. 1.
Most unemployed and furloughed North Carolinians began exhausting their 12 weeks of regular state unemployment benefits in June and well before Oct. 1. The maximum number of weeks was raised to 16 in January for new claimants.
The state had $3.85 billion in the state Unemployment Insurance Trust Fund in mid-March. State legislators said Sept. 2 that between $2.9 billion and $3 billion remained in the fund at that time. The third COVID-19 relief bill added $87 million.
Gov. Roy Cooper said Feb. 4 that the fund contains $2.59 billion, and that he supports drawing down additional money from the fund.