The latest update on Atrium Health's proposed $1.5 billion Innovation District in uptown Charlotte serves as a reminder of the political challenges of a potential public-private collaboration.
It also represents a case study of a large nonprofit healthcare system seeking economic benefits typically requested by, and approved for, a large corporation.
Atrium chief executive Eugene Woods and Wexford Science + Technology officials spent about an hour on presentations designed to encourage commissioners to provide $38.4 million in tax-increment grants over 13 years.
The county grants essentially would serve as property-tax reimbursements to help pay for a $28 million, 800-space parking deck in the district.
Part of the Atrium and Wexford pitch to the commissioners is that the county still would have about an $18 million property-tax gain over the 13-year period, plus an additional $5 million annual "in perpetuity," Woods said.
At least 11,500 new jobs, including potentially 3,450 to 4,600 that won't require a four-year college degree, are projected to be created over 15 years within the planned Innovation District and a future medical school campus.
Although most commissioners expressed support for the overall project, several spent the remaining 75 minutes of the meeting questioning why so much public funding was needed when they are other pressing socioeconomic needs.
By contrast, Charlotte media have reported the receptive sentiment from the Charlotte City Council for Atrium's $36.6 million funding request.
Both boards could cast their votes later this month, including the commissioners potentially as soon as Tuesday.
Why care locally?
So, why care locally about yet another major economic project in Charlotte?
The 40-acre district would be near a planned Wake Forest School of Medicine campus slated for construction to begin in 2022 and for opening in 2024.
Charlotte is the nation's largest city without a four-year medical school.
Wake Forest School of Medicine also governs downtown Winston-Salem's Innovation Quarter, which currently covers 1.2 million square feet, under the auspices of Wake Forest University.
Wexford has been hired to recruit businesses, nonprofit and health care researchers to its planned district.
Meanwhile, Innovation Quarter officials announced June 14 that Wexford would be the main developer for Phase II of its district which could yield as many as 10 buildings and up to 2.7 million square feet of medical and mixed-use development on a 28-acre site.
Socioeconomic magnet
Both Eugene Woods, Atrium's chief executive, and Wexford have acknowledged that having the Charlotte medical school as a socioeconomic, educational and healthcare magnet makes the innovation district much more feasible to pursue.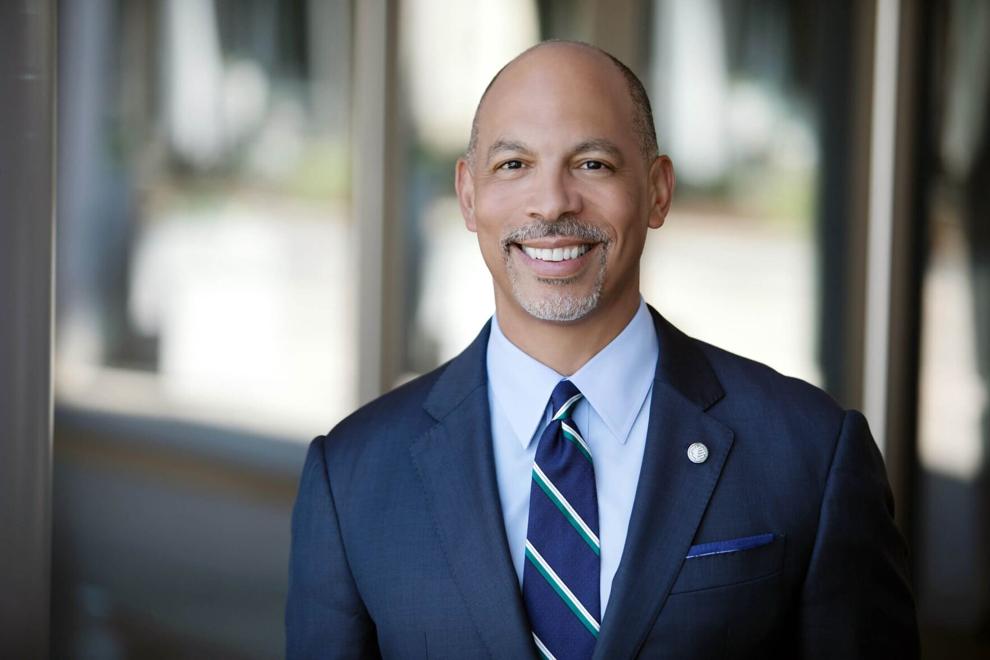 "We will be training future physicians that will care for you, your family, your neighbors and your loved ones, right here in Charlotte," Woods said.
"So, our best and brightest students will not have to leave town to go another place for medical school. They'll be able to stay here when they graduate. They'll be able to practice here in Charlotte."
A common commissioner response came from Susan Rodriguez-McDowell, who said "I love the project ... it is super exciting to be in the space of medical innovation ... great for Charlotte and Mecklenburg County."
But she added that "I have some concerns and questions about the benefits to taxpayers."
"It's our job to put it to the test ... to get the most bang for the buck, and a lot of the presentation is a bit vague and extremely complex."
Vice chairwoman Elaine Powell and commissioners Mark Jerrell, Vilma Leake and Laura Meier also expressed concerns.
Although Rodriguez-McDowell said government can have a role in developing infrastructure, she added, "I want to push back a little on that."
Rodriguez-McDowell later said that "I have a particular problem with investing in this way because it feels like a double-dip."
"Every single aspect of health care has been stripped out, coded and monetized. … These are our residents and our constituents and our taxpayers, so, how will they feel about this investment?
"I want to know why we need county money ... why should taxpayers pay for the infrastructure for the project?"
Addressing the parking lot, she questioned whether paying $35,000 per parking space "aligns with our values ... parking decks aren't very green, not very environmentally friendly."
"This is the biggest ticket item on your list. Parking decks are a cash cow.
"Who's making money on this parking deck? Will it be free to the public? I kind of doubt it. Will it be free to the people working around there? Are they going to have to pay for it?"
Rodriguez-McDowell cited constituents in her district asking where is the funding for infrastructure in development projects in their neighborhood, particularly addressing traffic and "massively overcrowded schools."
She said she is challenged to support this much public funding "for one project that benefits one group of people. That's a little hard for me right now."
Woods' response
In final remarks that wrapped up the meeting, Woods attempted to address the commissioners' skepticism by comparing the project's socioeconomic benefits with corporate economic-development incentives recently approved by the board.
"I will leave you with this comment and thought," Woods told the commissioners. "I think you approved somewhere around $26 million to bring Centene into town."
Centene committed in July 2020 to an East Coast regional headquarters and technology hub in Charlotte with an estimated 6,000 jobs and $1.03 billion capital investment.
Besides up to $387.9 million in performance-based state incentives over a 39-year period, the Mecklenburg commissioners made Centene eligible for up to $26 million in performance-based local incentives.
"I would ask you to reframe this conversation a little bit differently" about the innovation district, Woods asked of the commissioners.
"If we were an out-of-town company, or organization, that was coming into this community, and we were bringing $1.5 billion of private investment that would require a $38 million investment from this group to generate $18 million in 12 years and $5 million in perpetuity," Woods said.
"That this organization would bring a medical school here, an innovation district that would attract companies from around the world, committing $40 million to affordable housing."
Woods cited other socioeconomic and educational benefits from the project and historically by Atrium.
"If you were recruiting an outside company into any major city in the entire country, they would welcome that," Woods said.
"We are one year into our relationship with Wake Forest,' Woods said. "Most systems, to be this advanced with this plan, typically it takes five years to get this off the ground."
Woods also pointed out Atrium's community contributions during the COVID-19 pandemic.
"All 70,000 of our teammates have been there on the front line of this community, keeping all of you safe, doing everything we can, exhausted.
"Do we have all of the details worked out? No," Woods said.
"I appreciate all your questions. I think we are prepared to answer them where we can."
Fulfilling mission?
Critics say large healthcare systems use their nonprofit status for tax advantages and public-relations purposes, while compensation committees have sought to justify corporate-level wages and benefits to top executives.
An analysis released Oct. 27 determined that many of North Carolina's nonprofit hospitals — including the three largest in the Triad — are not fully honoring their charitable mission.
The analysis by Johns Hopkins Bloomberg School of Public Health was requested by state Treasurer Dale Folwell and the N.C. State Health Plan.
According to the study, fewer than 25 of the state's 103 hospitals "exceeded the value of their tax exemption with the amount of their charity care spending in North Carolina."
Atrium Health was reported with receiving state tax exemptions worth $440.1 million, while providing $260.1 million in charity care.
"Why can't they spend their money instead of the people's money?" Rodriguez-McDowell said after the presentation to Charlotte TV stations WSOC.
"It's just a basic question."
Some critics challenge the notion of the skill level needed to run a health-care system.
In January, Atrium disclosed that Woods' total compensation jumped 9% to $7.91 million in fiscal 2020.
Woods received a 4.8% raise in salary to $2.8 million, a 12.7% boost in bonus to $2.75 million, $1.15 million in incentives and just under $1.2 million in all other compensation that was not itemized in the annual report.
The Atrium Board of Commissioners issued a statement with the filing in which it cited the influence of the COVID-19 pandemic and the planned Wake Forest medical school in its compensation decisions.
"Without question, this year has brought a seismic shift across our landscape that has allowed us new opportunities to re-think, re-shape and re-form the ways in which we care for those in our communities," according to the statement.
"As Atrium Health aspires to be a nationally leading academic healthcare system that will guide the healthcare field as it goes through the most transformative period in our lifetime, the executive team has guided and directed the system with skilled and steady leadership."
The board, as does its counterparts with Wake Forest Baptist, Novant and Cone Health, said it sets executive compensation based primarily on "industry-standard best practices for well-governed tax-exempt organizations," and that it used third-party expert advisors to review the total compensation program.
"Compensation for Atrium Health's top-10 executives equates to less than 1% of total compensation for all teammates," the board said.
Background
Atrium formed a partnership with Wake Forest Baptist Medical Center in November 2019 with the intent of establishing a Charlotte medical school.
Atrium went on to acquire Wake Forest Baptist in October 2020, recently changing Baptist's branding to Atrium Health Wake Forest Baptist as part of magnifying the awareness of its ownership in the Triad market.
Representatives of the Charlotte council and Mecklenburg commissioners recently toured downtown Winston-Salem's Innovation Quarter to get a sense of what is being proposed for Charlotte.
It likely was a similar tour that the Atrium board took in August 2019.
When asked about sibling competition between Innovation Quarter and the planned Charlotte innovation district, Atrium said in an October statement that the intention is "to build upon the successes of the existing Innovation Quarter in a way that strengthens our regional economy, as well as our learning programs — advancing research into reality."
"We are working to identify and recruit complementary businesses that will strengthen the capabilities and outcomes in both Winston-Salem and Charlotte, while also working with other innovation districts in the state to enhance North Carolina's reputation as a place known for innovation nationwide."
Dr. Julie Freischlag, Atrium Health Wake Forest Baptist's chief executive and medical school dean, has said repeatedly that "the proposed innovation district in Charlotte represents part of Atrium Health's commitment to expanding the geography of innovation in Winston-Salem, Charlotte and between the two."
"Combined with Atrium Health's current commitment to the recently announced second phase of development for the Innovation Quarter in Winston-Salem, the innovation district in Charlotte would create a new corridor for innovation across central/western North Carolina."
As of June the total public and private investment in Winston-Salem's Innovation Quarter is more than $841 million.
The city's overall investment has been at least $56 million, along with at least $5.85 million from Forsyth County.
Officials acknowledge, however, that Phase II will represent a much different development challenge, given that the 28 acres do not contain buildings that qualify for historic rehabilitation tax credits.
Those tax credits attracted outside investors, such as Blue Cross Blue Shield of N.C., that helped to offset up to 40% of the renovation costs of the historic buildings.
"Unfortunately, we are all out of old buildings that we could reuse because we really like that work. Those days are over, sadly," said Graydon Pleasants, head of development for the Innovation Quarter.
"As with the first phase, a strong public-private partnership with government agencies at the federal, state and local level will be key to realizing this next phase of development," said a statement from Innovation Quarter.
Mayor Allen Joines said that "the city's involvement in the first phase has produced a very solid return on investment for us, and we will continue to partner with the IQ and Wake Forest Medical Center to carry out this very exciting planned phase."
The Charlotte Observer and Charlotte TV station WSOC contributed to this article.
336-727-7376