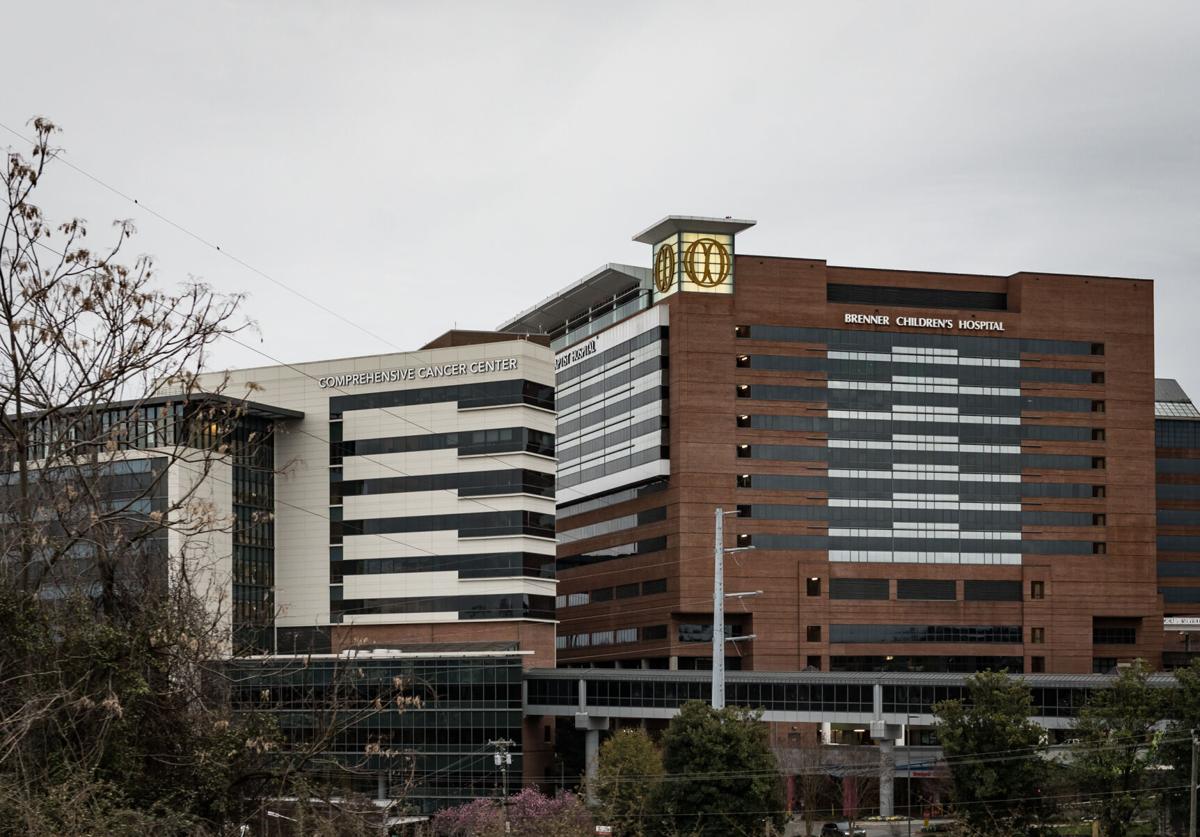 Wake Forest Baptist Medical Center, bolstered again by a strong investment income performance, reported Monday a nearly threefold increase in excess revenue for the first half of fiscal 2020-21.
Excess revenue was $204.1 million, compared with $72.3 million a year ago. Wake Forest Baptist's fiscal year runs from July 1 through June 30.
In a not-for-profit organization, "excess revenue" is analogous to "profit" in a for-profit organization.
The system became part of Charlotte-based Atrium Health on Oct. 9. The highlights of the collaboration to date are the commitment for a second Wake Forest School of Medicine in Charlotte and an investment commitment in downtown Winston-Salem's Innovation Quarter.
Atrium said Monday that Wake Forest Baptist and the Charlotte-Mecklenburg Hospital Authority, which oversees Atrium, still have separate credit groups and will continue to post separate quarterly filings "for the time being."
The system benefited again from the stock market's recovery from the early weeks of the COVID-19 pandemic.
Investment income for the first half of fiscal 2020-21 was $150.3 million, up from $46.2 million a year ago.
Not-for-profit health-care systems depend on investment income to increase their bottom lines and to help pay for capital investments.
By comparison, Wake Forest Baptist had excess revenue of $58.5 million for all of fiscal 2019-20 and $4.33 million for all of fiscal 2018-19.
When it comes to core revenue for the first half, Wake Forest Baptist was up 4.9% to $1.92 billion.
Patient-service revenue rose 3.8% to $1.68 billion.
That revenue source is in recovery mode after being down in large part during the final two quarters of fiscal 2019-20 because Wake Forest Baptist, like most hospitals in North Carolina, suspended nonessential elective surgeries from mid-March to mid-May.
The first-half revenue breakdown by Wake Forest Baptist-affiliated medical facilities was: just more than $1 billion from N.C. Baptist Hospital; $645.3 million from Wake Forest University Health Sciences; $182.6 million from High Point Medical Center; $54.1 million from Lexington Medical Center; $46.3 million from Davie Medical Center; and $42.3 million from Wilkes Medical Center.
Gifts, grants and contracts were at $127.6 million, up 30.4%. There also were: $54.6 million from "other sources" that feature federal incentive payments for implementing electronic health records; $21.1 million in net assets released from restrictions; and $21.9 million from net student tuition and fees.
Operating expenses climbed 3.6% to $1.86 billion. Salaries and wages rose 4.3% to $830.7 million, and the cost of clinical supplies and equipment increased 11.5% to $394.4 million.
The system reported: a 4.5% increase year over year in outpatient operating-room cases to 19,035; a 16.2% drop in emergency-department visits to 88,171; and a 4.6% decrease in inpatient admissions to 30,756.
Wake Forest Baptist issued the quarterly report on the Municipal Securities Rulemaking Board's website, www.emma.msrb.org. The EMMA reports are aimed primarily at bondholders and ratings agencies, and typically are submitted about two months after the quarter ended.
The combined Atrium is based in Charlotte, with president and chief executive Eugene Woods remaining in both roles.
Dr. Julie Ann Freischlag, chief executive of Wake Forest Baptist and dean of the medical school, took on the additional duties of chief academic officer for Atrium.
With Charlotte being the largest city in the U.S. without a four-year medical school, the establishment of such a facility has been a long-sought goal of Charlotte civic and elected officials.
On Feb. 10, Woods revealed new artist renderings of the campus, which is to feature a seven-story main building.
Woods said Atrium expects to reveal the potential campus site this month.