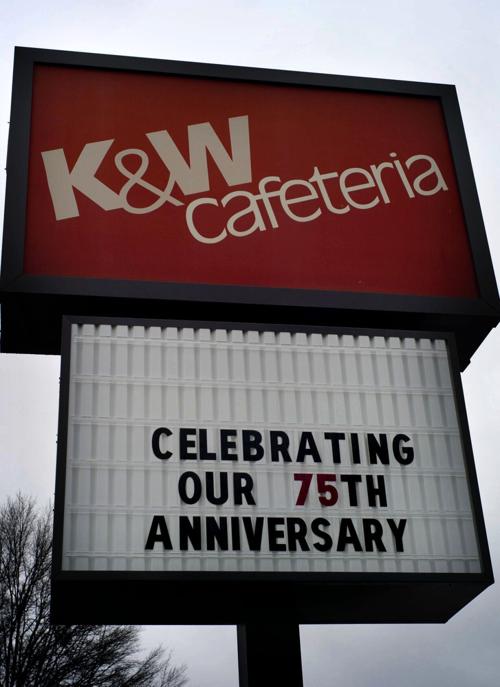 The proposed auction of K&W Cafeteria Inc.'s assets set for Friday has been postponed indefinitely, according to a U.S. Bankruptcy Court filing Tuesday.
The filing did not provide a reason for the postponement of an auction planned for Friday.
K&W said it may "seek a modification of the sale procedures order and the bidding procedures, and hold the auction on a later date."
K&W, a staple of Southern comfort foods for 83 years, filed for bankruptcy protection Sept. 2 as the latest step in a corporate downsizing that began before the COVID-19 pandemic.
The initial bankruptcy filing listed assets of more than $30 million.
The company has liabilities of more than $22 million, of which $12.56 million is with creditors holding secured claims on property, and the rest unsecured claims. It has between 100 and 199 creditors.
On Nov. 2, federal Bankruptcy Court Judge Benjamin Kahn approved allowing K&W to sell its assets, including its remaining 18 restaurants.
Kahn approved K&W's request for an unidentified stalking horse bidder. Stalking horse is the term used to describe a bidder who sets a minimum price for the assets. Companies hope that other bidders will then emerge with higher offers.
The debt owed to Truist Financial Corp. includes a $6.73 million Paycheck Protection Plan loan and a $10.95 million lien claim on accounts, inventory, equipment, parts and general intangibles.
K&W listed having about 1,400 employees on Sept. 2. According to an Oct. 9 filing, K&W has 323 full-time and 516 part-time employees.
In a separate filing Wednesday, K&W is asking bankruptcy court permission to sell five more properties, including a residence in Winston-Salem, and hire LRB Real Estate to market the properties.
The local residence is at 705 Polo Oaks Drive with a listing price of $159,000.
The other four properties are in Cornelius. They are: a 2.73-acre property known as Regatta Island Drive with a listing price of $6 million; a residence at 20701 Pointe Regatta Drive with a listing price of $999,000; a condominium at 20613 Cutter Court with a listing price of $799,000; and a condominium at 20611 Cutter Court with a listing price of $775,000.
On Nov. 28, K&W said it had found separate buyers for a 3,621-square-foot lakefront home and a residential lot in the Lake Norman area.
The lakefront home at 20703 Pointe Regatta Drive was listed as valued at $1.4 million. The potential buyer, identified at Cottons Cove LLC and owned by David Baker, is offering $1.3 million. Wednesday's filing said Baker has no connection with K&W or company insiders.
The lakefront home was built in 1990, according to the Mecklenburg County Register of Reeds website. It has four bedrooms with three full and two half bathrooms.
The home's property tax value has climbed from $684,000 in January 2003 to $1.11 million in January 2019.
The lot at 20221 Sloop Court was listed as valued at $175,000. Desyers LLC, with Sharon Meyers listed as owner, is offering $170,000. Meyers also has no connection to K&W or company insiders.
The property tax value of the lot has increased from $94,000 in January 2003 to $154,000 in January 2019.
K&W president Dax Allred has said the two properties with proposed buyers are listed as "real estate investments."
"More specifically, K&W invested in the Cornelius real estate in the late 1980s and went on to develop the waterfront community, Pointe Regatta."
"Fortunately, those investments have performed well over the years," Allred said. "K&W is now selling certain assets as we work to restructure our debt and pay down creditors."
Allred did not respond when asked if the lakefront home was used for corporate functions or by executives or employees.