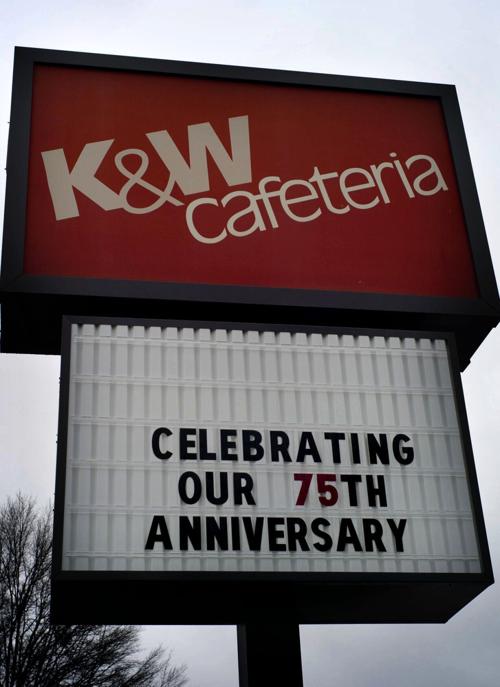 A 3,621-square-foot lakefront home and a residential lot in the Lake Norman area are among the assets that K&W Cafeterias Inc. wants permission to sell as part of its Chapter 11 bankruptcy case.
K&W, a staple of Southern comfort foods for 83 years, filed for Chapter 11 bankruptcy protection Sept. 2 as the latest step in a corporate downsizing that began before the COVID-19 pandemic. It had about 1,400 employees at the time of the filing.
Chapter 11 protection is sought by companies that plan to remain in business, with the format allowing them to reduce or eliminate certain expenses and debts.
The restaurant chain is requesting bankruptcy court approval to sell the properties with a list price of $1.4 million for the home and the lot for $175,000.
The lakefront home was built in 1990, according to the Mecklenburg County Register of Reeds website. It has four bedrooms with three full and two half bathrooms.
The home's property tax value has climbed from $684,000 in January 2003 to $1.11 million in January 2019.
Meanwhile, the property tax value of the lot has increased from $94,000 in January 2003 to $154,000 in January 2019.
K&W wants permission to hire Leonard Ryder Burr Real Estate to list the properties.
The filing said Molly Allred, wife of Bill Allred and a 6.3% shareholder in K&W, would be the listing agent. Molly Allred also is a sister-in-law to Dax Allred, K&W's president, but the company said she is not considered as an insider.
"The debtor owns certain real property, which is not essential to the operation of the debtor's business, the marketing and sale of which would be in the best interest of creditors," according to the K&W filing.
Dax Allred said last week the two properties are listed as "real estate investments."
"More specifically, K&W invested in the Cornelius real estate in the late 1980's and went on to develop the waterfront community, Pointe Regatta."
"Fortunately, those investments have performed well over the years," Allred said. "K&W is now selling certain assets as we work to restructure our debt and pay down creditors."
Allred did not respond when asked if the lakefront home was used for corporate functions or by executives or employees.
Finding a buyer?
K&W also has requested bankruptcy court permission to hire a financial adviser to assist in finding a buyer.
The company wants to hire SC&H Group Inc., based in Baltimore, "to assist the debtor in connection with a potential transaction or series of transactions … that may involve a sale or transfer of assets of the debtor to a buyer."
The bankruptcy filing defines buyer as "investor, joint venture or merger partner, lender, equity holder or other acquirer."
K&W has agreed to pay SC&H a monthly fee of $17,500 and a transaction fee of at least $225,000 that would increase with a potential higher sale price.
The initial K&W bankruptcy filing listed assets of more than $30 million. It has liabilities of more than $22 million, of which $12.56 million is with creditors holding secured claims on property, and the rest unsecured claims. It has between 100 and 199 creditors.
The company has hired Northen Blue LP of Chapel Hill as its primary bankruptcy attorney. The firm has not returned a request for comment on the filing.
Allred released a statement Sept. 14 about the Chapter 11 filing and the company's plans for operating its 18 restaurants, including three in Winston-Salem and two in Greensboro.
"The company will continue to serve guests during the restructuring, in accordance with all local coronavirus-related operating restrictions," Allred said. "This filing follows the recent closure of six unprofitable locations and will allow the company to reduce its debt and improve liquidity."
"Unfortunately, the impact of COVID-19 and related operating restrictions had a disproportionately negative impact on our loyal guests and cafeteria-style dining. We are hopeful this restructuring will allow our cafeterias to weather the storm and continue serving guests for years to come."
Truist Financial Corp. is K&W's largest creditor. The debt includes a $6.73 million Paycheck Protection Plan loan and a $10.95 million lien claim on accounts, inventory, equipment, parts and general intangibles.
The PPP loan to K&W was one of the largest granted to a North Carolina business. The U.S. Treasury Department listed the top PPP loan range at between $5 million and $10 million.
COVID-19's effect
Before K&W filed for bankruptcy, it closed restaurants in August in Chapel Hill, Goldsboro, Raleigh and Salisbury. It shuttered its experimental K&W Cafe in Clemmons in July 2019 and in High Point in January.
Overall, since celebrating its 75th anniversary in 2012, K&W has shrunk from 35 restaurants to 18.
When K&W closed the two Triangle locations in August, Allred told the News & Observer that its business dropped off about 80% during Phase One, which lasted from March 10 through May 22. Phase One permitted only takeout and delivery sales.
Although Allred said K&W was able to regain some business during Phase Two, which allowed for limited indoor and outdoor service, it continued to struggle since its primary customers are elderly diners who have been advised to stay at home during the pandemic.
Concerned about COVID-19?
Sign up now to get the most recent coronavirus headlines and other important local and national news sent to your email inbox daily.