Krispy Kreme Inc. said Monday it is expanding its menu collaboration with McDonald's in Kentucky — going from nine to 160 restaurants — and into a second major market in Lexington.
McDonald's in October began carrying three Krispy Kreme doughnut varieties — original glazed, chocolate iced with rainbow sprinkles and raspberry-filled.
The doughnuts are being delivered fresh daily from one of Krispy Kreme's three restaurant locations in the Louisville market. They are being sold individually or in a six-pack of either original glazed or mixed flavors.
The expansion will launch March 21 with one adjustment to the options, replacing raspberry filled with chocolate iced filled.
Even with the significant expansion in Kentucky, the restaurants say the partnership remains in test phase.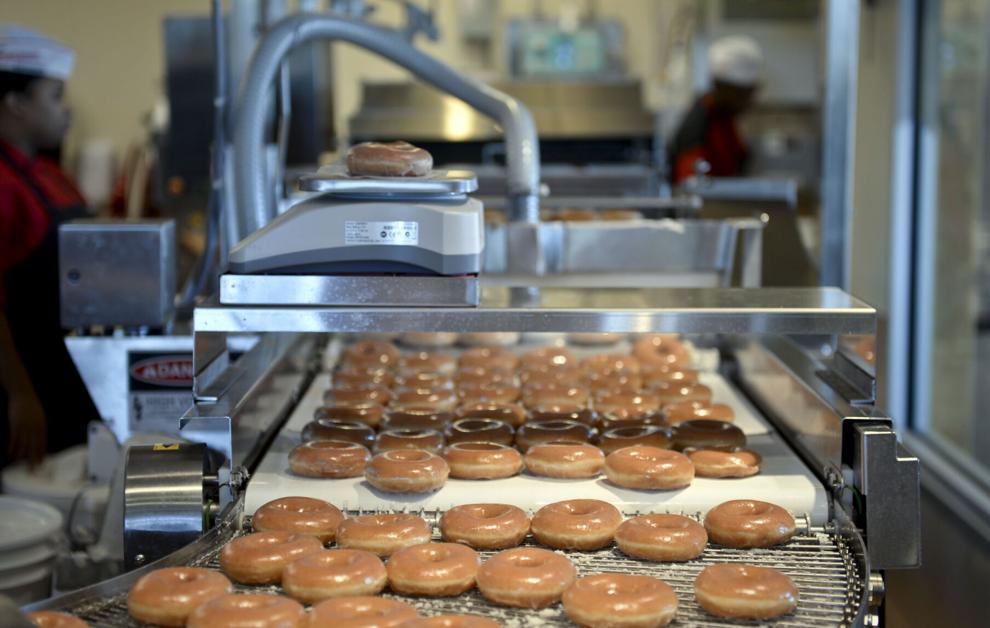 "The expanded test will help us learn more about operational impact on a larger scale, as well as explore customer demand," the chains said in a joint news release.
Doughnuts can also be delivered through the McDonald's app.
The chains cautioned that the test phase is "for a limited time, while supplies last — so run, dough-nut walk to your nearest participating McDonald's to get a taste."
Mike Tattersfield, Krispy Kreme's chief executive, told analysts during the company's Feb. 15 fourth-quarter earnings conference call that "what we've learned in the test is that we can actually manage the operations rigor, the logistics rigor of how do you manage a quick-service restaurant customer from the time demand, the quality demand and the execution and how it works seamlessly with our delivered fresh daily route system."
Tattersfield said its fiscal 2023 performance "will be led by continued expansion of our capital efficient omni-channel model as we aim to grow our fresh points of access by 10% to 15% in 2023."
Krispy Kreme reached 11,837 global points of access as of Jan. 1, up 13.5% from Jan. 1, 2022.
It has projected reaching at least 18,500 global points of access by fiscal 2026.
A likely source of much of that growth could come from its in-store partnership with McDonald's.
The deal to put Krispy Kreme original glazed doughnuts on a McDonald's menu could go beyond a test market to a symbiotic national relationship, according to a Wake Forest marketing professor.
Partnering with McDonald's offers Krispy Kreme a new "go-to-market strategy that seems to offer strong upside potential," said Roger Beahm, a marketing professor at Wake Forest University School of Business.
McDonald's will be the first quick-service restaurant to feature Krispy Kreme doughnuts on its menu.
Bank of America Corp. analysts said the partnership could generate $350 million in annual sales, with Krispy Kreme likely getting 75% and McDonald's 25%.
Doughnuts would need to account for about 1% of McDonald's sales, or 4% of breakfast sales, to be considered a success, they said.
Beahm said the biggest positive factor for Krispy Kreme is the significantly greater number of McDonald's restaurants than Krispy Kreme factory stores where the doughnuts are made and sold to consumers, as well as the potential for trial by new customers.
In the Louisville market, there are 30 McDonald's locations, compared with three for Krispy Kreme.
"This creates much greater access to the market virtually overnight," Beahm said. "Consumers won't need to go so far out of their way to reach a Krispy Kreme sales outlet.
"While the added convenience could cannibalize some of the Krispy Kreme factory store business, it will likely be more than offset by the incremental gains from the sale of products through McDonald's restaurants."
Bank of America analysts also said that Krispy Kreme could be the bigger benefactor.
"While a successful run of the test, and subsequent broader rollout, could boost McDonald's sales, the impact would be more material for Krispy Kreme," according to the analysts' note to investors.