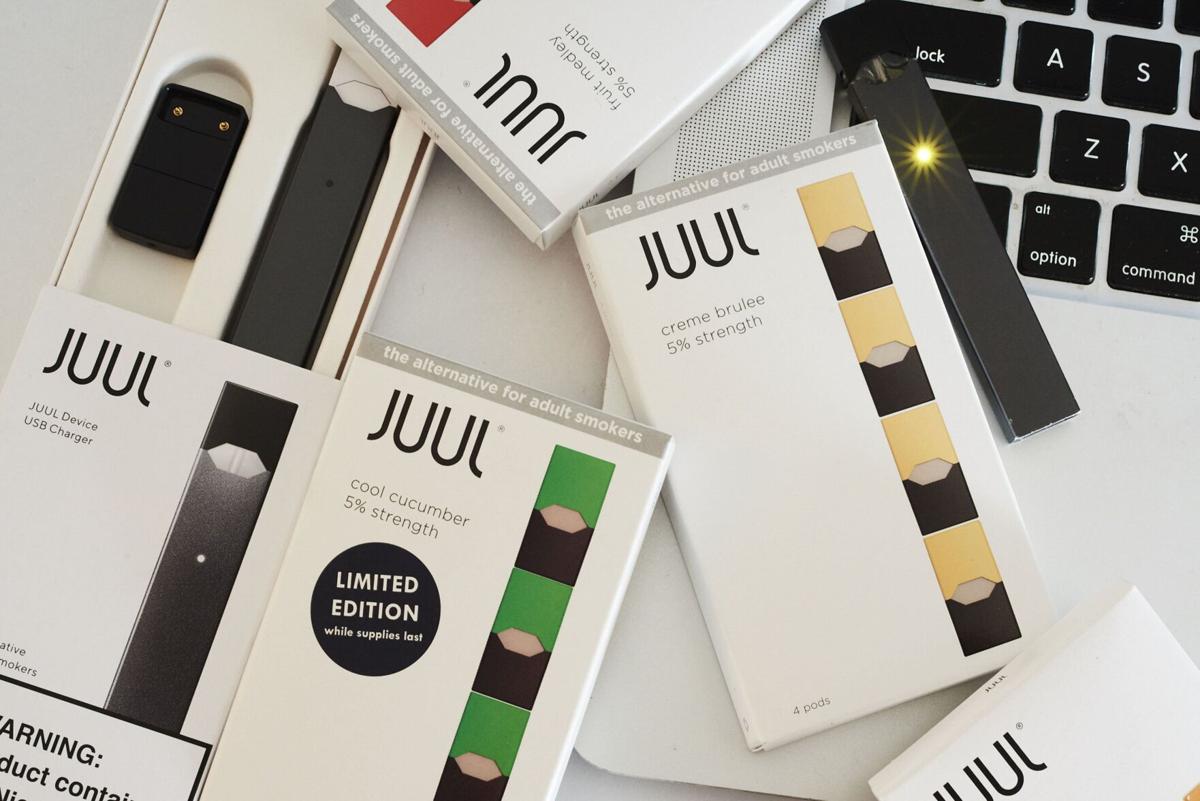 The Vuse electronic-cigarette brand of R.J. Reynolds Vapor Co. continued to chip away at the market share of top-selling Juul in the latest Nielsen analysis of convenience store data.
The report covers the four-week period ending Aug. 24.
Nielsen determined Vuse had a 31.2% market share, down from 31.7% in the previous report.
Meanwhile, Juul was at 41.1%, down from 44.4% in the previous report.
NJoy was at 3.7%, down from 4%, while Fontem Ventures' blu eCigs was at 2.5%, down from 2.8%.
Overall, sales of electronic cigarettes were up 5.2% for the latest four-week period.
Overall e-cigarette sales-volume growth have been on the decline since Nielsen's Aug. 10, 2019, report, when it was up 60.2% year over year.
What happens to the rate of substitution between traditional cigarettes and vaping will soon be shaped by Food and Drug Administration decisions on vaping products.
Electronic-cigarette manufacturers had to submit by Sept. 9, 2020, their premarket tobacco market applications in order to stay in the marketplace for at least another 12 months.
The FDA faces a federal court-ordered deadline of Sept. 9, 2021, to decide whether to grant those applications for e-cigarettes. Anti-tobacco and public-health advocacy groups are strongly urging the FDA to ban all non-tobacco e-cigarette flavors.
The agency already has announced rejecting applications from small e-cigarette producers, but not for the top manufacturers.
Electronic-cigarette sales overall have slumped since February 2020, when the Food and Drug Administration implemented its latest round of heightened regulations on the products.
Those restrictions foremost required manufacturers of cartridge-based e-cigarettes, such as Juul Labs Inc., Reynolds Vapor, NJoy and Fontem, to stop making, distributing and selling "unauthorized flavorings" in February 2021, or risk enforcement actions.
Top-selling Juul's four-week dollar sales have dropped from a 50.2% increase in the Aug. 10, 2019, report to a 12.6% drop in the latest report.
By comparison, Reynolds' Vuse was up 63.4% in the latest report, while No. 3 NJoy was down 9.6% and No. 4 blu eCigs down 18.7%.
Goldman Sachs analyst Bonnie Herzog has said that NJoy "refutes Nielsen's data and methodology."
Traditional cigarettes
The recent increase of more workers returning to the office continued to keep traditional cigarettes on a significant year-over-year decline.
Industry analysts said the 10.1% volume decline for traditional cigarettes reflects the impact on the industry of the COVID-19 pandemic and the later economic reopening.
A key 2020 industry development was smokers' increasing their purchases in the early months of the pandemic in response to statewide stay-at-home orders, including in North Carolina.
This year has seen a return to more typical shopping conditions.
Tobacco manufacturers have been able to offset some of the recent volume declines through a series of per-pack list-price increases in recent months.
The list price is what wholesalers pay manufacturers for their traditional cigarette products. The increase typically is passed on to customers at retail.
"Cigarette manufacturers are pricing stronger and more frequently," Goldman Sachs analyst Bonnie Herzog said.
However, another industry analyst said the price increases likely led to decreased sales.
"The rapid rise in manufacturer prices and a resumption in growth in vaping seem to account for much of the current declines in cigarette sales," said David Sweanor, an adjunct law professor at the University of Ottawa and the author of several e-cigarette and health studies.
Philip Morris USA traditional cigarette volumes were down 4.7% year over year, while Reynolds had an overall 3.4% decrease and ITG Brands LLC was down 3.1%.
As of Aug. 24, Philip Morris' top market share was at 50.6%, while R.J. Reynolds Tobacco Co. was at 32.1%.
ITG was at 7.4%, although ITG has said its market share is closer to 10%.