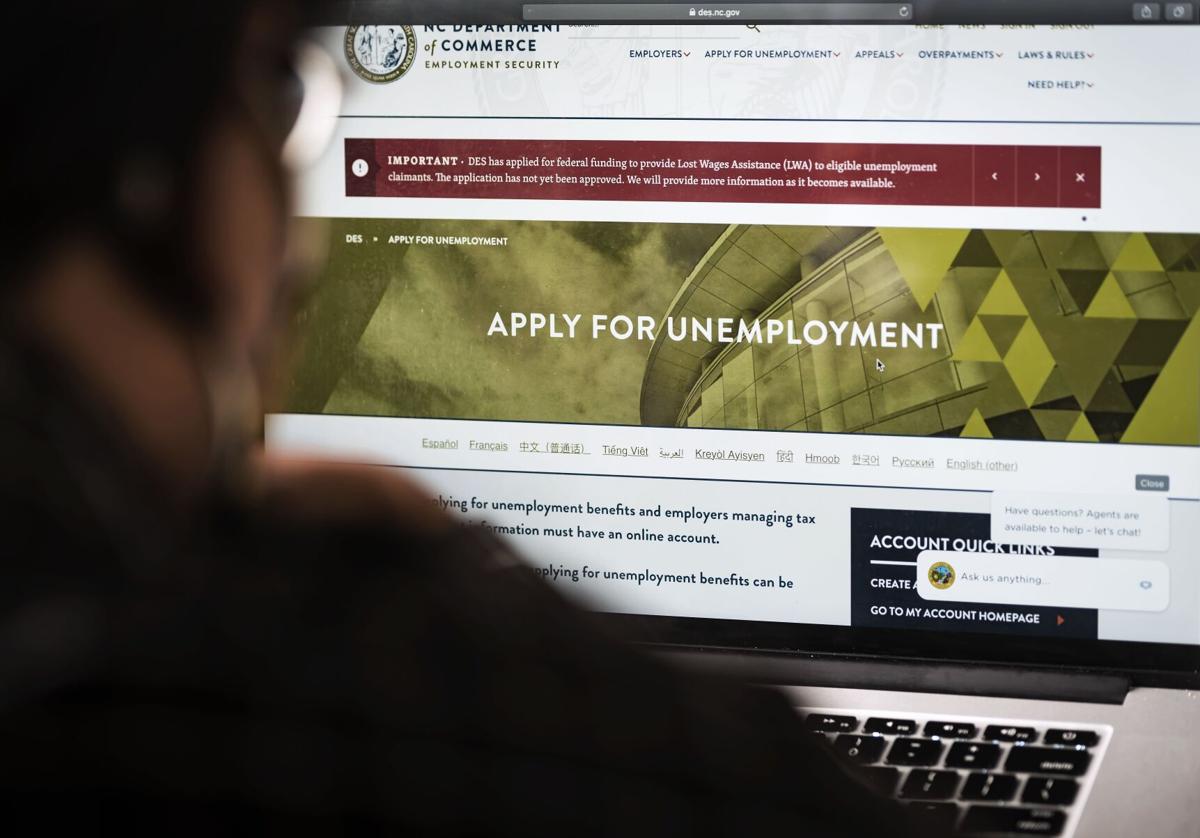 Daily state and federal unemployment claims continue to ebb and flow in North Carolina — albeit at a lower level overall — over the weekend.
There were 24,320 state and federal UI claims filed over the past seven reports from the N.C. Division of Employment Security.
That includes a pandemic daily low for the second consecutive Saturday with 1,001 claims on March 27 and 1,088 on March 20. The high for the seven-day period was 7,747 on Sunday.
Overall for the COVID-19 pandemic, there have been 3.52 million state and federal unemployment claims in North Carolina.
There have been 1.47 million North Carolinians to have applied to initial regular state and/or federal unemployment benefits. Some federal programs require filing additional state claims to qualify.
About 29.2% of the 5.03 million North Carolinians considered part of the state's workforce as of mid-February have filed a state or federal unemployment claim.
The extension of four federal unemployment benefit programs contributed to a recent modest uptick of initial claims in the state.
The latest Democratic-sponsored COVID-19 relief bill, which President Joe Biden signed into law March 11, extended the federal Pandemic Unemployment Assistance and Pandemic Emergency Unemployment Compensation programs through at least Sept. 6.
DES said Friday its system has been updated to handle the PUA and PEUC extensions.
As of 10 a.m. Tuesday, the PUA and PEUC programs had paid a combined $2.14 billion in benefits to North Carolinians.
The U.S. Labor Department listed North Carolina with 198,758 PEUC recipients as of March 13, as well as 3,426 PUA participants.
DES provided an update on the resumption of work-search requirements for individuals filing for UI benefits starting March 15.
Those individuals "are required to complete work search activities each week to receive benefits, including make contact with three different employers each week and keep a detailed record of their work search."
"Due to COVID-19, up to two of the three employer contacts may temporarily be satisfied by participating in reemployment activities, such as workshops, self-assessments, career fairs, offered by local NCWorks Career Centers and/or their partner agencies."
Payment updates
There have been $10.9 billion in UI funds paid since March 15, 2020, to unemployed and furloughed North Carolinians.
After $8.16 billion in state and federal unemployment benefits were paid from late March through Sept. 30, there had been just $2.74 billion since Oct. 1.
When the Federal Pandemic Unemployment Compensation weekly benefit was worth up to $600, unemployed and furloughed North Carolinians received just under $4.88 billion from late March through July 26.
Since the resumption with the benefit currently worth up to $300 a week, FPUC has paid about $1.05 billion in benefits to North Carolinians.
As of Tuesday, regular state unemployment payments were at $1.89 billion, with just about $180 million being paid out since Oct. 1.
Most unemployed and furloughed North Carolinians began exhausting their 12 weeks of regular state unemployment benefits in June and well before Oct. 1. The maximum number of weeks was raised to 16 in January for new claimants.
The state had $3.85 billion in the state Unemployment Insurance Trust Fund in mid-March. State legislators said Sept. 2 that between $2.9 billion and $3 billion remained in the fund at that time. The third COVID-19 relief bill added $87 million.
Gov. Roy Cooper said Feb. 4 that the fund contains $2.59 billion, and that he supports drawing down additional money from the fund.