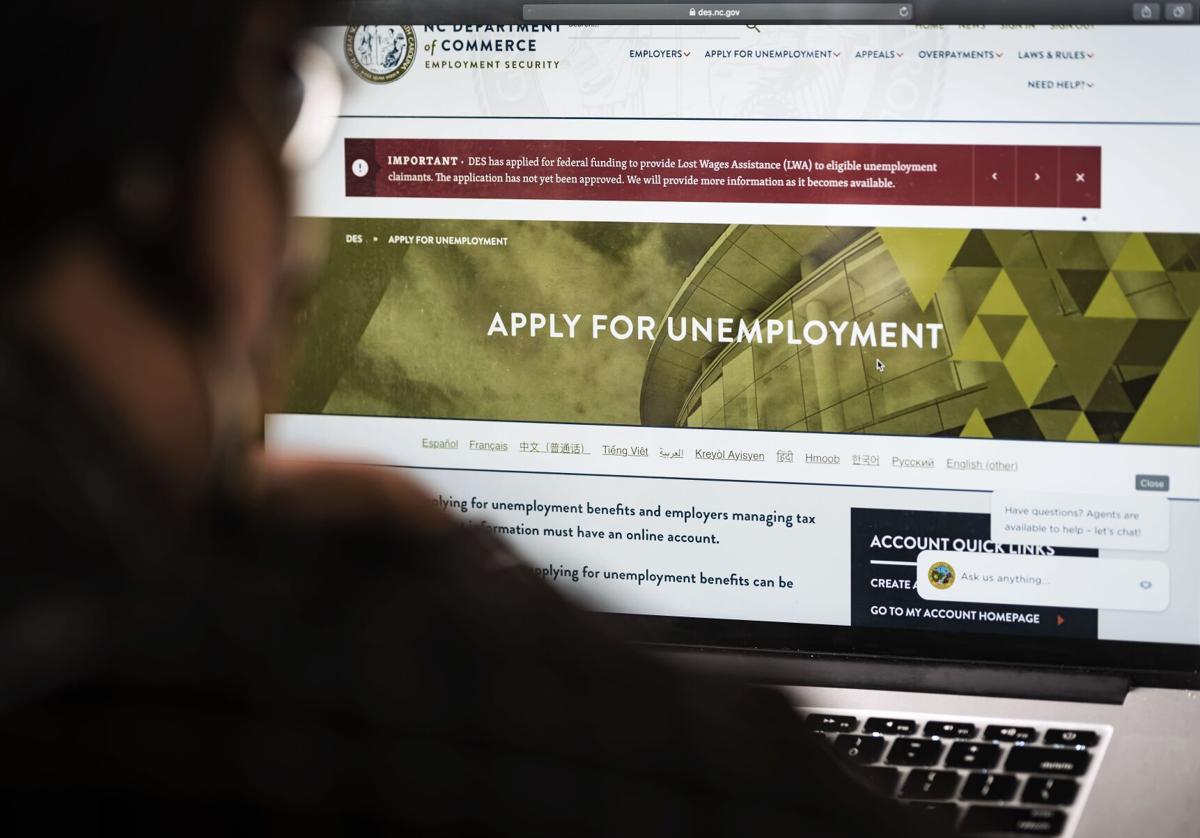 An N.C. Senate bill signed into law Wednesday by Gov. Roy Cooper allows an unspecified number of unemployed North Carolinians to remain eligible for federal aid in a second benefit year.
Senate Bill 114, titled "DES COVID modifications and technical changes," allows claimants to continue to receive federal Pandemic Emergency Unemployment Compensation "until they exhaust those benefits, or the program expires."
The law allows them to receive those PEUC benefits before they receive state benefits under a claim for their new benefit year.
The latest Democratic-sponsored COVID-19 relief bill, which President Joe Biden signed into law March 11, extended the federal Pandemic Unemployment Assistance and PEUC programs through at least Sept. 6.
As of 10 a.m. Friday, the PUA and PEUC programs had paid a combined $2.14 billion in benefits to North Carolinians.
The U.S. Labor Department listed North Carolina with 198,758 PEUC recipients as of March 13, as well as 3,426 PUA participants.
When individuals apply for unemployment insurance benefits, they establish a claim for a 12-month period that is different from a calendar year.
The N.C. Division of Employment Security said Friday that when a claimant has filed for unemployment for more than 12 months and has earned wages, they are required to file a new claim for state UI benefits.
The new claim is processed by DES to determine the appropriate benefit program and weekly benefit amount for the claimant based on state and federal guidelines.
To qualify to remain on PEUC:
The claimant's first benefit year has to have expired after Dec. 27.
The claimant has a remaining balance of PEUC benefits on their first claim; and
The claimant's weekly benefit amount for PEUC is at least $25 higher than their new weekly benefit amount for state unemployment benefits.
DES said it would automatically adjust weekly benefit amounts for claimants who qualify to remain on PEUC, and claimants do not need to take any action. Any benefits owed for previous weeks will be paid retroactively.
Lower employer tax
Another primary aspect of SB114 is not raising employers' 2021 base contribution rate to the state's Unemployment Insurance Trust Fund.
The rate is one of the factors used to calculate an employer's unemployment insurance tax rate for the year. The rate was scheduled to rise from 1.9% from 2.4%.
Employers pay a tax into the state's UI system in a range of 0.06% and 5.76%. Employers can pay a higher rate based on their history of job cuts and layoffs.
The division said employers whose tax rate for 2021 is already at 5.76% "may or may not receive a rate reduction, depending on individual recalculation results."
The state had $3.85 billion in the state Unemployment Insurance Trust Fund in mid-March. Cooper said Feb. 4 that the fund contains $2.59 billion, and that he supports drawing down additional money from the fund.
Alexandra Sirota, director of the left-leaning N.C. Budget and Tax Center, said in February that "by keeping employer taxes low while refusing to improve things for workers and their families, lawmakers have signaled that working people will continue to be an afterthought in legislative policymaking and are doubling down on an economic approach that will continue to serve us all poorly."
UI benefits update
Daily state and federal unemployment claims continue to ebb and flow in North Carolina — albeit at a lower level overall.
There were 25,309 state and federal UI claims filed over the past seven days.
That includes a pandemic daily low for the second consecutive Saturday with 1,001 claims on March 27 and 1,088 on March 20. The high for the seven-day period was 7,747 on Sunday.
Overall for the COVID-19 pandemic, there have been 3.53 million state and federal unemployment claims in North Carolina.
There have been 1.47 million North Carolinians to have applied to initial regular state and/or federal unemployment benefits. Some federal programs require filing additional state claims to qualify.
About 29.2% of the 5.03 million North Carolinians considered part of the state's workforce as of mid-February have filed a state or federal unemployment claim.
Payment updates
There have been $10.92 billion in UI funds paid since March 15, 2020, to unemployed and furloughed North Carolinians.
After $8.16 billion in state and federal unemployment benefits were paid from late March through Sept. 30, there had been just $2.76 billion since Oct. 1.
When the Federal Pandemic Unemployment Compensation weekly benefit was worth up to $600, unemployed and furloughed North Carolinians received just under $4.88 billion from late March through July 26.
Since the resumption with the benefit currently worth up to $300 a week, FPUC has paid about $1.04 billion in benefits to North Carolinians.
As of Tuesday, regular state unemployment payments were at $1.89 billion, with just about $180 million being paid out since Oct. 1.
Most unemployed and furloughed North Carolinians began exhausting their 12 weeks of regular state unemployment benefits in June and well before Oct. 1.
The maximum number of weeks was raised to 16 in January for new claimants, but it could be reduced to either 13 or 14 weeks on July 1.