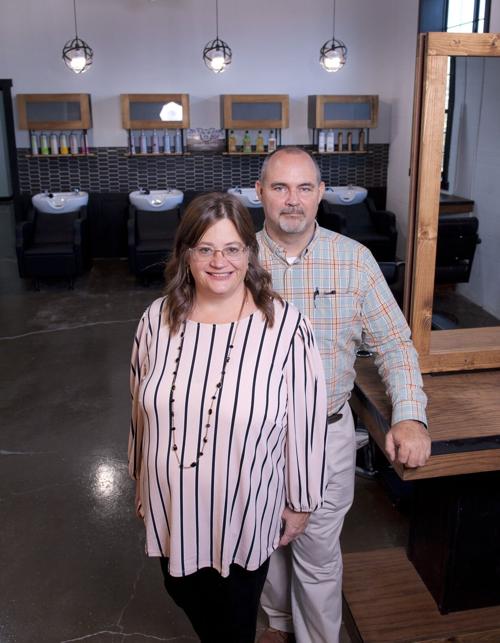 Julia Barham comes from a family of entrepreneurs who have owned professional salons and spas in North Carolina and Florida.
Those entrepreneurs include herself and her husband, Corey, who are licensed cosmetology instructors with almost 50 years of combined salon experience.
Even before the local emergence of the COVID-19 pandemic, Julia Barham said she had noticed what she calls a "deficit in training in new hires who had just graduated from other (salon) schools."
Once the pandemic had taken hold, particularly during the social shutdown period that prohibited interactions such as getting a haircut or styling, Barham decided the time was right to pursue her dream of opening a salon training center.
"We knew there was a need; it was serendipitous for our business model that there was increased need as a result of the world events," Barham said.
The Kernersville site is at 210 N. Main St., Suite 264, while the Mocksville site is at 191 Cooper Creek Drive. Barham said there is a six-month waiting list for the esthetics (skin care therapy) courses.
"Our goal is to maximize your potential through a program that teaches the latest techniques and proven business and marketing strategies," Barham said.
Barham said the curriculum and training have been co-developed and is continually updated with help from Pivot Point International and Dermalogica. The business is licensed under the N.C. State Board of Cosmetic Arts Examiners to send graduates for state board licensing in cosmetology, esthetics and cosmetic arts instructors.
"This on-going collaboration translates to education that is some of the most relevant, trending and compelling in the industry," she said.
Julia Barham took time recently to discuss her start-up efforts. An edited version follows:
Why tackle a startup in the midst of a pandemic?
Answer: Of course, we didn't know the pandemic was going to be an issue when we set about forming the business.
I remember discussing the business model with my adult son just before the shutdown and him saying, "This is perfect. Can you think of anything that would mess things up for you?"
I secretly had the fear that COVID had that potential, but remained quiet so as not to alarm my business partner and family members.
Did this effort spring out of a job loss or furlough, either yours or your students, or a previous employer going out of business or just not needing as many workers?
Answer: I believe a piece of our rapid growth was a result of other people's job changing experiences.
As workplaces were shut down and people were laid off, they had a chance to reflect on other options for their livelihoods that better suited their hopes and dreams.
We had countless phone calls and dozens of enrollments from people who said things like, "I've always wanted a career in beauty. Losing my job has prompted me to seek this."
What niches do you believe you are filling with your startup?
Answer: We are providing people with the skills to enter a career that has a 17% projected growth according to the U.S. Bureau of Labor Statistics.
Many of our graduated have entered this marketplace as independent business owners, thereby further exploding the local economy.
All of our students have come from marginalized populations — we have had one male graduate; he is a Black man.
All other 200 graduates have been women; while approximately 50% of that population are white, the remainder are Hispanic and Black.
We have had three students who graduated from our school before being high school graduates, and there is one student currently enrolled who is dual enrolled at high school.
How are you funding your startup, and do you plan to seek angel funding, venture capital funding or other similar funding?
Answer: We won a generous grant from the Small Business Center at Forsyth Technical Community College, which essentially launched the initial startup.
Coupled with a flexible and generous landlord in our current space, and a creative business model that makes our educational programs accessible to almost everyone, we've bootstrapped our way to our current state.
Where are you at in terms of the rollout?
Answer: We are launched, operational and actually in a growth mode.
What lessons have you already learned and what advice would you give to fellow start-ups?
Answer: My biggest piece of advice would be to take advantage of every single thing you can get your hands on in terms of start-up assistance.
Our participation in the launch challenge at the Small Business Center mandated a certain level of participation in their mentoring and classes.
We initially resisted a lot of this thinking that it didn't pertain to us as seasoned business owners. But, there were pieces of knowledge in places that we couldn't have begun to imagine that we would find help.
Our contacts there gave us more than just knowledge though — they inspired us, cheered us on and consoled us when things didn't work out in ways that we expected.
There are so many collective resources at this community gem.
Not taking advantage of all of them is selling you and your business short.