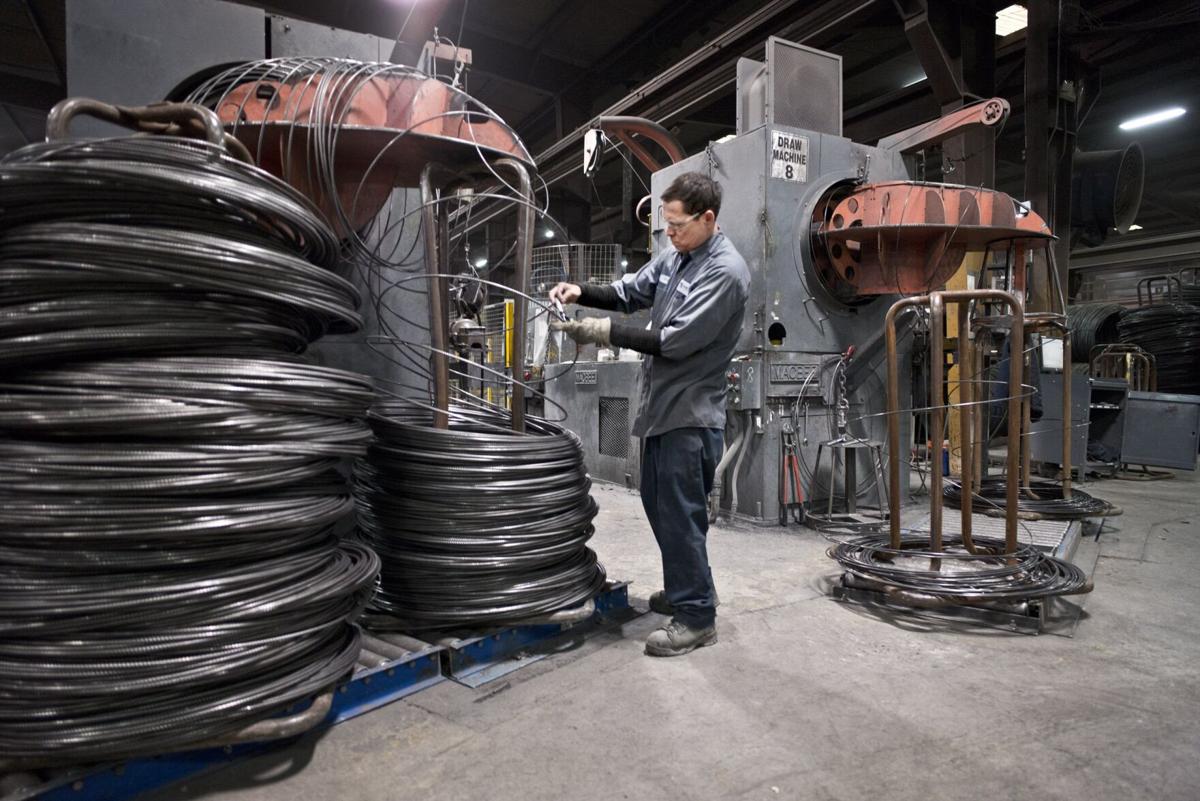 Insteel Industries Inc. continued to benefit from the recovery of the U.S. construction sector and a series of pricing increases in posting Thursday a nearly threefold boost in third-quarter net income to $18.4 million.
It is the second consecutive quarter for a major profit surge for the Mount Airy manufacturer.
The manufacturer reported in April a nearly fourfold surge in second-quarter net income to $14.9 million.
Diluted earnings for the third quarter were 94 cents, compared with 34 cents a year ago. Excluding restructuring charges related to its March 2020 asset purchase of StrandTech Manufacturing, adjusted earnings were 99 cents a share.
Sales jumped 31.8% to a quarterly record of $160.7 million. The company benefited again from an increase in selling prices for its products compared with raw material costs, as well as "strong demand" for its reinforcing products.
Insteel said shipments fell 1% year over year during the third quarter.
"We are encouraged by the continued strength in private and public non-residential construction markets," H.O. Woltz III, Insteel's president and chief executive, said in a statement.
"The swift rebound in widely monitored non-residential construction market leading indicators to almost record levels, together with consistent levels of public construction spending, give us confidence that demand will remain robust into 2022."
Insteel makes steel-wire reinforcing products largely for infrastructure projects. Steel material represents 70% of the company's total product costs.
Woltz said Insteel remains concerned about "ongoing supply constraints and sharply escalating raw material prices in both domestic and international markets."
Woltz said those factors "are creating heightened uncertainty for our customers and having an unfavorable impact on our operations."
"While we are seeking to supplement domestic steel availability with offshore supplies, we do not expect significant relief from tight supply conditions through the end of the calendar year.
"Despite these challenges, we expect favorable demand and strong financial performance for our fourth fiscal quarter."
Insteel reported that as of June 30, it had no debt and $89.8 million of cash on hand.
Insteel did not provide an update in its quarterly report on the impact of a surge in low-priced imports of PC strand into the U.S. marketplace.
The surge was the result of increased production of downstream products by foreign producers to circumvent the Section 232 tariffs and expand their market share in the U.S.
In March 2018, the Trump administration put 25% stainless-steel tariffs on Chinese and other imports.
In April 2020, Insteel joined with other domestic PC strand producers in filing anti-dumping petitions against 15 countries, which represented 89% of total PC strand imports entering the U.S. in 2019. A U.S. Commerce Department investigation began in May and is projected to last about a year.
That's in addition to a countervailing duty petition alleging illegal subsidies against Turkey.
In January, the International Trade Commission ruled in Insteel's favor with respect to PC Strand trade cases pending against eight countries, resulting in the implementation of duties on their exports to U.S. markets ranging from 24% to 194% of value.
Those countries are Argentina, Colombia, Egypt, Netherlands, Saudi Arabia, Taiwan, Turkey and United Arab Emirates.
Woltz said in April that final determinations against seven additional countries "are expected during our third fiscal quarter." Those countries are Indonesia, Italy, Malaysia, South Africa, Spain, Tunisia and Ukraine.