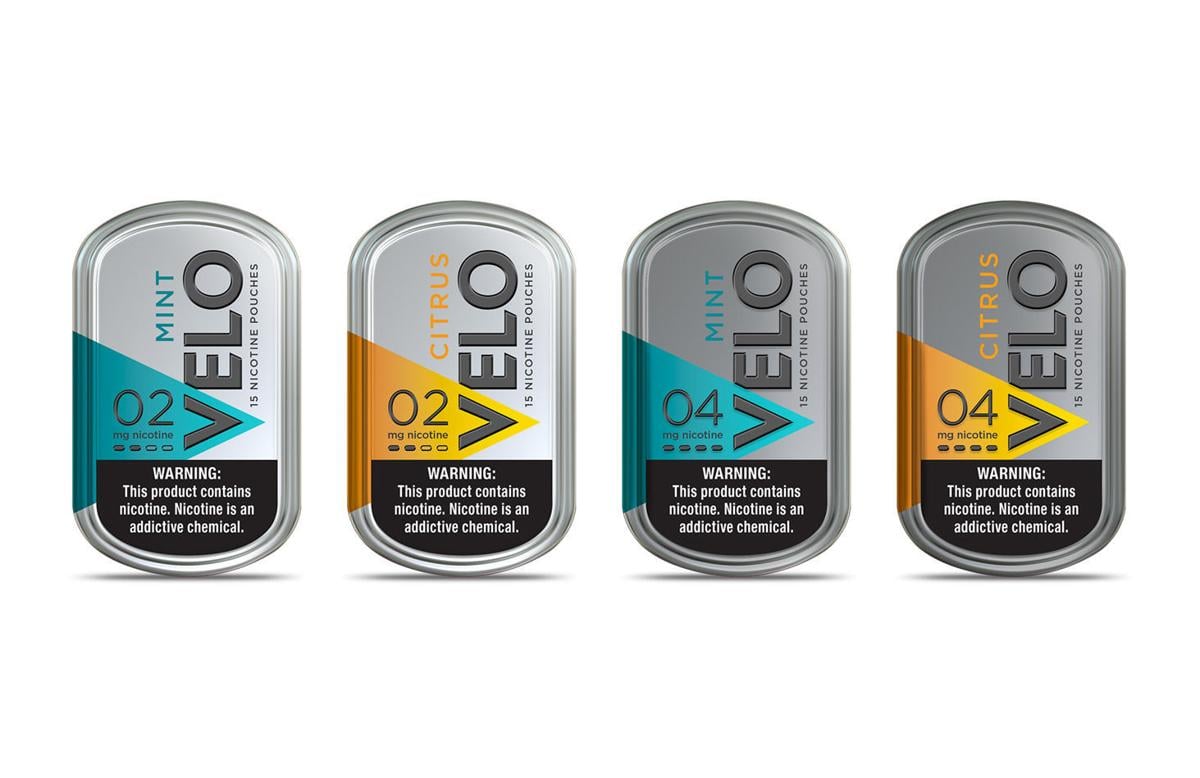 The smokeless tobacco product offerings of Reynolds American Inc. have expanded substantially with the purchase of the nicotine pouch assets of Dryft Sciences LLC.
British American Tobacco Plc did not disclose Tuesday the purchase price paid by Modoral Brands Inc., which is wholly owned by Reynolds. Dryft is based in Moorpark, Calif.
BAT said the Dryft pouches are being rebranded into Reynolds' Velo oral nicotine portfolio. It will continue to be made by a third-party manufacturer that the companies declined to identify.
Velo contains no tobacco leaf or other tobacco-plant matter apart from the nicotine extracted from the tobacco plant, Reynolds said.
The product is a small, white pouch that is placed between the adult user's gum and lip. Unlike traditional dip, there is no need to spit the product and no lingering smell.
BAT said the acquisition expands its U.S. oral nicotine portfolio from four to 28 product variants.
Dryft provides nicotine strengths of two-, four-, and seven milligrams in eight flavors: black cherry, cinnamon, citrus burst, coffee, dragon fruit, peppermint, spearmint and wintergreen.
By comparison, Velo is offered in two- and four-milligram strengths in citrus and mint, and in two textures, hard and soft.
The Velo lozenges are available in test markets in Charlotte, Atlanta, Columbus, Ohio, Houston, Las Vegas and Philadelphia, as well as at age-21 verification website www.velo.com.
BAT chief executive Jack Bowles said the acquisition "underscores our societal commitment to accelerate our transformation."
Jason Carnigan, Dryft's president, said that "we knew the world had dramatically changed in favor of these innovations, and it's why in 2020, we accelerated the Drfyt brand expansion."
"We're now delighted to realize that vision with Velo. Our expanded flavor profiles and varying nicotine strengths will help distinguish Velo in a marketplace full of adult consumers who are increasingly demanding alternative nicotine products that fit their diverse lifestyles."
Among BAT's stated goals with its A Better Tomorrow initiative is "encouraging those who otherwise continue to smoke to switch completely to scientifically substantiated, reduced-risk alternatives."
BAT has set a goal of $6.5 billion in new-category revenue in fiscal 2025, which was moved out from fiscal 2023 in June because of heightened Food and Drug Administration tobacco restrictions put into place since late 2019.
Besides oral nicotine, the new category products include snus, electronic cigarettes and heat-not-burn traditional cigarettes. BAT plans to have 50 million consumers of smokeless products worldwide by 2030.
Guy Meldrum, Reynolds' chief executive, said that the manufacturer "is confident that, leveraging our strong in-market execution capability, the new Velo portfolio will contribute to accelerated growth."
BAT's purchase of Dryft "is not a surprise and follows the move by other companies to expand into the nicotine marketplace with significantly lower-risk products than cigarettes," said Scott Ballin, past chairman of the anti-smoking alliance Coalition of Science or Health.
"All of these products are gaining market share in the U.S. and will globally as well."
The FDA recently accepted Dryft's premarket tobacco product application (PMTA). The premarket standard requires the FDA to consider products' risks and benefits to the population as a whole, including users and non-users.
On Aug. 24, Reynolds submitted another round of PMTA applications for Velo, this time for dissolvable lozenges. The filings allow the Velo products to remain available at retail locations throughout the review process, which could take up to 12 months.
Reynolds also has submitted premarket applications for its Vuse Vibe, Ciro and Solo electronic nicotine delivery systems.
The company already sells Camel Snus, the top-selling snus product in the U.S. Snus, which became popular first in Sweden, are teabag-like pouches of pasteurized loose tobacco that users stick between their cheek and gum.
The market for the oral nicotine products has been growing at an extraordinary rate, dominated by The Zyn product from Swedish Match that established the category, said David Sweanor, an adjunct law professor at the University of Ottawa and the author of several e-cigarette studies.
In October 2019, the FDA authorized modified-risk product status for eight General Snus styles by Swedish Match USA Inc.
A modified-risk tobacco product application seeks authorization to advertise products as reduced harm or reduced risk compared with traditional cigarettes.
"It is very difficult to attack oral nicotine pouches on health grounds, as it is undoubtedly massively less hazardous than smoking cigarettes," Sweanor said.
Sweanor said since the October 2019 FDA authorization, Swedish Match's share price has more than doubled from $20.12 to as high as $41.70 on Oct. 16. It opened trading Tuesday at $37.59
By comparison, the share prices of Altria Group Inc., BAT, Imperial Brands Plc, Japan Tobacco and Philip Morris International had declined significantly in the same time frame.
"Perhaps BAT hopes to gain some of the stock market reaction Swedish Match has attained with its focus on non-combustion products," Sweanor said.