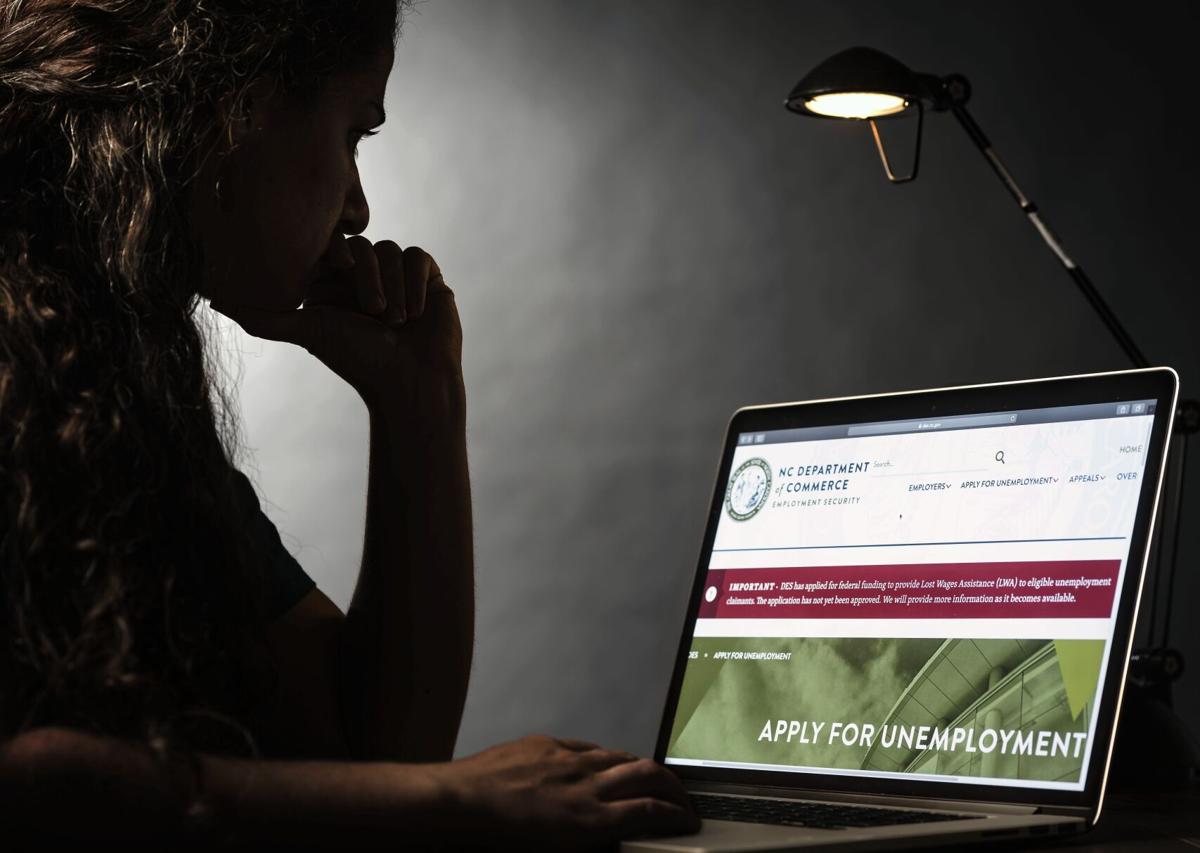 North Carolina reached a pandemic-low unemployment rate of 6.3% in October, spurred primarily by more workers returning to private-sector jobs.
The N.C. Commerce Department reported Friday the jobless rate dropped from 7.3% in September.
Driving the improvement were recoveries in leisure and hospitality services (up 12,600 jobs from September) and professional and business services (up 12,100 jobs).
Overall, the state's private sector had a net gain of 36,400 jobs from September to October.
However, those gains were offset somewhat by the loss of 10,000 government jobs.
The household survey found a 38,212 increase in the state's labor force from September to October, signaling 79,754 more employed North Carolinians and 41,542 fewer listed as unemployed.
Unemployed people who are actively looking for work are counted as part of the labor force.
The overall impact of the pandemic on the state's economy is shown in the year-over-year labor force totals.
The household survey finds a 7.2% decrease, or by 352,111, in those considered as employed compared with September 2019, as well as an 87.6% jump, or by 166,666, in those listed as unemployed.
Meanwhile, the employer survey has the state down 209,000 private-sector jobs, or by 5.4%, and down 29,200 government jobs, or by 4%, from October 2019.
The hardest-hit sector is leisure and hospitality services with 104,100 fewer jobs compared with a year ago, along with a 38,700 decline in education and health services and 37,900 in manufacturing.
There have been examples — particularly in the leisure, hospitality, restaurant and retail sectors — of workers being called back from furlough in July and August, only for their jobs to be eliminated as their employer closes their local store or goes out of business.
The labor market is at risk from the continued spread of the coronavirus, PNC Financial Services Group's chief economist Gus Faucher said.
"States are moving to restrict business activity to contain the pandemic, which could lead to more layoffs and more people filing for unemployment insurance."
Patrick McHugh, research manager for left-leaning N.C. Budget & Tax Center, said that "even before COVID-19 cases shot up over the past several weeks, the recovery had slowed to a snail's pace, particularly for low-income working people who are running out of options to get by."
"The U.S. Senate needs to get off the sidelines and actually do something meaningful to help North Carolinians who are bearing the brunt of the job losses," McHugh said.
UI updates
Initial state and federal unemployment-insurance benefit claims continued their ebb-and-flow pattern with 4,738 reported for Friday by the N.C. Division of Employment Security.
The seven-day range is from 2,302 to 9,943.
The daily filing peak has been 34,706 on March 30, while the low has been 2,025 on Nov. 7.
About 1.35 million North Carolinians have filed a UI claim since the brunt of the pandemic began to be experienced in mid-March. The total number of filed claims is at 2.78 million.
About 31% of the 4.35 million North Carolinians considered part of the state's workforce as of mid-October have filed a state or federal unemployment claim.
Since mid-March, 1.35 million North Carolinians have filed a state and/or federal jobless claim. There were 5,433 claims filed Wednesday.
North Carolina is at the $8.71 billion mark for state and federal UI payments during the pandemic.
DES began reporting Oct. 23 the statewide totals from the temporary $50 increase in regular state UI payments.
The payment comes from what is known as the increased benefit amount (IBA) program. Payments were at $79.9 million as of 10 a.m. Friday. The increase is estimated by DES to benefit between 15% and 20% of current UI claimants.
The extra benefit is scheduled to be paid through the week that ends Dec. 26.
The federal PEUC (pandemic emergency unemployment compensation) and PUA (pandemic unemployment assistance) programs also are scheduled to expire Dec. 26 unless extended by Congress during the upcoming lame-duck session.
As of 10 a.m. Friday, the PEUC program had paid $671.8 million in benefits to North Carolinians since April, while the PUA program has paid $653.9 million.
The extended state benefits program has paid out $150.3 million overall. Those payments were reduced on Oct. 10, going from up to 9½ weeks to up to six weeks.
The largest federal UI program, known as federal pandemic unemployment compensation, is the one that paid a $600 weekly federal supplement from April until Congress allowed it to expire July 26. It has paid just more than $4.81 billion to date.
Regular state UI payments are at $1.76 billion with only about $70 million being paid out since Oct. 1.
Currently, North Carolinians can draw up to 12 weeks of regular state UI benefits over a 12-month period. The number of weeks will expand to 16 for new claimants in January, under a sliding scale in the state's unemployment-benefits law.
The federal payments include $584.5 million from a projected $716.6 million from six weeks' worth of federal Lost Wages Assistance funding. There have been just $13.9 million in payments since Oct. 1.
Concerned about COVID-19?
Sign up now to get the most recent coronavirus headlines and other important local and national news sent to your email inbox daily.