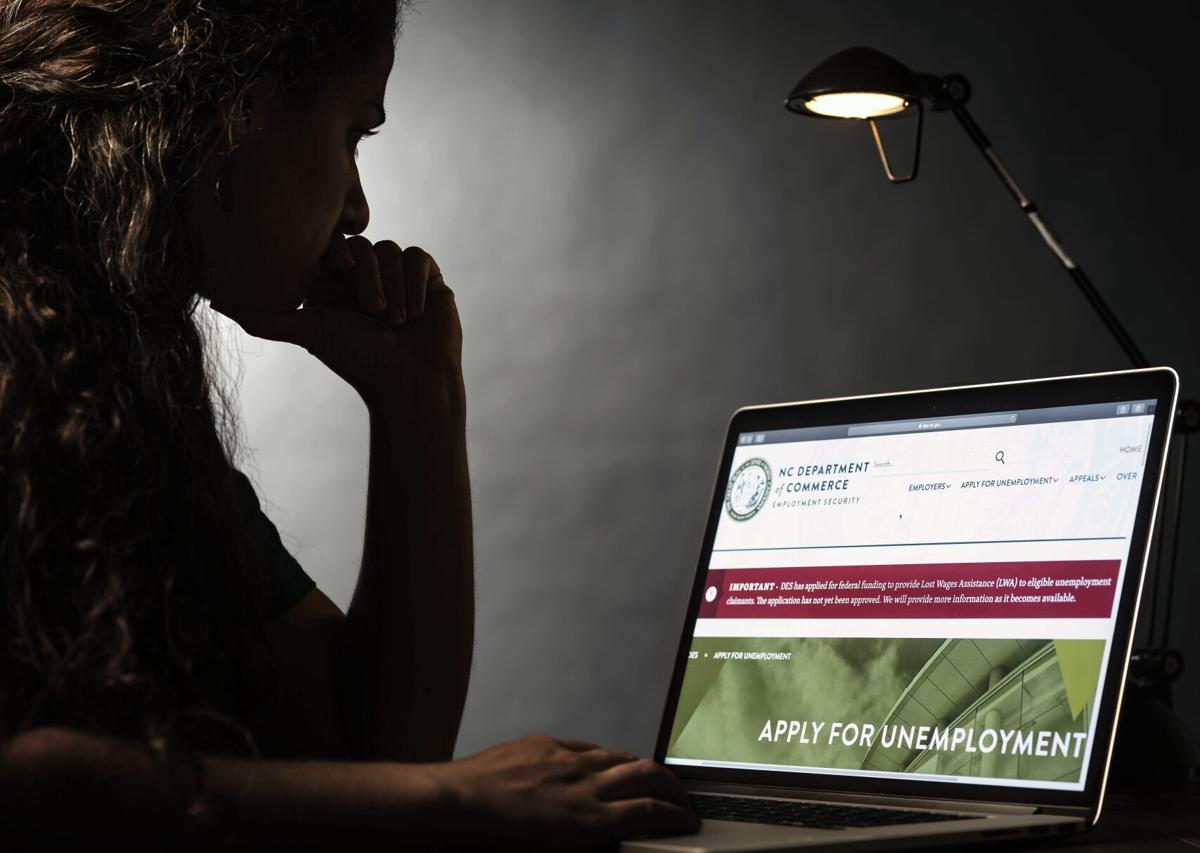 The August employment report for the Triad and Northwest North Carolina provided another mixed-bag perspective on the COVID-19 pandemic economic recovery.
The N.C. Commerce Department reported Wednesday that eight of the region's 14 counties had an August jobless rate below that of March 2020, which was the last report before the brunt of the economic downturn began to be experienced.
Forsyth County is one of five counties still with a higher rate — 4.5% for August 2021 compared with 4% for March 2020.
The Triad's unemployment was at 4.7% in August, above the pandemic low of 4.6% in April and above 4.2% for March 2020.
The August rate for 12 of the 14 counties was below 5%, led by Ashe at 3.4% and Watauga at 3.7%.
Many economists consider a 5% jobless rate as symbolically representing full employment, at which point everyone who wants a job has one, employers have the skilled workers they need, and there is limited inflationary pressure on wages.
However, the job market remains challenging for people without the technical and other specialized skills needed in advanced manufacturing jobs.
As has been case for most of the pandemic, two primary factors appear to be influencing the Triad and county rates: individuals unsuccessfully re-entering the workforce in recent months; and a decline in those considered as employed.
There were 1,907 fewer Triad residents considered as unemployed for August compared with July for a total of 37,133. There also were 10,441 fewer in the labor force month over month for a total of 798,354.
"There are some counties in the mountains with rates below 4%," said Michael Walden, an economics professor at N.C. State University.
"My suspicion is these low rates have more to do with a reduced labor force participation rate — meaning people without jobs aren't actively looking for work."
Individuals who are not actively looking for work are counted as part of the labor force, but excluded from the calculations for determining the state, metropolitan statistical and county-level jobless rates.
The U.S. Labor Department's U6 Index does include those individuals.
The state's U6 jobless rate was 10.3% in June, while the U.S. rate was 8.8% in August. U.S. Labor updates the state U6 rates on a quarterly basis.
The state's labor force data also does not distinguish how many workers are full time, temporary or part time, or how many jobs people are working.
Closer look
The August report shows the Winston-Salem metro area continuing to be recovering at a slightly faster pace in terms of jobs than the Greensboro-High Point metro.
The Winston-Salem area — consisting of Davidson, Davie, Forsyth, Stokes and Yadkin counties — has a 4.3% unemployment rate, down from 4.5% in July.
Meanwhile, the Greensboro-High Point metro of Guilford, Randolph and Rockingham counties was at 5.1%, down from 5.4% in July.
The Winston-Salem metro had a month-over-month net gain of about 2,200 jobs from July, of which 1,800 were in government as K-12 public school teachers' contracts for the 2021-22 school year commenced.
Meanwhile, while Greensboro-High Point had a net gain of 6,000 jobs.
Of the nine private-sector employment groups in the Winston-Salem area, there was a net gain of 700 education and health services jobs, as well as 300 each in professional and business services, and in leisure and hospitality. There was a loss of 900 trade, transportation and utilities jobs.
Most economists prefer taking a year-over-year approach to reviewing economic trends, although the daily economic uncertainty of the pandemic makes that kind of comparison more challenging.
For example, the Winston-Salem MSA is up 8,400 jobs comparing August 2020 with August 2021, while the Greensboro-High Point MSA had a net gain of 5,900 jobs.
There was a net gain of 3,400 leisure and hospitality jobs, along with 2,900 in professional and business services, 1,400 in manufacturing and 800 in trade, transportation and utilities. There was a loss of 600 government jobs.
Off-kilter job market
The job market before the pandemic typically would be tilting in favor of job seekers having reasonable expectations of modest increased wages.
But now, the job market remains off-kilter 18 months into the pandemic.
Many employers, particularly in manufacturing and minimum- to low-wage jobs, say they are struggling to find workers.
Meanwhile, the $300 per week extended federal unemployment benefit payments that Congress allowed to expire Sept. 4 kept some potential employees on the sidelines as they wait on employers to boost their hourly wages.
In some instances, UI recipients made more from not working than in a minimum- to low-wage job.
Economists say the September state and county-level jobless reports should provide insight into whether the expiration of the two federal pandemic UI relief program will produce an increase in hiring and individuals re-entering the workforce.
"Now that those benefits have ended, it will be interesting to see if those mountain counties continue to have very-low jobless rates when the September and later reports are released," Walden said.
Patrick McHugh, research manager with left-leaning N.C. Budget & Tax Center, said Wednesday that "barriers are preventing hundreds of thousands of willing workers from returning to the labor market, like lack of access to affordable child care, transportation, concern about contracting COVID-19, and providing care for an elderly relative.
"In large part because of these kinds of barriers, there were fewer people in the labor market in August than before the COVID-19 pandemic in 84 of North Carolina's 100 counties."
McHugh said that the COVID-19 delta variant "is putting the brakes on the recovery."
"Hundreds of thousands of North Carolinians are still unable to return to the labor force, so we need to do more to help people who are bearing the financial brunt of this ongoing pandemic."
"Now that federal unemployment insurance benefits have expired, it's all the more pressing to pass a state budget that helps people and communities that continue to experience the worst economic fallout from COVID-19."