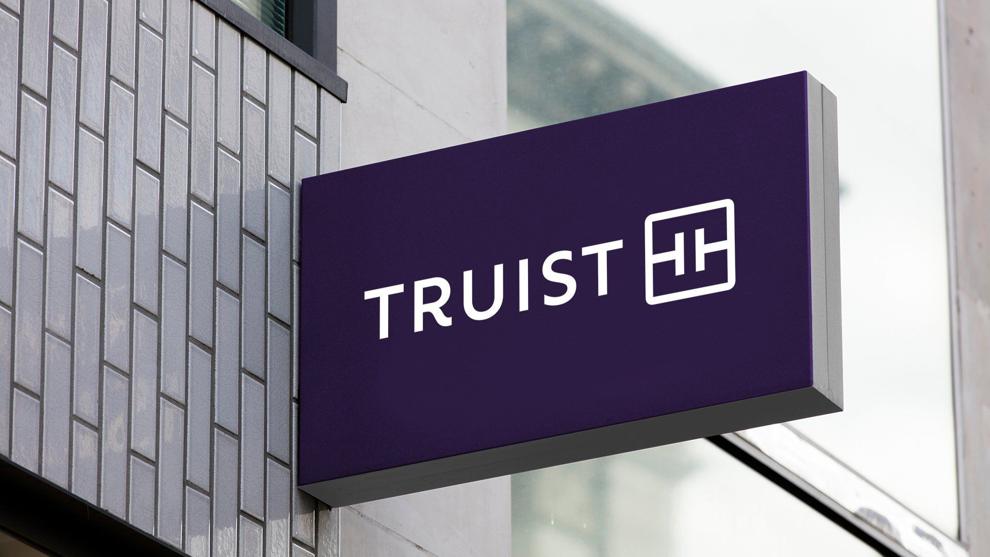 Truist Financial Corp. finished fiscal 2020 on a solid earnings note, benefiting from a significantly lower loan-loss provision and the combined loan and fee revenue from a merged BB&T and SunTrust.
Truist reported Thursday a 74.9% increase in net income to $1.23 billion, while adjusted net income was $1.6 billion.
The fourth-quarter report is the last to reflect the financial boost from BB&T Corp.'s $33.5 billion purchase of SunTrust Banks Inc. Truist completed its move to Charlotte on Dec. 6 when it debuted as the nation's sixth-largest bank. Its community/retail banking hub is in Winston-Salem.
The bank continued its reduction in full-time equivalent job positions, eliminating 1,307 during the fourth quarter for an overall total of between 3,611 and 3,811 since the acquisition was completed, or an 8% workforce decrease.
Year-over-year comparisons reflect the fourth-quarter 2020 performance of a combined Truist and the fourth-quarter 2019 report of all of BB&T and about 3½ weeks of SunTrust.
Diluted earnings were 90 cents, up from 75 cents a year ago. Adjusted earnings were $1.18.
The average earnings forecast was 99 cents by nine analysts surveyed by Zacks Investment Research. Analysts typically do not include one-time gains and charges in their forecasts.
When comparing the third and fourth quarters as a combined Truist, net income was up by 15% and diluted earnings by 11 cents.
Truist's adjusted net income reflected several positive and negative after-tax charges: $237 million in merger-related and restructuring charges worth 18 cents; and $138 million in "incremental operating expenses related to the merger" worth 10 cents.
Kelly King, Truist's chairman and chief executive, said in a statement he was pleased with the bank's overall fiscal 2020 performance "in a year of unprecedented challenges for our nation and the financial services industry."
"Despite this difficult environment ... we closed the year on a high point with our best quarter yet in terms of financial performance."
King cited "strong performance from our insurance business, and record results from investment banking and commercial real estate income, as well as a solid performance in net interest income in this challenging interest rate environment."
More job cuts
The continuing integration of Truist from its predecessor banks produced a quarterly high of 1,307 full-time equivalent job position cuts during the fourth quarter.
That's on top of 769 job reductions in the third quarter, 735 job positions in the second quarter and between 800 and 1,000 in the first quarter.
As of Dec. 31, the companywide workforce was at 53,693.
BB&T had 2,134 employees in Forsyth County, according to a 2018 workforce report to Forsyth County Board of Commissioners. It also has about 1,700 employees at its Triad Corporate Center complex in Greensboro.
King said the bank is "investing selectively in digital and agile capabilities, as well as investment banking, residential mortgage and wealth management talent to meet the evolving needs of our clients."
Cantey Alexander, Truist's regional president for the Triad, said in December the bank has about 3,800 employees in the region.
Loan-loss provision
Truist announced a significant lowering of its loan-loss provision at $177 million, compared with $421 million for the third quarter, $844 million in the second quarter and $893 million in the first quarter.
The provision offers a glimpse at how a bank expects its loan portfolio and revenue stream to perform as customers struggle to make monthly payments. It has a bottom-line effect on a bank's profitability.
The provision reduction was similar to actions taken in the past week by national banks Wells Fargo & Co. and Bank of America Corp., along with rival super-regional banks regional banks. 
King said that "our fourth-quarter results reflect a significant decline in the provision for credit losses and strong results from many of our noninterest-income (fee) generating businesses."
Janney Montgomery Scott analyst Chris Marinac said in July that "we expect reserve building continues in the second and third quarters, with modest relief by year-end and early 2021."
Revenue segments
Truist chose to focus its fee and loan income segments on a third- and fourth-quarter comparison, because those figures represent the combined bank's revenue totals.
Loan revenue for Truist was at $3.39 billion, unchanged from the third quarter when including the loan-loss provision.
Fee revenue rose 3.4% to $2.28 billion.
Insurance, as had been the case with BB&T for several years, was the top revenue producer at $545 million, up 5.2% that Truist said reflected "firmer pricing and strong new business generation."
The other nine key fee-income segments were up and down during the quarter, such as: residential mortgage income dropping 12.7% to $193 million; wealth management increasing 2.4% to $324 million; service charges on deposits up 7.7% to $266 million, and card- and payment-related fees up 1.5% to $203 million.
Nonperforming assets were at $1.39 billion on Dec. 31, compared with $1.31 billion on Sept. 30 and $1.25 billion on June 30. The increase primarily reflected primarily mortgage loans due to loans exiting certain accommodation programs related to the federal CARES Act and seasonality.
Net charge-offs were $205 million in the fourth quarter, compared with $326 million in the third quarter, compared with $316 million in the second quarter.
Truist had $509 billion in total assets on Dec. 31, up from $499 billion on Sept. 30.
More branch consolidation
King told analysts in July that Truist plans to complete core branch conversions in the first half of 2022, rather than by August 2021. The Carolinas would be included in the core branch category.
According to the Federal Deposit Insurance Corp. filing approving the SunTrust purchase, Truist is projected to have 2,593 branches when the megadeal closes.
The banks agreed not to close any branches in the first year after closing their deal, and to not close any branches for at least three years in markets where there are fewer than 2,500 residents.
Truist has a presence in 17 states, stretching from Pennsylvania and New Jersey to Texas, but foremost in the Southeast.
BB&T and SunTrust have significant branch overlap in the Southeast, particularly in the Carolinas, Georgia and Virginia. They have 710 branches within two miles of each other.
Truist resolved part of the branch overlap by selling 30 SunTrust branches, including nine in the Winston-Salem metro area, to First Horizon Corp., as part of gaining federal regulatory approval for the megadeal.
Truist said Thursday it has consolidated another 104 branches during the fourth quarter. It said there are plans for another 226 branch consolidations in the first quarter.
Truist said it plans to spend $500 million on share repurchases during the first quarter, or about 25% of the $2 billion that the board of directors authorized on Dec. 24.