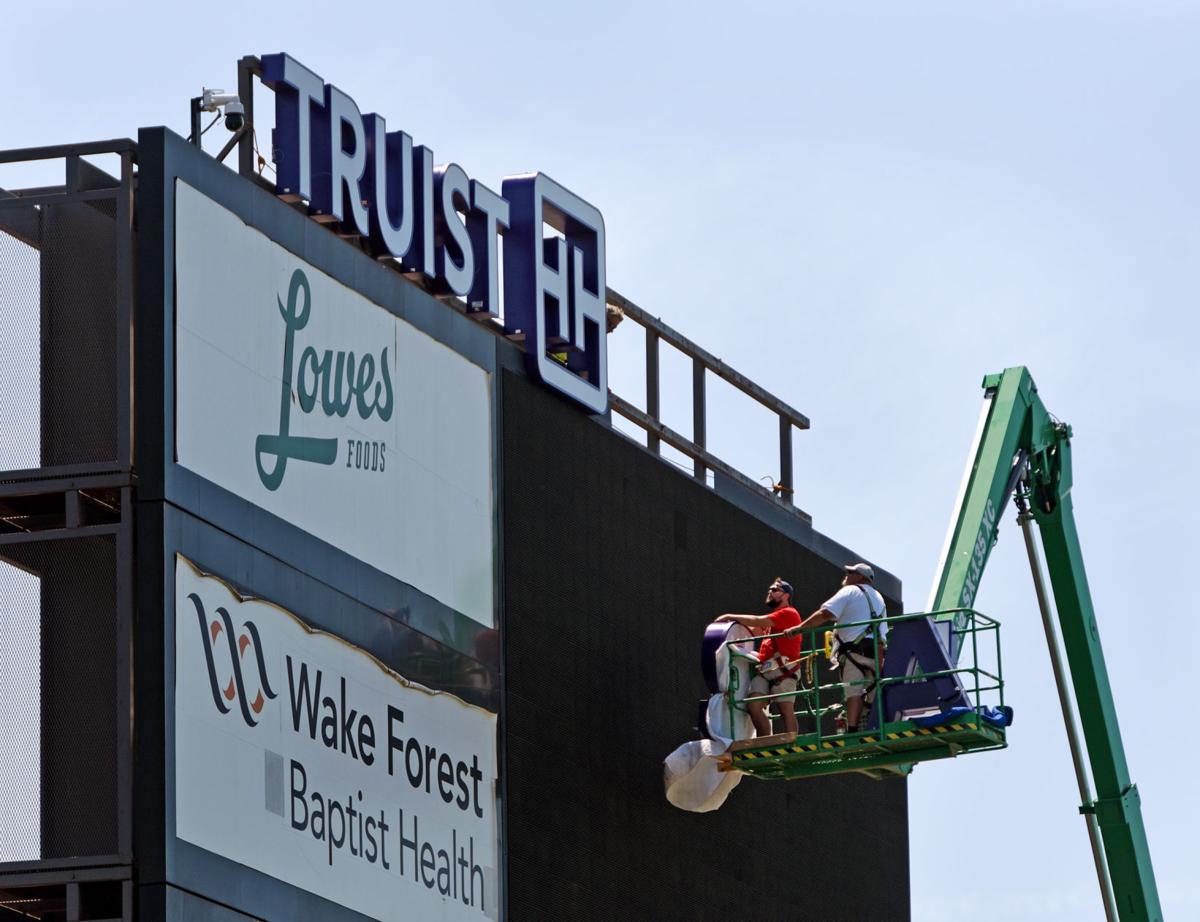 Year one of Truist Financial Corp. was quiet, recognition that it was better to delay the largest integration in financial services industry history rather than stick with an August 2021 deadline made implausible by the COVID-19 pandemic.
Truist debuted on Dec. 7, 2019, the result of BB&T's $33.5 billion purchase of SunTrust Banks Inc.
A year later, the bank has $499 billion in total assets as of Sept. 30, making it the sixth largest bank in the country.
The bank has completed its first year calling Charlotte its home, a key element of negotiations to secure the marriage of Winston-Salem-based BB&T and Atlanta-based SunTrust.
Winston-Salem retained the community/retail banking hub, while Atlanta maintained the wholesale banking hub.
The pandemic started about three months into Truist's existence, sending the country into an economic tailspin.
That reality convinced Truist management team to be very deliberate with the two key make-or-break integration elements of any bank merger: branch and software/hardware conversions
Truist has said it could take 12 to 24 months after closing to integrate the operating systems.
Truist chairman and chief executive Kelly King said in July that the core branch conversions would be completed in the first half of 2022.
King said the decision to delay branch conversions was influenced in large part by the impact of the pandemic on customer accounts and having more employees working from home.
As a result, the bank spent its first year focused on initial integration steps, determining the best infrastructure operations of the two banks, community philanthropic efforts and completing some high-profile signage changes at athletic venues, such as Truist Stadium and Truist Field in Winston-Salem, and Truist Park, home of the Atlanta Braves.
The second year will follow a similar pattern, the bank said.
"We remain as committed to Winston-Salem and the Triad region as we ever have, and we will maintain a strong presence here as Truist grows," said Cantey Alexander, Triad regional president for Truist.
Truist produced separate first year community impact reports for Winston-Salem, Charlotte and Atlanta. Each focuses on initiatives involving education, affordable housing, food security and access to capital.
The bank also offered in July a high-profile statement — "Acknowledging our history" — condemning racial injustice and acknowledging that BB&T had ties to businesses that benefited from slavery.
Truist highlighted in the Winston-Salem report: donating almost $4.8 million in philanthropic giving to the Winston-Salem and Piedmont Triad communities; contributing $1.5 million in direct support to Triad pandemic response efforts through its Truist Cares initiative; and providing more than $400 million in federal Paycheck Protection Program loans to Triad small businesses.
The bank also collaborated with nonprofits and government agencies "to develop, maintain or improve 263 affordable housing units through community development loans and investments."
"Our local Triad teammates have a tremendous amount of pride in our local communities and a shared commitment to help them thrive and prosper," Alexander said.
"We look forward to building on our rich history in the region, always standing for better and living out our value of caring for our clients, teammates and communities."
Workforce impact 'a wash'
Truist officials said the shifting of BB&T wholesale banking jobs to Atlanta and SunTrust community/retail jobs to Winston-Salem has been "a wash" for both communities.
BB&T had 2,134 employees in Forsyth County, according to a 2018 workforce report to Forsyth County Board of Commissioners. It also has about 1,700 employees at its Triad Corporate Center complex in Greensboro.
Alexander said last week the bank has about 3,800 employees in the region.
"Much of that shifting (of community/retail and wholesale) job positions has taken place," Alexander said.
"We are making some reductions within the footprint as a whole, management, administration, support personnel," Alexander said.
As of Sept. 30, the companywide workforce was at about 55,000, down between 3.8% and 4.2% from about 59,000 at the closing of the megadeal.
Bank executives told analysts in October that more are on the way. They are considering accelerating cost-cutting measures that also include branch closings as soon as December and January.
"We want to make sure we do (the branch conversions) right and do it well," King said. "It's not a dramatic change ... and we think it is the best way to provide the highest quality for our clients."
Alexander said the integration to date "is going really well. We haven't seen any hiccups."
"While there's no question that COVID has had an impact on our timeline, it has allowed us to take more time in choosing the best of the bank systems.
"We expect to come out with the best leadership, technology and best value for our clients," Alexander said.
Executive changes
The integration delay means King likely will be retired from both posts before the Truist brand is on all of its branches.
King plans to retire as chief executive on Sept. 12, 2021 — his 73rd birthday. King will become executive chairman for six months before stepping down from that role on March 12, 2022.
William Rogers Sr., SunTrust's former chairman and chief executive and Truist's president and chief operating officer, will replace King in both roles.
Truist has a presence in 17 states, stretching from Pennsylvania and New Jersey to Texas, but foremost in the Southeast. The Carolinas would be included in the core branch category.
BB&T and SunTrust have significant branch overlap in the Southeast, particularly in the Carolinas, Georgia and Virginia. They have 710 branches within two miles of each other.
"We're trying to stay really close to our clients, more than we ever have, during a time when they can continue to bank with each brand as normal," Alexander said. "The vast majority of clients won't see any merger-related account changes until first half of 2022.
"As we get closer to client Day One, we'll ramp up our advertising. We believe we are in the sweet spot for most of our clients, not too big and not too small with our products, services and expertise."
Alexander cited as examples introducing SunTrust customers to legacy BB&T Insurance services — the sixth largest insurance broker in the U.S. — while BB&T customers, particularly businesses, gain access to SunTrust investor experts in a wide range of industries.
First Union-Wachovia comparison
Banking analysts have drawn a comparison between the methodical BB&T and SunTrust integration with First Union Corp's integration of Wachovia from September 2001 to May 2003. First Union management chose to keep the Wachovia brand.
Wachovia's branch and logistical conversion strategy — tackling one of the largest mergers ever attempted in the banking industry at that time — was to target the state where there was the least overlap first and finish up with the Carolinas and Georgia last.
"First Union and Wachovia did such an outstanding job of combining those two big franchises in a really difficult era of banking history," said Tony Plath, a retired UNC-Charlotte finance professor.
"They made it look easy, and in reality, it's far from easy to pull these things off well."
The new Wachovia exceeded merger expectations for its first four years.
However, the combination of overexpansion, executive management missteps, and toxic exotic residential mortgages at the start of the Great Recession combined to push Wachovia at the brink of collapse by September 2008.
"It's wise to perform branch conversions, and operating systems conversions, slowly, deliberately and carefully," Plath said. "That's what 30 years of bank consolidation history tells us, anyway.
"It's especially true today, especially in the current COVID environment, where many Truist bankers on both sides of the corporate aisle have been working from home, separated from many of their fellow team members, and not completely in touch with people who work in other areas of the corporation not directly connected to their sphere-of-control."
In the spotlight
Plath said Truist's integration will remain in the industry spotlight until it is completed given complexities created by the pandemic and the accelerating shift to digital banking.
"They're doing it in an era where very few other mega-bank consolidations are occurring, which means their work is going to get a lot of attention from customers, the industry, analysts and even the media," Plath said.
Zagros Madjd-Sadjadi, an economics professor at Winston-Salem State University, said given the challenges and obstacles presented by the pandemic, "we probably need three to five years to be able to really get a handle on things."
"The pandemic has been hitting the banking sector especially hard since the market for credit tends to be pro-cyclical, doing well in times of economic expansion and retrenching in times of economic decline."
The Truist brand may be challenged to gain traction in the marketplace because of delay in the branch signage changes, said Roger Beahm, executive director of the Center for Retail Innovation at the Wake Forest University School of Business.
"The company has not been able to build equity behind the Truist name the way it would have had it changed over to the new branding right away," Beahm said.
"This fact really hasn't hurt them either, though. Brands are brands and companies are companies. There is a difference.
"With all the brand equity that exists in the BB&T and SunTrust names, the company has reduced customer confusion in the merger, and has been able to leverage the brand equity that exists in the BB&T and SunTrust names by holding on to these old brands as long as it has," Beahm said.
Still, Beahm said that "only when the transition from BB&T and SunTrust to Truist takes place at the consumer level will the company begin to accelerate equity-building in the new name."
How COVID-19 created a new normal in 2020
The COVID-19 pandemic has gone from an out-of-sight, out-of-mind crisis in China to affecting all aspects of our lives in just a few months. These articles highlight some of the areas where we are all scrambling to determine how to adjust to our new normal.
"Our local Triad teammates have a tremendous amount of pride in our local communities and a shared commitment to help them thrive and prosper. We look forward to building on our rich history in the region, always standing for better and living out our value of caring for our clients, teammates and communities."

— Cantey Alexander, Triad regional president for Truist