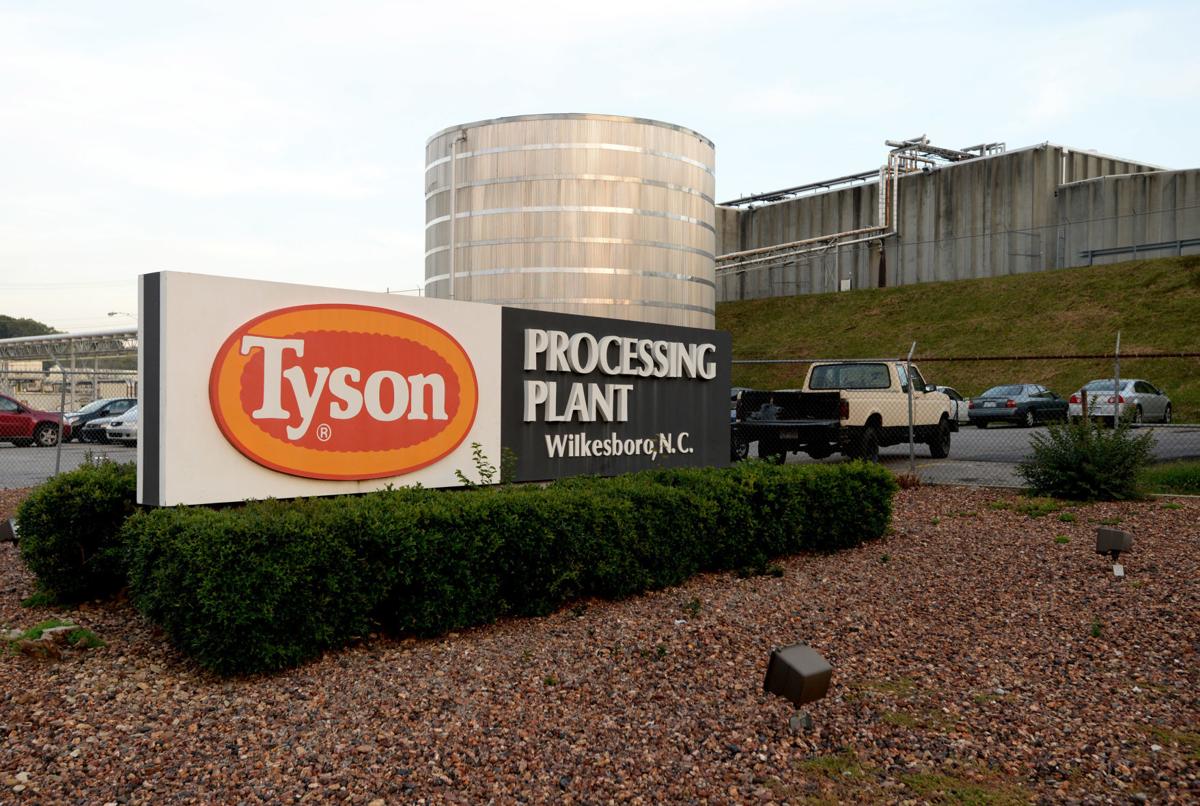 Tyson Foods Inc. said Tuesday it has reached a deal for a third-party health clinic to open near its chicken-processing plant in Wilkesboro.
It will be the third pilot health-clinic program associated with a Tyson plant that experienced a COVID-19 outbreak during the first months of the pandemic. There are plans to have seven such clinics near Tyson plants.
"We initiated this project about a year ago, well before the pandemic with the focus of helping create a healthier workforce," Tyson spokesman Derek Burleson said Tuesday.
"We have other, on-going initiatives focused on protecting our team members during the pandemic and have developed an innovative approach to monitor for COVID."
The Wilkesboro clinic will be operated by Marathon Health, based in Winooski, Vt. It is not open to the general public.
Marathon said it will collaborate with Wilkesboro community health providers, including primary-care physicians and specialists affiliated with Wilkes Regional Medical Center, which is operated by Wake Forest Baptist Medical Center.
It offers employees and their family members another healthcare option. Spouses, dependents age 2 and older who are covered by the Tyson insurance plan, will be eligible. 
The clinic will provide primary and preventive care, including health screenings, lifestyle coaching and health education, as well as behavioral health counselling.
Employees enrolled in a high deductible health plan will pay a fee for visits until the deductible is met. Tyson said that fee applies to less than 2% of eligible employees.
According to The Associated Press, the Springdale, Ark.-based company processes about 20% of all beef, pork and chicken in the United States.
Employees in meat-processing plants have had a significant exposure to coronavirus because they often stood shoulder-to-shoulder on assembly lines with limited personal protection equipment when the pandemic hit.
The outbreak at Tyson's chicken-processing facilities in Wilkesboro is likely to have been one of the largest industrial episodes in the state.
Tyson confirmed May 19 that 570 out of its 2,244 full-time and contract employees, or 25.4% of the workforce, had tested positive for the virus. The company said 2,007 employees were tested for the virus at the facility May 6-9.
According to the latest Wilkes County Health Department COVID-19 report, 34% of the county's cases have been found in the 28659 Zip code, while 27% have been in the 28697 Zip code. The report listed 68% of cases have come from "close contact" and 32% from community spread.
The Tyson outbreak contributed to an early outbreak of at least 70 cases in Forsyth from the commuting patterns of many of the company's Hispanic workers.
The N.C. Department of Health and Human Services doesn't list the state's largest individual outbreaks on its website dashboard outside those at long-term care and correctional facilities.
Tyson's Wilkesboro facilities are at least the seventh nationwide that the company has idled temporarily for a deep cleaning, counting three in Iowa and one each in Indiana, Nebraska and Washington state. According to health department and media reports, there have been more than 3,500 infected Tyson workers at those seven plants.
At least 17,700 meat-processing workers in the U.S. have been infected or exposed to the virus and 115 have died, according to the United Food and Commercial Workers union.
Burleson said one-half of 1% of its U.S. workforce, or about 600 out of 120,000, has an active case of the virus. He did not provide the number of active cases, if any, at the Wilkesboro facility.
The decision to collaborate with Marathon on the health clinics aims "to promote a culture of health in our company that results in a healthier workforce," Johanna Söderström, Tyson's chief human-resources officer, said in a statement.
"Some of our front-line team members aren't using their health-plan benefits, and others don't seek care until there's a crisis," Söderström said. We want to change that by providing access to care that can help detect health conditions early and promote healthy habits."
Tyson requires all regular, full-time team members who have completed 59 days of employment to have health-care coverage through either the company-sponsored health plan or through a family member's plan.
Tyson said it checks employee temperatures when they arrive at the plant, and has hired hundreds of nurses to conduct thousands of coronavirus tests each week companywide.