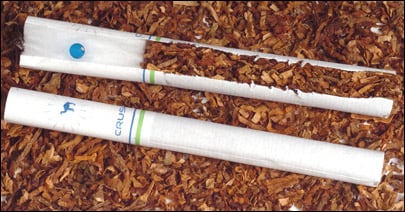 A tiny blue capsule is the key element in R.J. Reynolds Tobacco Co.'s latest attempt to woo smokers.
The capsule is embedded into the filter of a regular Camel Lights cigarette.
When smokers squeeze and snap the capsule, it releases menthol to change the flavor. The cigarette — packaged in a sleek black and blue box and called Camel Crush — is being test-marketed at local Quality Mart convenience stores, and beginning this month in Pennsylvania.
"We're giving the adult smoker the ability to savor two distinct flavors with Camel Crush and customize the experience," said Brian Stebbins, the senior business-unit director for Camel. "They can crush it a little and get a slight flavor over the length of the smoke. They can crush it completely and get a fresh menthol blast."
Reynolds views product innovation as a positive and differentiating way to compete for adult smokers and market share.
However, the capsule also has become the latest target of anti-smoking groups, which claim that product innovations such as Camel Crush and the marketing of cigarettes are geared toward attracting young consumers.
"Tobacco companies have carefully designed their products to attract new users, almost all of whom are children," said The Campaign for Tobacco-Free Kids in a February report titled "Big Tobacco's Guinea Pigs."
"Tobacco products are far from simple tobacco leaf rolled in paper or other packaging. They are highly engineered nicotine-delivery devices, finely tuned to appeal to the taste, feel, smell, and other sensations of new and addicted smokers," the report says.
Stebbins declined to say how much Reynolds has spent to develop Camel Crush, but it has been in the works for several years.
"We had to find the proper type of capsule," Stebbins said. "We also had to invent manufacturing machinery to put the capsule in the same place in the filter consistently without breaking it." Reynolds said it has obtained a patent on the machinery.
Fight for market share
Why the tiny capsule has become a target is a story as much about the increasing challenges of marketing any new tobacco product as trying to persuade adult smokers to switch brands.
No manufacturer is remotely close to Reynolds in developing new cigarette and tobacco technology and products. No other manufacturer feels the need to, with Altria Group Inc. dominating the industry since 1983, although Liggett Group LLC has its Quest brand, which offers low to no nicotine.
Altria has 51.3 percent of the U.S. market share, according to data from research company IRI/Marlin. Reynolds was second with a 28 percent market share on March 31, the company reported in a regulatory filing on Friday. Altria's Marlboro brand is tops at about 42 percent. Camel is third at 7.9 percent, but closing on Newport.
Reynolds officials cite the willingness to expand and innovate with its flagship brand as the main reason why Camel has closed the gap on Newport. In the past nine years, Reynolds has introduced Camel Exotic Blends, Camel No. 9 and Camel Signature. It also has branched out with Camel Snus, a smokeless product that is being touted as the industry's best bet in a post-smoking environment.
"What we continue to learn through innovative products is that adult smokers are looking for different ways to enjoy tobacco, including those who typically use other brands," Stebbins said. "We're an innovation company, and Camel is our innovation brand, dating all the way back to when it was introduced in 1913."
That strategy, however, is being threatened by potential industry regulation by the Food and Drug Administration. Such regulation, which would severely restrict marketing claims, continues to gain support in Congress and could be approved later this year or in 2009.
Trial and error
Camel Crush represents the biggest cigarette innovation since Reynolds introduced its Eclipse brand in 1996.
Eclipse, which remains available nationwide on a request basis by wholesalers and retailers, has struggled to catch on with smokers. It has been criticized for claims of reduced risk of some cancers.
Unlike traditional cigarettes, smokers do not light tobacco with Eclipse. They light a carbon tip that heats air that, as it is inhaled, passes over tobacco in a cylinder that's identical to a standard cigarette. The flavors of tobacco and nicotine are inhaled and then exhaled by smokers.
Reynolds' innovations have yielded many hits and misses over the past 30 years.
Before Eclipse there was Premier, which Reynolds sold in the 1980s.
Many of the unhealthy elements in cigarettes had been removed from Premier cigarettes. But because Premier also was missing the taste and smell that consumers were used to, it flopped badly.
The anti-smoking groups took a hit as well from Premier because of their demands that it be regulated as a drug-delivery device rather than accepted as a reduced-risk cigarette product.
Among Reynolds' biggest marketing missteps were Brookwood and Uptown, menthol brands aimed at black smokers that were withdrawn while being test-marketed.
Also withdrawn was Joe Camel, the iconic image that sharply raised Camel's profile in the 1980s and 1990s, but eventually fell victim to the increasingly public war over how cigarette companies sell cigarettes, particularly those that might appeal to young consumers.
But Reynolds also has had some successes, such as Camel No. 9, a brand that targets women smokers; Camel Signature, which is based on smokers' flavor preferences; and Kool XL, which has wider cigarettes.
Predicting success
Putting flavoring in a cigarette filter is nothing new for Reynolds or the industry.
Camel Exotic Blends, which was introduced in 1999, contained a pellet that provided the flavoring for such styles as Twista Lime, Kauai Kolada and Margarita Mixed.
But Reynolds stopped selling 28 styles of Camel, Kool and Salem cigarettes that featured certain flavors in 2006 as part of a settlement with 40 state attorneys general.
"There's no way for consumers to know what's in that capsule," said Joel Spivak, the media-relations director with The Campaign for Tobacco-Free Kids. "We know that similar-flavored pellets have released dangerous chemicals when tested.
"That is why we are supporting Food and Drug Administration regulation of tobacco, currently being considered by Congress, which would require RJR to disclose the contents of their products."
Bill Godshall, the executive director for Smokefree Pennsylvania, said that The Campaign for Tobacco-Free Kids publicly accuses all new tobacco products, especially those made by Reynolds of being target-marketed to children.
Godshall's group promotes the use of potential reduced-risk tobacco products such as snus.
Pat Shehan, the owner of Tarheel Tobacco in Winston-Salem, said that Reynolds has established Camel as its growth brand among young adult smokers. He said that using the menthol capsule for Camel Crush can work.
"It's smart on their part to use the Camel brand with this product. The general population of tobacco users is hesitant to use different brands,'' Shehan said. "But there is a segment that will try new products, especially if they are marketed with a brand they know, and some will stick with the new product over their preferred style and brand."
Stephen Pope, the chief global-market strategist with Cantor Fitzgerald Europe said he believes that Camel Crush will join Eclipse and Premier as innovation failures.
Pope said that the introduction of Camel Crush is another example of an industry "recognizing that it is rapidly becoming socially undesirable to be a smoker."
"I see this as a gimmick that will enjoy a very brief honeymoon," Pope said. "After all, if a smoker wants a menthol taste, they can go to established brands such as Marlboro Green or St. Moritz.
"If it is a post-smoke fresh taste, then the smoker should turn to sucking a mint or brushing one's teeth."