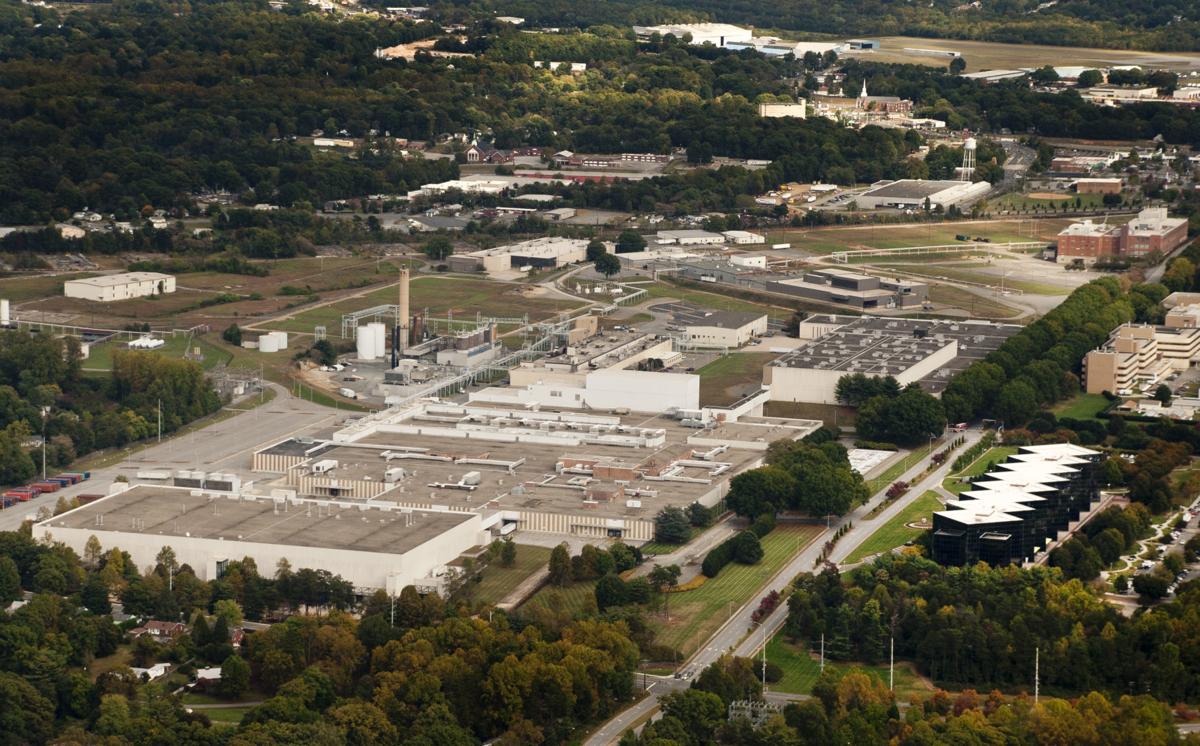 Whitaker Park Development Authority Inc. plans a major economic development announcement for 10 a.m. Thursday with downtown residential developer Chris Harrison participating.
They will discuss plans for former R.J. Reynolds Tobacco Co. Buildings 2-1 and 2-2 at 951 Reynolds Blvd., across from Woodland cemetery.
The authority is a nonprofit corporation created in 2011 by Winston-Salem Business Inc., the Winston-Salem Alliance and Wake Forest University.
The authority's goal with the donated properties is to make the Whitaker Park campus a magnet for manufacturing, industrial, warehousing and distribution operations but also possibly retail and residential space, with an overall potential capital investment of more than $200 million.
Harrison's C.A. Harrison Cos. LLC was the developer of Plant 64, a $55-million, multi-use complex that debuted in 2015 at 545 Power Point Circle in Wake Forest Innovation Quarter near Inmar Inc.'s headquarters and Wake Forest BioTech Place. The complex consists of 422,000 square feet, including 243 one-, two- and three-bedroom apartments.
Asked whether the announcement will include news of residential development, Bob Leak Jr., president of Winston-Salem Business, said Wednesday that "you'll find out tomorrow."
Building 2-1 "housed two essential elements of the tobacco manufacturing process: stemming and redrying, both necessary to reduce leaves to strips that could be incorporated into tobacco products," according to the application for the national registry.
Building 2-2 provided more square footage for the redrying process and allowed for the installation of more advanced equipment. The stemming process was automated in 1953, leading to a sharp reduction of employment in the buildings.
The buildings appear to be the city's only existing R.J. Reynolds Tobacco Co. structures constructed primarily for these purposes, the authority said.
The buildings were de-emphasized following the 1961 opening of the $32 million Whitaker Park manufacturing facility — $273 million in today's dollars — to accommodate growth of Reynolds' new filtered cigarette brands Salem and Winston.
Major employer close by
Don Flow, Whitaker Park authority's chairman, expressed confidence in April 2017 that the Whitaker Park project "will yield more than 10,000 good-paying jobs for the community."
However, some economists have questioned whether the jobs placed in Whitaker Park represent a net gain for the local community or just a shifting of local operations, such as what Inmar did when it moved its headquarters from Indiana Avenue to become an anchor tenant in Wake Forest Innovation Quarter.
The proximity to Inmar Inc.'s 950 employees, as well as a residential mix of retired couples, medical students and other individuals who work downtown, could be a selling point as well for the planned Whitaker Park project.
Inmar moved its headquarters to across the street from Plant 64. Inmar has said that several employees have chosen to live in Plant 64 over time.
The equivalent for Whitaker Park could be Cook Medical, which said Jan. 2 it had purchased an 850,000-square-foot section of the manufacturing complex for its local workforce of 650. The Cook Medical section is within a mile of Buildings 2-1 and 2-2.
Cook Medical's plan is to complete renovations by the end of 2019 and begin production by late 2021 or early 2022. Cook has pledged to add 50 jobs over 10 years.
Eligibility for historic federal and state tax credits is likely another key to the latest Whitaker Park project given that Plant 64 also is listed on the National Register of Historic Places.
Wake Forest influence
The two former Reynolds buildings are close enough to Wake Forest University to be attractive for students wanting to live off-campus.
"We're currently in a 10% growth in undergraduate enrollment, or from about 4,800 to about 5,350," Hof Milam, executive vice president at Wake Forest, said in June.
Milam said the university and the Whitaker Park authority believe there is opportunity to convert some of the buildings into residential apartments that could serve individuals working at Whitaker Park or those who need moderate-priced housing.
Surging demand for student housing led Wake Forest to spend $28.42 million in December to buy Deacon Place, which is near the Polo Road campus entrance.
The gated community, which opened in the spring of 2017, consists of 146,448 square feet in six buildings containing 328 beds, including fully furnished four-bedroom suites and five townhouses in 1,500- and 1,800-square-foot options. The complex is fully filled by Wake Forest students.
Whitaker Park background
When Reynolds opened Whitaker Park in 1961 at a cost of $32 million, it was considered the world's largest and most modern cigarette manufacturing plant. In today's dollars, the plant would cost $270.2 million to build, according to U.S. Bureau of Labor Statistics.
At its production peak, the plant had more than 2,000 employees, many of whom ate breakfast, lunch or dinner at several nearby diners along Deacon Boulevard and University Parkway.
Reynolds announced plans in May 2010 to close Whitaker Park as part of shifting production to its 2-million-square-foot plant in Tobaccoville. That shift was completed in 2012.
Reynolds donated what has been known as Building 601-1 to the Whitaker Park Development Authority when it handed over the keys to 120 acres and 13 buildings in April 2017. The Cook portion represents about half of the 1.7 million square feet donated by Reynolds.
Promoted by the Trump administration as part of the 2017 federal tax-cut initiative, the goal with opportunity zones is connecting low-income census tracts with investors and offering tax credits and other tax incentives to get investors involved.
"We're going to patiently stay in a holding pattern (with Deacon Boulevard renovation) as Whitaker Park takes off with Cook Medical and other tenants," Milam said earlier this year.
"We think Whitaker Park could provide a boost, but the real catalyst will be creating more jobs and attracting more visitors and fans to our athletic facilities."
Leak said Wednesday that "there have been some general inquiry conversations" about local opportunity zone census tracts.
"It certainly could work on the project we are announcing tomorrow," Leak said.
The business news you need
With a weekly newsletter looking back at local history.