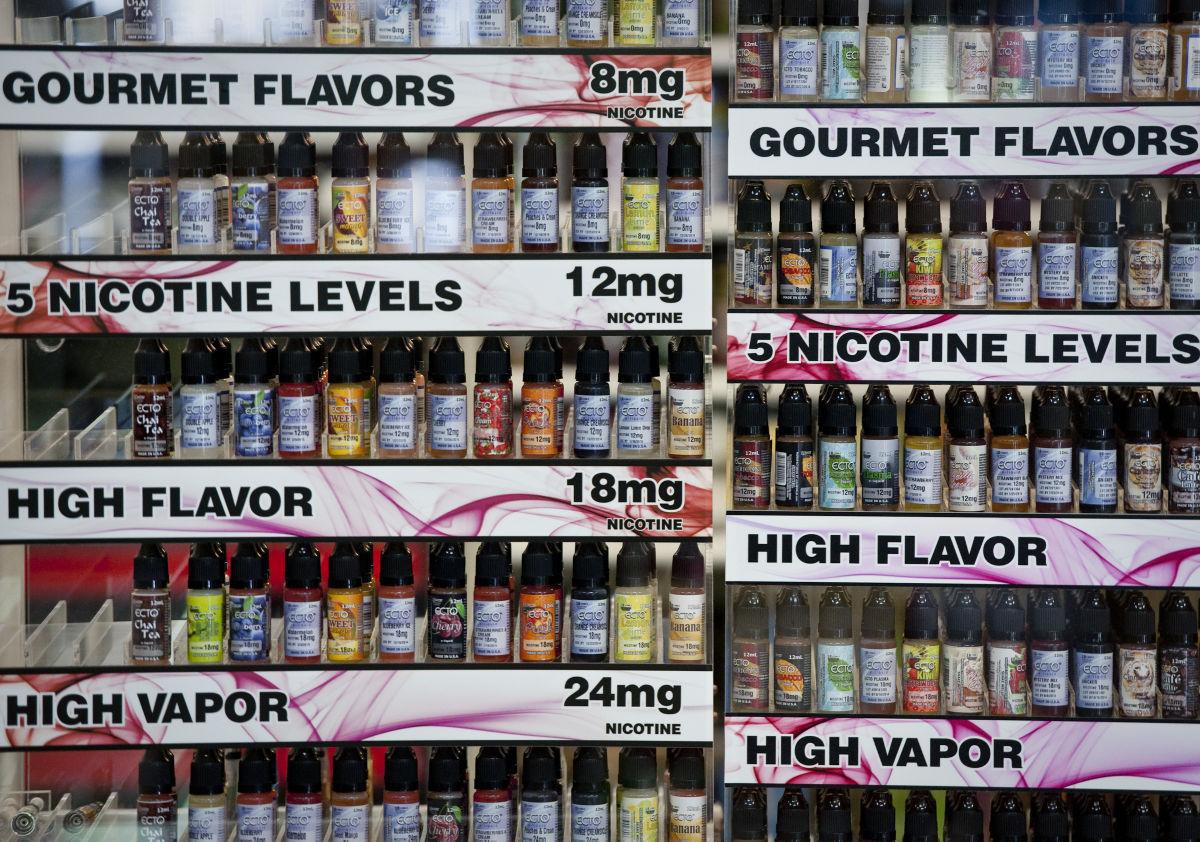 The U.S. surgeon general has sounded an alarm about electronic cigarettes, saying there's no safe use of the products for people younger than 25.
However, it's unclear whether the report by Dr. Vivek Murthy will lead to increased support for tighter regulatory standards, or persuade a Republican-controlled Congress and the Trump administration to back away from plans to repeal some of those regulations.
"There is confusion around e-cigs and youths, are they safe to use?" Murthy said in a presentation Thursday.
"We know enough right now to say that youth and young adults should not be using e-cigarettes or any other tobacco product, for that matter. Electronic cigarettes place a whole new generation at risk for nicotine addiction."
There does not appear to be much disagreement with the FDA rule that prohibits the sale of e-cigs and vaporizers to those under age 18. That rule, and several other sales and marketing restrictions on innovative tobacco products, went into effect Aug. 8.
Reynolds American Inc. said it will not provide specific comment on the Murthy report until it has reviewed it. Reynolds' Vuse e-cig is the top-selling brand in the U.S. marketplace.
"We do agree with the surgeon general that minors should never use e-cigarettes or any other tobacco product," the company said.
Debating possible harm
Murthy acknowledged the report doesn't aim to resolve the bigger public-health questions of whether e-cigs and vaporizers offer smokers — particularly adults — a reduced-risk alternative to traditional cigarettes, or should they be regulated similarly to traditional cigarettes.
Murthy has been quoted as saying e-cig technology should be embraced if evidence shows it can help smokers who otherwise have trouble quitting their habit.
Some studies, including one by the Royal College of Physicians, have claimed e-cigs and vaporizers are up to 95 percent less harmful than traditional cigarettes. The Royal College's study on traditional cigarettes played a key role in the landmark 1964 surgeon general's determination.
Scott Ballin, past chairman of the Coalition on Smoking or Health, said Murthy's decision to not focus on potential reduced-risk value of e-cigs and vaporizers "is a major omission in that the report is intended to serve as an informational and educational tool."
Anti-tobacco advocates hope Murthy's report will be viewed as the definitive public-health study that the industry, scientists, advocates and elected officials have sought since e-cigs and vaporizers became a mainstream product in the past six years.
Matt Myers, president of the Campaign for Tobacco-Free Kids, took that approach by considering the report "as the gold standard" on youths and e-cigs.
Anti-smoking advocates and analysts said the report could be viewed as just another in a long line of studies that adds more layers to the rhetoric surrounding the products than to the science.
"It seems to be a compilation of much of what has been already raised as concerns over the last couple of years," Ballin said.
For example, two main takeaways come from a July report from the U.S. Centers for Disease Control and Prevention that claimed e-cigs are the most commonly used tobacco product among youths, and e-cigs may serve as a gateway to cigarette use.
Yet, the CDC report found that high school students' use of traditional and electronic cigarettes continued to go in opposite directions during 2015.
Traditional cigarette usage was at an historic low of 10.8 percent, while e-cig, vaporizer and hookah usage was at 24 percent.
Anti-smoking advocates have explained the increase in young adults consuming e-cigs as experimentation typical of the young, and e-cigs as a better alternative to traditional cigarettes.
Risks for youth
The surgeon general's report determined that youth use of products containing nicotine "in any form, including e-cigarettes, is unsafe, can cause addiction and can harm the developing adolescent brain, disrupting attention and learning."
The report said e-cig vapor "can contain harmful and potentially harmful constituents, including nicotine."
"E-cigarettes pose a serious threat to the health of kids and young adults, and we should be doing everything we can to prevent young people from using these products," Myers said in a statement.
Myers used the surgeon general's report to prod Congress and the FDA to target flavorings in e-cigs and vaporizers because of their attractiveness to youths, to limit e-cig marketing, particularly on televisions, and raise the minimum age for all tobacco products to 21.
Anti-smoking advocates say the flavorings are necessary as a means to help adults wean themselves off cigarettes.
In August, a national study on youth vaporizer use by the University of Michigan determined that up to 65 percent of students consume the products for flavor, compared with 20 percent for nicotine. The results were published in Tobacco Control.
After President-elect Donald Trump's victory, U.S. Sen. Ron Johnson, R-Wis., sent a letter to the FDA commissioner warning him that a Republican-controlled Congress and White House will take aim at the new regulations.
The need for FDA authorization of ingredients and health document submission covers any nicotine or tobacco product introduced after Feb. 15, 2007, — the clear majority in the marketplace.
The FDA allows for up to a three-year retail exception for products whose manufacturer enters the regulatory gantlet.
The U.S. House Agriculture appropriations bill for fiscal 2016-17 contained language that would only permit funding for FDA "substantial equivalent" restrictions on e-cigs, vaporizers and hookahs with a start date of Aug. 8, 2016.
"The Congressional proposal ... would greatly weaken FDA oversight of e-cigarettes that were already on the market when the FDA's rule took effect in August," Myers said
Vaping advocates are concerned that expanded FDA regulations will lead to the Big Three tobacco manufacturers capturing most of the vaping market share.