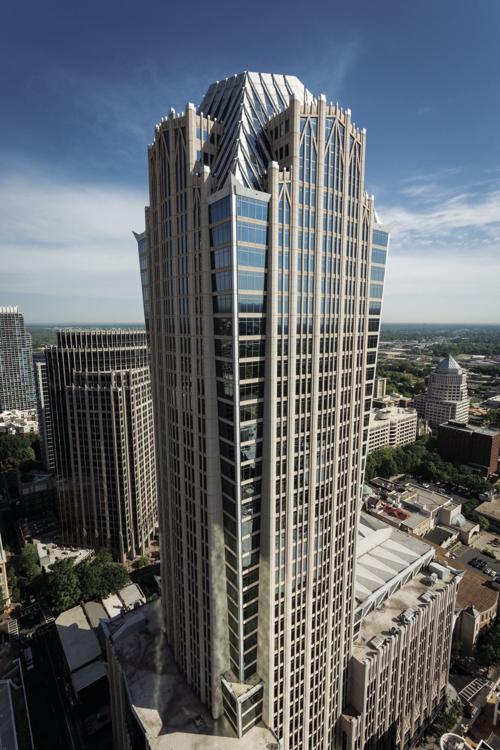 Truist Financial Corp. has completed the $455.5 million purchase of its headquarters building in uptown Charlotte, the bank said Tuesday.
Truist announced Dec. 11 plans to buy the former 47-story Hearst Tower at 214 N. Tryon St. The 18-year-old building has been renamed Truist Center.
The bank debuted Dec. 6 following the completion of BB&T Corp.'s $30.4 billion purchase of SunTrust Banks Inc
The building was constructed initially for Bank of America Corp., also based in Charlotte, to serve its bank's investment banking and capital markets units.
"Charlotte is one of the world's top financial centers and an emerging fintech hub, and Truist is proud to be a part of this thriving business community," Kelly King, Truist's chairman and chief executive, said in a statement.
Truist said that because of the COVID-19 pandemic, "decisions about the building, including branding, signage and occupancy plans, will be announced at a later date."
King said that "the Truist name at the top of this signature building will help to signify our beginning and demonstrates our commitment to the Queen City."
Truist will occupy initially 550,000 square feet in the 965,000-square-foot building. The goal is to have about 2,000 Truist employees there.
To put the projected purchase price into perspective, BB&T reported adjusted net income of $832 million for the third quarter of fiscal 2019, while SunTrust reported $623 million of adjusted net income.
BB&T had leased for 25 years its 20-story former headquarters in downtown Winston-Salem.
Truist announced March 5 it was moving its local operations into three lower-profile sites it owns in the city at 101 N. Cherry St., known as the Park Building, and to 110 and 150 S. Stratford Road in the Five Points area.
Truist's community/retail banking hub remains in Winston-Salem. It retains its downtown branch in the landmark green-glass skyscraper.
BB&T had 2,134 employees in Forsyth County, according to a 2018 workforce report to Forsyth commissioners. It also has about 1,700 employees at its Triad Corporate Center complex in Greensboro.