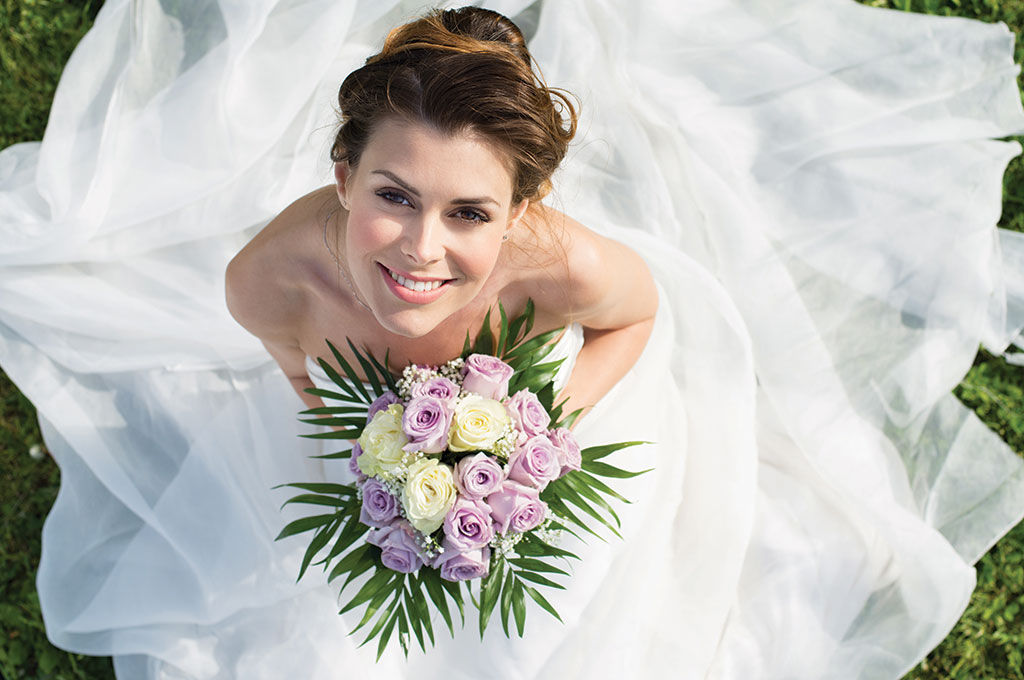 International style expert Cheryl Lampard shares fashion secrets.
On a budget? Consider a vintage dress.
Makeup master Dani Taverna dishes on flawless faces.
Dani Taverna may look like a supermodel, but she isn't shy about telling brides her triedandtrue list of tips for flawless makeup application.
Her job depends on how beautiful someone looks in photos and in person. She founded her Duality Artistry™ premier makeup company after developing her passion for art and fashion while studying in Florence, Italy. She travels around the United States with innovative cosmetic lines and is an expert in special occasion makeup, including events associated with Miami Beach International Fashion Week and New York Fashion Week.
• Do wear a UVA/UVB sunscreen with an SPF of 50 on your face and body every day.
• Don't use a flat iron on your hair upon arrival for an updo.
• Don't spray tan for the first time the day before your wedding. Experiment with different tones and get sprayed at least five days before your big event.
• Do schedule waxing and facials to be done at least three days before your wedding.
• Exfoliate the night before with a gentle, nonabrasive face wash.
• Don't forget to drink plenty of water to keep your skin and body hydrated.
• Go gloss-free if you're wearing a veil.
One of Taverna's big secrets is using primers for eyes, face and lips.
"Primers under your foundation give longevity to makeup, smooth skin texture and minimize pores, and I prefer an oil-free primer for most skin types," she says. "Priming your eyelids from the lash line to brow will hold powders in place (no creasing) and your shadows will appear more vibrant, and then apply primer to your lips to keep lipstick from feathering or bleeding."
Brides prone to crying should use waterproof mascara and eyeliner, she says, in a brown or purple for a more natural look, since black can be a bit harsh in photos.
Be the first to know
Get local news delivered to your inbox!