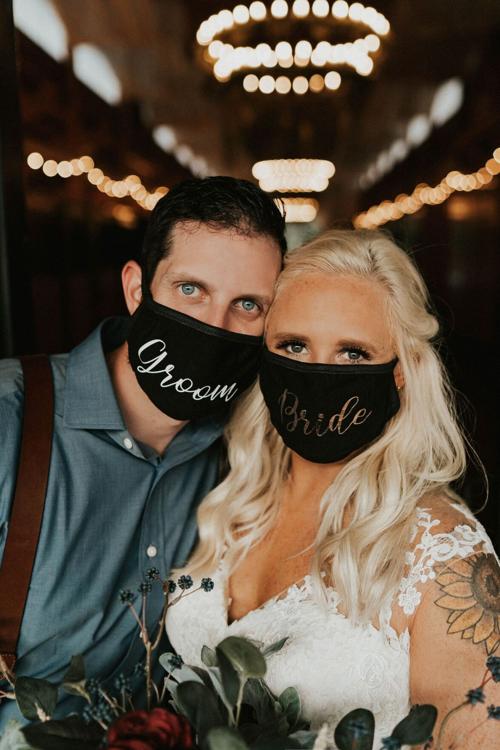 While wedding planning in ordinary times is one endeavor, planning a wedding in the age of a pandemic is a completely different ballgame. While details like venue, music, and food are still there, the question at the forefront of most couple's minds is how do we keep our vulnerable guests safe?
According to a 2020 OnePoll and Indochino Survey of 20,000 Americans planning to wed, 93 percent have had to change something about their wedding due to coronavirus. This finding does not surprise Don Freedman, owner of Freedman Associates.
"There is no question that COVID-19 has disrupted the wedding industry in a huge way," says Freedman, who has run the Carolina Weddings Show in Greensboro and Winston-Salem for 26 years. "This is not your fault; you're one of many, many couples navigating this."
Trying as it might be, Freedman offers three options for engaged couples to consider while keeping their loved ones — especially those beloved grandparents and other relatives who are higher risk — safe:
"I want the wedding I have always dreamed of; we'll postpone."
Freedman says if you'd rather wait to celebrate the big day in a big way, there's no harm in postponing. If you think this is you, there are a couple of questions to ask: Will your venue and hotels accommodate the new date? Are your key vendors available? Will you lose any deposits if you must drop someone? And most importantly, will all your super close family and friends be available for the new date?
"We want to get married now, so we'll do a small thing according to state mandates and have a blow-out reception when it's safe."
Downsizing is a reasonable second option, Freedman says, but it's important to consider your "mandatory elements." Are you really OK with going from a 200-person ballroom affair to a 25 or 50-person wedding (and bearing in mind those numbers have to include vendors)? If you're going ahead and having a smaller ceremony during the pandemic, will you be OK with social distancing (i.e. no dancing, hugging, etc.)? Lastly, will your grandmother and at-risk relatives have to miss out?
"We're sad about it, but we're just going to do what we can numbers-wise and look forward to a brighter day."
Many couples have turned to this final option offered by Freedman — opting for a simple, small ceremony with immediate family and friends. Thanks to technology like Zoom and other platforms, family and friends who are vulnerable to the virus or too far way to come are still able to participate in the festivities.
"The time will come when we will all celebrate together," Freedman says.
In this day and age, it's easier than ever before to stay connected. He encourages couples to keep family members and friends abreast of plans through a wedding website, with updates on the date, the progress, and other commonly fielded questions.
And no matter what option you end up going with for the big day, Freedman reminds couples not to lose sight of what's most important.
"In the end, your wedding is a time to celebrate a wonderful milestone in your lives with those closest to you," he says. "Don't lose the focus of that and keep looking for new ways to make your small or large celebration speak to you."