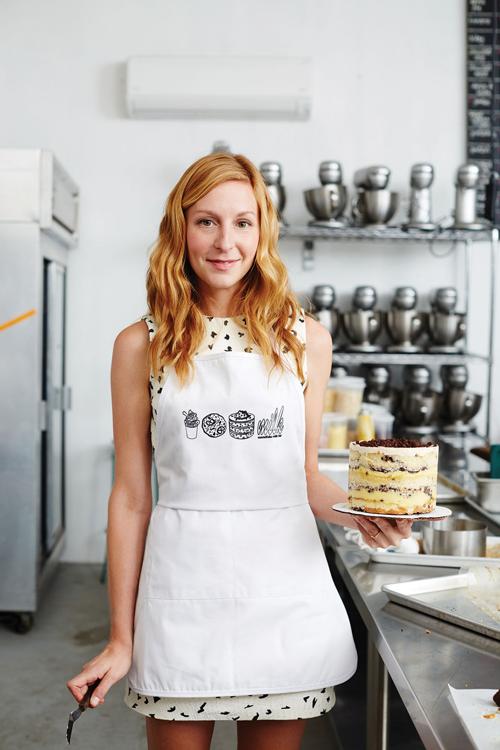 Ask any bride her favorite part of wedding planning and one of the answers is always the cake tasting. And no one knows better than new bride and celebrity uber-pastry chef Christina Tosi just how much fun it is to finally cut that cake.
Tosi, the chef, founder and owner of Milk Bar, a bakery with nine locations, is the creator of items cereal milk™ ice cream, compost cookies® and crack pie®. But it's her cakes that so many brides use for inspiration as they plan their nuptials. Like the Milk Bar brand, Tosi's creations are playful and edgy. Tosi's classic Milk Bar-style cake — no frosting on the sides, tall and narrow towers — has brides eager to replicate. Here, she shares some of her best baking and sweet tooth secrets.
How did you devise—or what inspired— the classic Milk Bar-style cake and why do you love this presentation and style?
I love cake. Only thing is most cake is just cake and frosting! When I opened Milk Bar, I knew I wanted to redefine what cake was, make cake in a way that challenged the norm. I love cake fillings and surprise textures, so anything can be a cake filling in my mind. Hazelnut crunch, liquid cheesecake, malted milk crumbs, passion fruit curd. And though cake is beautiful, why hide all of the exciting flavors under layers of frosting? Don't get me wrong, I love frosting, but cake has the opportunity to tell a story and challenge flavors, so we build our cakes up and keep the sides bare — resulting in a beautiful visual moment before digging in.
Can you explain the thought process behind your brand of cakes and your dessert philosophy?
Baked goods should be made with love, with people with faces, and stories, and quirk and history.
Have a point of view, make sure it's clear, and make sure that what you create is the most delicious thing you've tasted.
You're competing with every other dessert your guests have ever had before and will ever have after. You have to find a way to strike a chord strong enough to resonate and make your dessert immortal. We love tapping into senses and nostalgia in order to do so.
Is flavor the most important element, or is it the presentation?
For me, flavor is the most important element. That said, it has to pass several check boxes: texture, visual appeal, ability to execute consistently, etc. If it doesn't pass every test, it doesn't make it on the menu. But flavor is always the first line of defense.
For sweet-tooth brides, giving gourmet cookies as wedding favors is just too fun. Tosi's secrets for perfect cookies have gone global. She collaborated with Target on a set of Milk Bar cookie mixes. Her favorite thing to do is to knead in what she calls crave-worthy flavors.
"Some of my favorite mix-ins include pretzels, fruit jams and jellies, marshmallows, dried or freeze-dried fruits, ground tea and even ground coffee," says the highly creative chef who once tried to craft an American cheesecake/pie with a saltine cracker crust and green tomato sorbet. "Also, Ovaltine malt mix, cereal, candy, other varieties of baking chocolate, coconut, spices (cinnamon) and citrus zest the only rules are there are no rules."
Be the first to know
Get local news delivered to your inbox!