The fact that we live in a digital age makes receiving a paper invitation in the mail all the more special. As you plan your wedding stationery, remember that there are many ways to incorporate printed pieces into your wedding above and beyond invitations and programs.
You may text your best friends every day, but how often do you send them a handwritten note? Notecards are a meaningful way to honor those playing an important role in your big day.
We all have busy schedules these days, so make sure everyone—especially out of town guests—marks the date on their calendar well in advance.
One of the best parts of your wedding day will be sharing it with the people you love. Let them know you want them there with an invitation and reply card set!
Engagement announcement/party invitation
Changing your Facebook status to "engaged" is one way to spread the news, but doesn't one of the biggest moments of your life deserve a real celebration?
Rehearsal dinner invitation
The rehearsal dinner provides an opportunity for your family and his to come together with the bridal party in an intimate setting. Make sure they know how special this dinner is with an official invitation!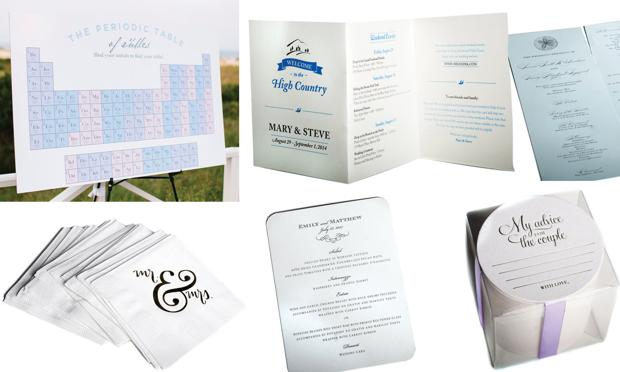 Seating charts need not be boring. This couple added a personal touch to their reception seating chart by creating a "Periodic Table of Tables," a reference to their shared interest in science.
Chances are you have guests visiting from out of town, and maybe even from out of state. Take the opportunity to share more about your city and make your friends and family feel at home!
Nothing takes things up a notch like having a printed menu at the table. It is an easy way to make dinner feel more formal without breaking the bank; you could even place just a few menus at each table rather than one at each table setting.
Your guests will like knowing what's on the agenda, and the wedding program also provides a place to write a note to all of your guests, whether it is to thank them for their support or to share the story of how you met.
The tradition of providing advice for the newly married couple is as old as time, but these coasters offer a new twist.
Napkins are an essential element of any reception, so why not personalize them?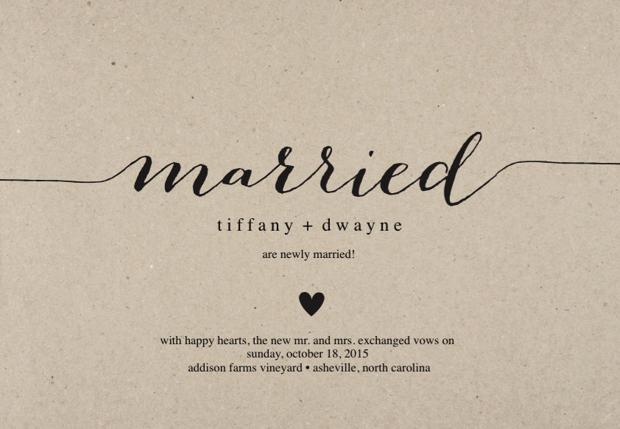 If you had a small or private wedding, there are likely many friends and family members with whom you want to share the news. This announcement can be mailed as a postcard to keep all of the important people in your life up-to-date.
Be the first to know
Get local news delivered to your inbox!