Local
top story
Lexington lands 506-job project. Siemens Mobility gains incentives for what is believed to be largest single capital investment in city's history.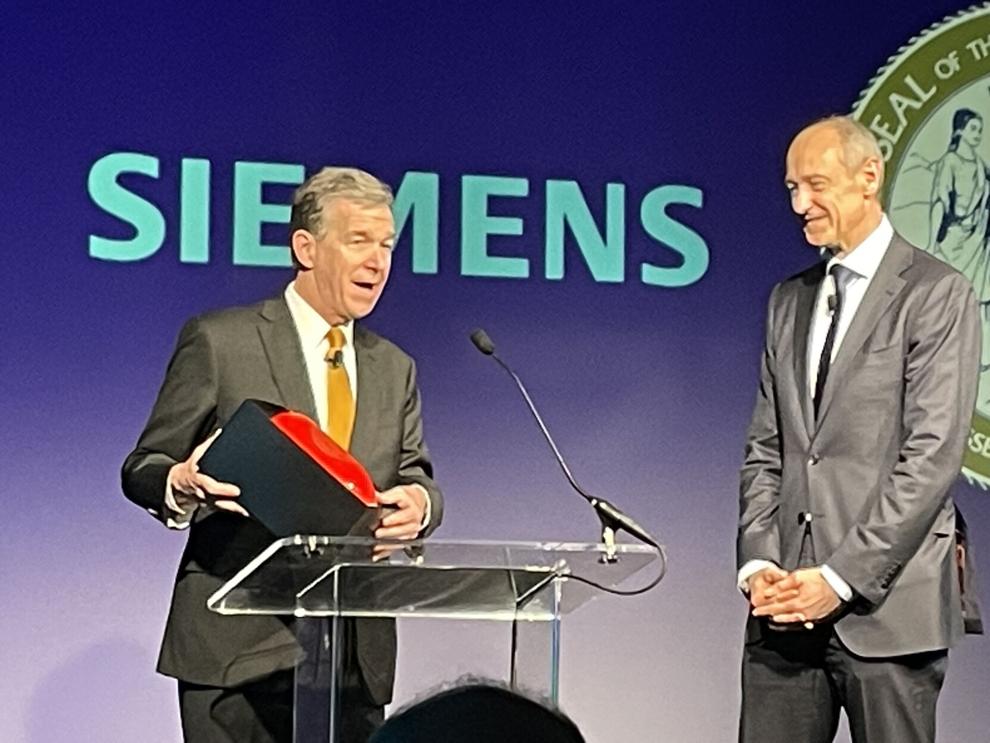 Lexington has landed a $220 million, 506-job commitment from global manufacturer Siemens Mobility Inc. planning its first East Coast operations.
The manufacturer plans to purchase the 202-acre Lexington Industrial Park off Brown Street and begin production in 2024 of passenger rail cars, also known as rolling stock.
For comparison sake, Siemens had more than 2,400 employees on a 65-acre site in Sacramento, Calif., growing from 34 employees when the plant debuted.
The job and capital investment commitments were significantly different than the $300 million and 300 jobs that had been listed in legal notices.
Roland Busch, Siemens AG's chief executive and president, said the plant will play a pivotal role in transforming the U.S. rail and transportation sectors through clean energy.
"This plant will be a showcase of what Made in America looks like in the future because it will help make passenger rail travel safer and more efficient in the design, production and maintenance phases," Busch said.
Siemens officials said they chose the Lexington site because of three local factors: rail service, local workforce availability and cost of construction. The average annual wage was disclosed as $51,568.
The plant site will feature more than 11,000 feet of rail track.
Gov. Roy Cooper made the official announcement at Lexington Historic Depot. Lexington Industrial Park is a public-private joint venture between the city and Front Street Capital.
"This is the perfect time and the perfect place for this project," Cooper said. "Leading global companies like Siemens Mobility continue to choose North Carolina to build the next generation in innovative clean transportation.
"Thanks to our state's skilled workforce, and the proven education and training systems that help people maintain and build those skills, North Carolina is the number one state for manufacturing."
The goal with the plant is meeting increasing domestic demand for passenger trains, particularly in metro areas along the East Coast.
Siemens Mobility North America said it will "fulfill the growing demand ... by producing some of the North American market's most innovative and sustainable passenger trains."
"Now is the moment in time for rail in America, and this facility supports our strategy to grow in close proximity to our customers, as well as provide us with the added capacity needed to push the boundaries of innovation," said Marc Buncher, chief executive of Siemens Mobility North America.
Lexington Mayor Jason Hayes called the project transformative and the largest single capital investment in city history.
"Siemens' announcement catapults the growth Lexington and Davidson County have recently been experiencing," Hayes said. "The investment and jobs that this project brings to the area will improve the quality of life for countless in our community."
How we got here
"Project Gemini" surfaced in December in local incentive packages and in legal notices.
The job creation and capital investment commitments are for five years.
Siemens Mobility is a division of Siemens. It has four core business units: mobility management, dedicated to rail technology and intelligent traffic systems; railway electrification; rolling stock, and customer services.
The state Economic Investment committee said Tuesday that Lexington was competing with a site in Spartanburg County, S.C., for the project.
The committee approved making Siemens Mobility eligible for up to $5.63 million in performance-based incentives from the state's Job Development Investment Grant program, and total state incentives of $16.8 million that include community college training assistance.
The company was made eligible last week for performance-based economic incentives from the Lexington City Council and Davidson County Board of Commissioners. The committee said the county has offered up to $8.4 million in incentives, and Lexington up to $7.7 million.
The city and county have agreed to refund about 50% of the company's property taxes over 12 years for the county, and over 10 years for the city. Those incentives could be worth up to $30.5 million in property tax repayment.
The project will receive a $1 million grant from the N.C. Railroad Co. to assist with the costs of construction and materials needed for the on-site rail infrastructure operations.
"This project will produce an estimated 264 rail cars per year at build-out and significantly contribute to North Carolina's railroad industry," N.C. Railroad Co. said.
The proposed project would be done in two phases over 12 years.
Part One would involve a commitment to create at least 200 jobs and spend at least $200 million on capital investments within three years of the grant's effective date.
Part Two would start no later than five months after completion of Part One. It would involve an additional minimum investment of $100 million and create up to 100 jobs, also with an average annual wage in excess of the Davidson average.
Response
Cooper said the project will enhance North Carolina's reputation "as a destination for clear energy and clean transportation."
"It's important to note that these rail cars can be used with battery and hydrogen propulsion, and this facility will be carbon neutral."
Robin Team, partner with Front Street Capital, said the genesis for Lexington Industrial Park began in fall 2019 when he approached Terra Greene, Lexington's city manager, for the joint venture proposal.
"This inventive approach to risk and reward sharing turned an underutilized parcel of land into the most successful economic development project in the city's history," Team said.
Team touted the city's role in collaborating with ElectriCities, which enabled site certification through the ElectriCities Smart Site program.
"This insured that all due diligence was completed, documented and the site was deemed shovel ready for potential development," Team said.
"This global company joins the ever-expanding list of industrial partners who share in the vision that Lexington provides a centralized location with access to all critical transportation in the global economy, a long history of industrial production, and a progressive community in which to conduct business."
Mike Fox, president and chief executive of the Piedmont Triad Partnership, touted the Siemens Mobility project as adding to the Triad and Carolina Core regions' profile as a leader in innovation and what he called "transportech."
"The new manufacturing facility will provide high-quality jobs as well as innovative transportation equipment, joining other significant new employers like Toyota Battery, Boom Supersonic and VinFast in the region that has emerged as North Carolina's next economic engine," Fox said.