News
featured top story
Triad's wildfire risk rising fastest in eastern U.S., report says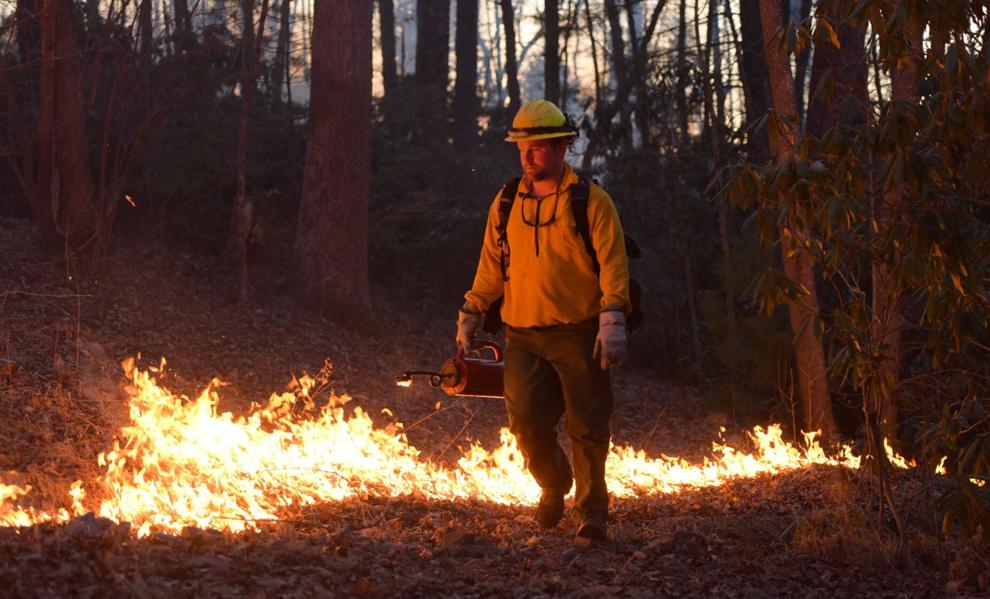 Wildfire season in the Triad has lengthened more over the past half-century than in any other area in the eastern United States, according to a new analysis of national weather data.
The average number of days at Piedmont Triad Airport when weather conditions are optimal for sparking and spreading outdoor fires has increased by the equivalent of nearly two weeks since 1973, Climate Central, a research and communications organization based in Princeton, New Jersey, found in its report released Wednesday.
The study used data from 476 weather stations to assess trends in 245 areas spanning all 48 contiguous U.S. states from 1973 to 2022.
The Triad's 13-day annual increase in so-called fire weather days was three more than the next-closest Eastern areas: the Central Coastal Plain of North Carolina, as well as regions in New York, New Jersey and Louisiana.
In 2022, the Triad had 19 days when the right combination of relatively warm temperatures, low humidity and high winds combined to create optimal conditions for wildfires, Climate Central found. That total — and the area's half-century hike in the number of fire weather days — is a fraction of those experienced in many Western areas, where blazes are larger and more frequent.
"But even these smaller increases can be impactful in the densely populated East, where more people and property could be exposed," the report cautioned.
That's largely because population growth continues to push new residential communities into previously undeveloped land bounded by forests and fields that can fuel flames.
These areas are considered part of what is known as the wildland urban interface. North Carolina has nearly 52,000 acres within the WUI, the most of any state. North Carolina's more than 2.1 million homes in the WUI ranks fourth nationally.
The fire risk for the state's residents is expanding along with the population because there is little control over where people go, explained Robert Scheller, a professor of landscape ecology at N.C. State University who researches climate adaption in forestry.
About 83% of North Carolina's land is privately owned, so there is not the kind of expansive legal land-use network that some states — largely in the West, where wide swaths are government owned — use to protect communities, farmland and tourist amenities from fire,
"The South is famous for its lack of land planning," said Scheller, who was not involved in the Climate Central report. "The sprawl is everywhere."
Cause and effect
Warming caused by heat-trapping pollution is a primary contributor to weather conditions that increase the risk of wildfires.
"Long-term warming trends are drying out forests, grasslands, and other landscapes — helping fires spread and hindering opportunities to fight and prevent them," Climate Central said in its analysis.
As temperatures rise, humidity levels drop. The dry air draws moisture from the land, leaving vegetation parched and prone to burning. And humidity is typically lowest in the afternoon, when air temperatures are highest.
Warmer conditions also have a direct influence on fire behavior.
"Cooler nighttime temperatures have historically meant lower risks of wildfires growing and spreading overnight," Climate Central noted. "But as climate change brings warmer nighttime temperatures, fire weather conditions can extend into more hours of the day."
Wind is the third major factor in wildfire risk. When it blows, wind supplies oxygen to a fire, causing the flames to grow and spread.
Wind also increases evaporation and helps to dry out the land, which provides more ready fuel for the fire.
The majority of fire weather days in the Triad — and most of the Eastern U.S. — are occurring in springtime.
"You still have a lot of (leaf) litter on the ground," N.C. State's Scheller said of spring. "The humidity also tends to be lower and things haven't greened up yet. Once things really green up, it's a natural fire barrier."
As humidity generally rises with the approach of summer, the overall risk of wildfire diminishes until consistently drier air returns in the fall.
'No doubt'
A recent example of the vulnerability of nature's-edge communities in the Southeast was a wildfire that swept through the tourist town of Gatlinburg, Tennessee, on Nov. 28, 2016, leaving 16 people dead and close to 2,500 structures damaged or destroyed.
If the blaze itself – the Smoky Mountains' worst in a century – wasn't frightening enough, it came when weather-related fire conditions weren't even at their worst.
"That wasn't a huge, long, dry year but you had a short period of really intense dryness," Scheller said.
So-called flash droughts are another symptom of climate change, as higher temperatures intensify evaporation. Fallen leaves and dormant plants dry out faster in those conditions, creating fuel just waiting for a spark and wind to fan the flames.
"It was really unusual," Scheller said of the ferocity of the Gatlinburg fire in relation to the conditions at the time.
But wildfire destruction of Appalachian Mountain communities won't be such a surprise for long, according to predictive modeling by Scheller and researchers based on expected weather trends.
"It's going to become more common in the future with climate change," he said. "No doubt about it."
Triad impact
Humans caused nine out of every 10 wildfires in the U.S. between 2018 and 2022, Climate Central notes in its report.
That was the case in the Triad's most-visible fire in recent history.
A week-long blaze consumed more 1,000 acres at Pilot Mountain State Spark after being sparked by a campfire in an unauthorized area on Nov. 27, 2021 — almost five year to the day after the Gatlinburg fire.
There were no injuries or building damage from the Pilot Mountain fire, which was contained inside the park with as many as 80 firefighters working at times and at a cost of more than a half-million dollars.
But there were similarities between the Gatlinburg and Pilot Mountain fires in that they were both in the fall and occurred when the fire risks weren't at extreme levels — another reminder of the region's vulnerability.
"Even if the days (around the time of the Pilot Mountain fire) didn't meet the all criteria for fire weather, as defined by this report, conditions stayed dry and winds picked up," said Peter Girard, a Climate Central spokesman. "Assuming the conditions at the fire were similar to those at the (PTI) weather station, the weather may well have helped the fire spread."
Also in November 2021, blaze consumed 40 acres at Sauratown Mountain in Stokes County. Four months later, a fire destroyed 200 acres in Lowgap in Surry County. There also were no injuries or structure damage in those fires.
Continued climate change is expected to lead to more such fires, some of which could threaten homes within wildland urban interface areas, including in the Triad.
"As fire weather becomes more prevalent, there are more days when extreme conditions can blow up small blazes into big ones, or fuel the continued growth of large wildfires," Climate Central warned
John Deem covers climate change and the environment in the Triad and Northwest North Carolina. His work is funded by a grant from the 1Earth Fund and the Z. Smith Reynolds Foundation.
336-727-7204