The Spectacular Holiday Blooms at Paul J. Ciener Botanical Garden in Kernersville have gone from 1,000 shimmering tulips and two stands of daffodils in 2019 to several thousands of different holiday blooms this year.
"It's our third annual lighting of handcrafted flowers made out of recycled plastic," Adrienne Roethling, director of Paul J. Ciener Botanical Garden, said. "Our volunteers have put more than 3,000 hours of work into making and preparing over 6,000 holiday blooms, and the display is magnificent."
Featured flowers include tulips, daffodils, foxgloves, magnolia blossoms, sunflowers, poinsettia, lotus flowers, crocus, daisies and poppies.
Roethling typically gets two reactions from people who come to see the Spectacular Holiday Blooms.
Some folks will say, "Wow, you guys have really added a lot," she said. "And the second reaction is, 'I can't believe these are made out of plastic bottles.'"
Mom Connection, an organization of moms of all ages and stages at Triad Baptist Church in Kernersville, recently held a private event at Paul J. Ciener Botanical Garden.
Miriam Stanley, a leader of Mom Connection, said the organization held its event there because it wanted to do something special for the moms and their husbands, who normally are not invited to its events.
"But this time, because it's Christmas and because these lights are so gorgeous, we thought it would be something special for them to do," Stanley said.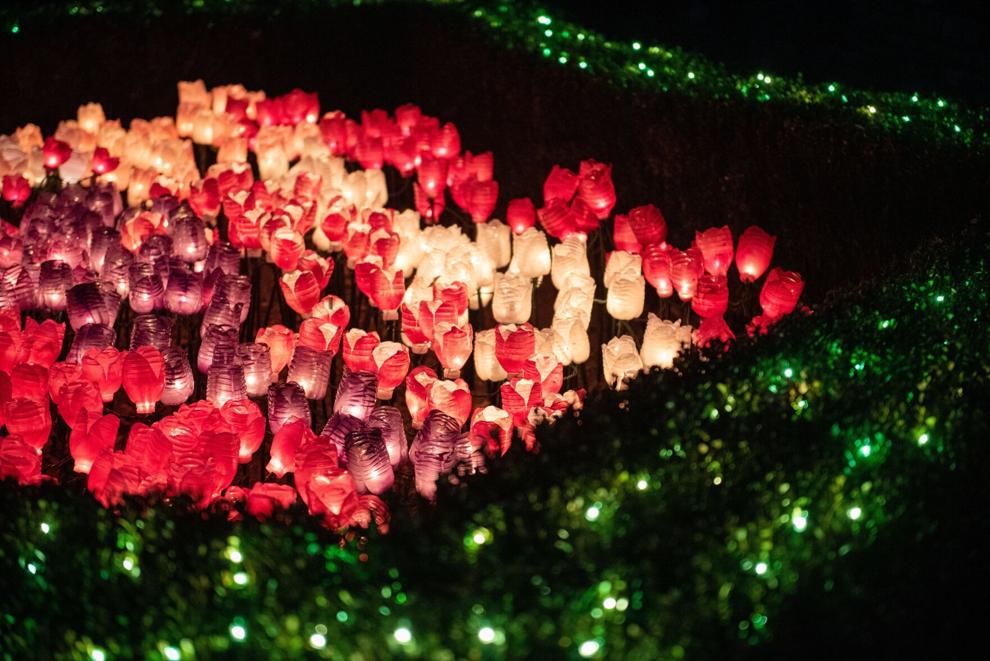 Karen Holt of Stokesdale and Kim Whitt and her husband, Tony, of Kernersville also attended the Mom Connection event.
Holt said she probably never would have seen the light show if it wasn't for the event.
"They're beautiful," Holt said of the holiday blooms. "It just kind of puts you in the festive mood."
"It's beautiful," Kim Whitt said. "It's kind of a mini-Tanglewood. I told him (Tony Whitt) we live in Kernersville and ride by it but had no idea this was all back here, and we're local."
She plans to revisit the light show.
"I'm going to bring our grandbabies back," Whitt said. "They'll love it. They're 5 and 9."
New in 2021
The volunteers who make the holiday blooms asked to do a variety of flowers for the 2021 Spectacular Holiday Blooms.
"This year we've added more flowers," Roethling said. "We've also expanded to the lawn. We've actually created a holiday loop. It's just a light show back there now."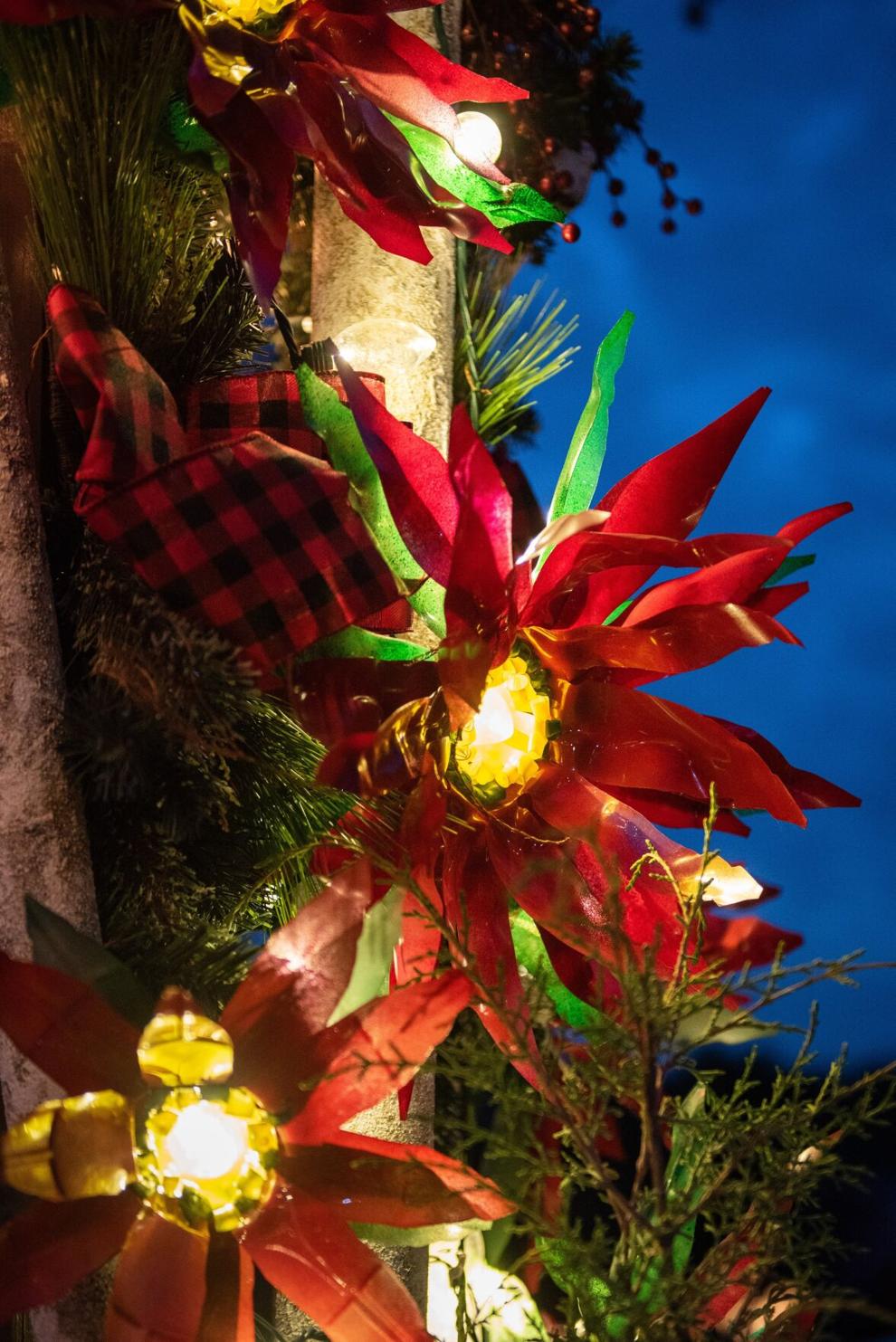 Festive features on the two acres of lawn include plastic flowers around the loop, various lights, a tunnel gleaming with lights and a flagpole decorated in giant green lights in the form of a Christmas tree.
"We've really expanded the footprint of the display," Roethling said.
One volunteer made a chandelier from an upside-down tomato cage. It hangs in a walkway lined with hornbeam trees. The chandelier was inspired by a chandelier created by Dale Chihuly, a famous glass artist.
"It's hanging from the trees, and it's got orange, yellow and red plastic flowers on it with lights on the inside so that the light comes through," Roethling said. "It's a truly inspired chandelier. We're going to make more of those."
And the volunteers have more ideas.
"We've even started trying to figure out how to do vegetables because we have a nice vegetable garden, too," Roethling said.
Finding enough plastic bottles to add to the light show shouldn't be a problem.
Roethling said volunteers have told neighbors to save their plastic water bottles, typically from 1 liter up to 2 liters in size.
"Since January, they've been bringing us bags of bottles so that when the volunteers come here to actually do the work, they can go through the bags," she said.
She said some people started bringing colored detergent bottles, but the volunteers primarily work with clear and some greenish colored bottles.
"When the laundry bottle comes in and it's pink or blue, that's not going to work," Roethling said.
The garden
Paul J. Ciener Botanical Garden turned 10 years old in April.
Paul J. Ciener, who was an entrepreneur in Kernersville and loved horticulture, came up with the vision for the garden to be a gift back to the region that had given him so much.
Although the botanical garden opened in 2011, its master plan is about 15 years old.
Since Ciener's death in 1998, 5 of 7 acres — garden space, the Welcome Center and Horticulture Center — have been completed.
While the gardens have grown and changed over the years, so have trends. As a result, Paul J. Ciener Botanical Garden has incorporated plants for pollinators and a conifers collection as well as a lowland meadow for birds — some things that were not in the original master plan.
"We've added different garden spaces, which kind of caters to a different audience," Roethling said.