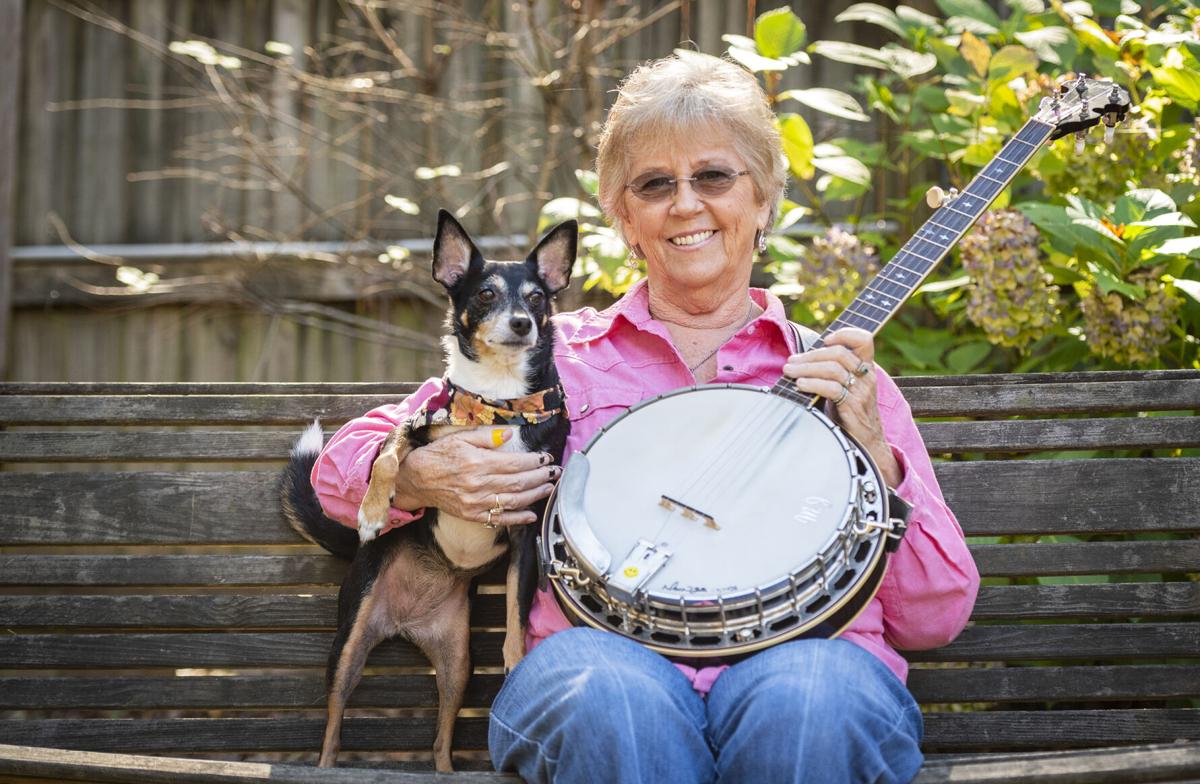 At 74, Mona Jo Griffin has been a musician for about 55 years.
She started with the guitar than became a banjo player after seeing Roni Stoneman play the banjo in 1970 on the "Hee Haw" TV show.
"I loved the sound of it and seeing a lady play it," said Griffin, who lives in Davie County near Cooleemee.
She also plays the autoharp.
Griffin joked that her small dog BJ, a terrier mix, goes and hides when she plays the fiddle.
"When we got her, she was so tiny and sweet, and she was so jealous of the banjo," Griffin said. "When I would play, she would squeeze in between my banjo and me. "I named her Banjo because of that, but now she likes it or has accepted it and just listens or goes to sleep."
Q: How would you describe your art?
Answer: My music is a very important part of who I am. I started at an early age playing guitar (in the 1960's). I loved Loretta Lynn and would sing her songs to my nieces and nephews and make them listen and sing along. When they were little, I would sit them in the guitar or banjo case while we sang. They loved it. Later, I did the same to my kids and grandkids, but it didn't stick with them.
When I saw the show "Hee Haw" and Roni Stoneman playing the banjo, I loved it and thought, "I can do that." I bought a banjo in a pawn shop in Winston-Salem for $25. A friend told me that her neighbor gave lessons, so I took a few from David Severt, who was a great musician and became my friend. My husband, David, saw how much I loved playing, so he bought me a new banjo from Bob Shue in Concord. He made instruments and was great. David paid about all his paycheck for me to have it, but he said he never regretted it. Later, I bought a couple more.
Q: How have you evolved as an artist?
Answer: I was really shy in the beginning. I know some people have a hard time believing that, but I would play on special occasions at church to please my mom and dad. They always encouraged me to play and believed in me because they knew how much I loved playing. My brother, Sharp Canupp, played piano and guitar and we would play at family gatherings.
Also, I worked at Southern Bell Telephone in Winston-Salem from 1964-69. I worked night shift some, so I would take my guitar and play at the switchboard. Don't tell anybody (she chuckles). In 1983, I was asked by my friend Sue Crotts Welch, who worked in Special Ed at Mocksville Middle School, to bring my banjo and play for the kids. I loved it so I volunteered a while until a job came open for teachers assistant in that class. I applied and got the job. I worked there for more than 13 years.
Q: Who has influenced your art?
Answer: Many people — my parents, my husband, so many friends and family members. Also, Bettie Head, my friend and neighbor, who played excellent guitar and asked me to join her all-girl band Cabin Fever in the 1980s. She gave me a lot of encouragement, and we played many venues. I slacked off playing when my kids were little, but, in 1998, Tom and Toni Horton asked me to join their band Tommy Drifter and The Lost Travelers and that got me started up again.
In 2004, The Lewisville Arts Council did a tribute to "Hee Haw" in Shallowford Square in Lewisville, and we played there. Roni Stoneman (aka Ida Lee on "Hee Haw") was a guest. After our band played, I asked her if I could pick one with her. She said, "Yes," and I was so excited. Well, she actually said, "Where's the gal that wants to pick one?" I raised my hand, and she said, "Get up here, you old hussy. Don't just sit there looking stupid." I did and we have been best friends since that day. She still encourages me.
I have played many venues with her in Nashville, including The Ernest Tubb Midnite Jamboree. We traveled to Yuma, Ariz., to do a Veterans Benefit and LeMars, Iowa, and other states. I was fortunate enough to play in Murfreesboro, Tenn., with a lot of country music artists for a great cause — child abuse and neglect. I've played many churches around the area in the Triad. Thanks to Ronnie Buff for all your encouragement and for publishing the song I wrote, "My Bible and My Old Banjo" and thanks to Roni and Donna Stoneman, Diane Berry and Mike Dunbar for helping on the CD demo (three gospel songs) recorded in Nashville.
I played in several bands over the years before starting my own band MJ & Friends in 2010. I was fortunate enough to play at Bill Monroe's Homeplace in Rosine, Ky. I can't name my band members because I don't have the same ones all the time and there are too many. There are some in Virginia, Mt Airy, Winston-Salem, Mocksville. We usually have four instruments — banjo, guitar, bass and fiddle, sometimes mandolin or Dobro. I love and appreciate all band members who help me. I especially appreciate my husband who sets up my sound, and he also puts up with me (she chuckles). I can't leave out my Friend George Hamilton V who has been very good to me.
Q: What is your biggest challenge?
Answer: I guess just trying to play all the places that I can and make people smile. I love playing churches and church/senior events. I know I'm doing what God wants me to.
Q: What does art do for you?
Answer: It makes me happy and energized! It has helped me make some of the greatest friends. I love and appreciate them all.
Q: Any advice for other artists?
Answer: Keep doing what makes you happy. And as often as you can.
Fran Daniel writes about artists — visual, musical, literary and more. Send your story ideas to fdaniel@wsjournal.com or call 336-727-7366.
Stay up-to-date on what's happening
Receive the latest in local entertainment news in your inbox weekly!