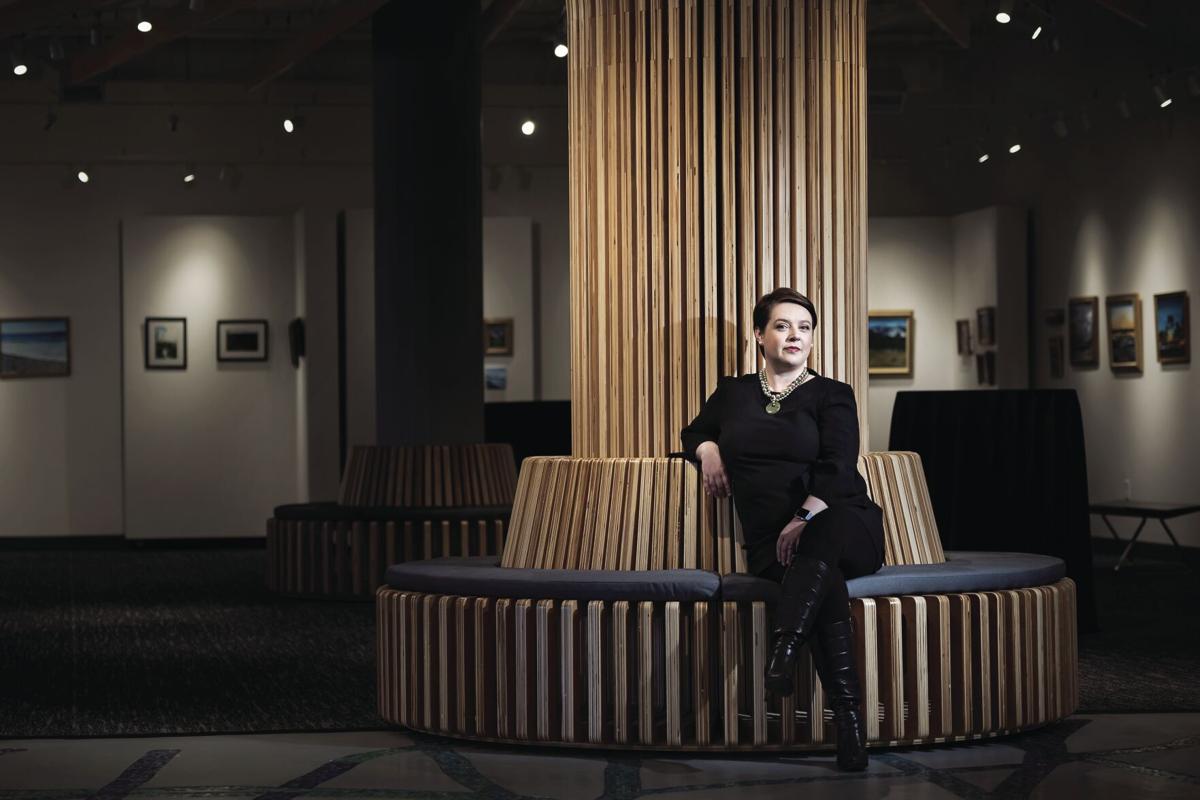 Chase Law, the new president and chief executive of the Arts Council of Winston-Salem and Forsyth County, has made major career decisions twice in her life during challenging times — right after 9/11 in 2001 and amid the COVID-19 pandemic.
When 9/11 happened, Law was living in New York as an actor, singer and dancer. But after the attacks, she sat back and wondered, "What do I need to be doing here with my life?"
While researching other jobs in the arts field, philanthropy/fundraising kept popping up, so she decided to pursue it as a career, saying that fundraising is a way to keep the arts alive and growing.
"I always say I fell into fundraising," she said.
The other major turning point in her career happened last year.
Law said she wasn't looking for a job when the Arts Council of Winston-Salem and Forsyth County's CEO search committee approached her about leading the organization.
At the time, she was the vice president of development at Blumenthal Performing Arts in Charlotte.
Law said she was flattered that she had been recommended for the job at the arts council by several people across North Carolina and after exploring the job decided it could be an exciting time to make a change.
She said it was interesting to change jobs in the middle of a pandemic but it was also a time to look at possible opportunities, just as she did at the time of 9/11.
"It's not just about my career, but it's about doing something for the greater good," Law said. "How can I make an impact with my background coming to an organization like this?"
Rick Moss, chairman of the arts council's board of trustees, led the arts council's CEO search committee.
"We really loved her enthusiasm, her experience and her vision," Moss said of Law. "She brings to the table excellent experience in the arts world. We felt like we needed a strong arts administrator but also someone who understands how to adapt to the changing fundraising environment that nonprofits in general are in. We felt like she really met all of our criteria."
He said Law has done a fabulous job in her new position.
"She has established a lot of strong relationships already throughout the community," Moss said. "People find her enthusiasm pretty infectious. She has a pretty clear vision where we need to take the Arts Council, and I think people find that quite assuring."
Moss said the old model where organizations such as arts councils would raise a lot of money and then give it away to various arts organizations is changing.
He said people now want to know that the money they donate is not just going "into a pot that's going to get distributed, but it's going to go to really meaningful activities that are going to build a community."
Dara Silver, senior vice president of community engagement and partner relations for the arts council, said Law has hit the grounding running in her new job.
"She has really set a high bar for us as staff, and, I think, for the community as well," Silver said.
Silver also likes the arts council's 2021 campaign theme — "Relief, Recovery, Reopening."
She added that it has been exciting to work with Law and getting to know her and her vision.
Triad native
Originally from Asheboro, Law grew up around the arts.
"My mom and dad were musicians," she said. "The arts played a big role in my household on a daily basis. My mom was also a visual artist."
Law is a 1997 graduate of High Point University, where she received a bachelor of arts degree in theatre arts-performance/acting with a minor in music.
She lived in New York for 7½ years before moving back to North Carolina in 2003. She is married to Ron Law, a retired theatre executive director, and has a 16-year-old daughter, Chloe, who will attend Reynolds High School.
Law, 45, has more than 18 years of experience in the nonprofit sector, all in arts culture.
She joined Blumenthal Performing Arts in 2015 after leading development efforts at Discovery Place in Charlotte. She has worked in a senior position at the Arts and Science Council, as executive director at Carolinas Concert Association and as development director at Community School of the Arts, all in Charlotte.
Two visual arts programs at the Community School of the Arts in the early 2000s helped solidify Law's career choice as a professional fundraiser.
One of the programs involved work at a community center in Charlotte in which parents were going through substance abuse counseling and recovery while their children were in an activities program.
An artist was brought in who asked the children to draw a portrait of themselves.
"All of the portraits were dark and angry and scary," Law said.
But by the end of the program, when the artist did the same exercise, the portraits were "vibrant, happy, excited."
"When I saw that, I thought, 'That's the power of the arts, right there,'" Law said.
Settling in
Law has been in her new job since Dec. 1.
"It's been great," she said. "Everyone has been very welcoming. It's been very refreshing to be able to meet with people — socially distanced, of course — in person. It's been a while since I've been able to do that."
Law said this is a great time for the Arts Council.
"It's a great time to remember how we all started," Law said. "First of all, I'm so impressed by how culturally rich the entire community is, and it has a long history of being that way."
She mentioned how the arts council is the first and oldest arts council in the country.
"I want to celebrate those roots that have grown, the history we have here, to keep that as part of our narrative," Law said. "But how can we use that narrative, that history to take us to the next stage of who we are?"
She said there are more nonprofits across the country now than in the past that are competing for dollars.
"We have to shift how we tell the story," Law said. "We have to shift how we fundraise. It can't be that time of year again. We have to do year-round fundraising, and we've started that transition this year."
Law said all the jobs she has had in the arts has prepared her for her job at the Arts Council of Winston-Salem and Forsyth County.
"I've seen what it's like on both sides of the fence," she said. "How partners work with an organization like an arts council and how funding has shifted.
Making plans
The arts council had a soft campaign that started Oct. 1.
"Really, our focus this year for 2021, and our fundraising efforts, is around relief, recovery and reopening," Law said. "We're asking the community to help us pave the way on this road to reopening."
On March 30, the Arts Council will have a public kickoff of its 2021 campaign, which will be part virtual and part in-person at the Southeastern Center for Contemporary Art (SECCA).
"We will have fun," Law said. "We want to bring some drumming and some dancing and some slam poetry."
The event will be a good way to hear from Law about her vision and the strategic priorities that she has identified for the arts council as well as the impact COVID-19 has had on the arts.
Law spoke of several of her strategic priorities for the Arts Council.
"One of the things that we're exploring as a priority as we look at that road to reopening is having a communitywide arts day awareness and fundraising day and bringing all of our partners together to celebrate what we do for this community," she said.
This would include live pop-up events throughout the city and virtual events in late spring.
The arts council will also start a cultural collective community survey this month.
"We're leading the charge on that, and many of our partners have signed on to be a part of that," Law said. "It's a way, really, to hear from our community and learn about how they participated in arts events pre-COVID and what's their readiness to come back."
Law said she also wants to work with government, corporate and neighborhood leaders, as well as major donors in the community, to figure out how to bring down barriers and do more within the community "to understand what the needs are and then listen and then respond and deliver programs in an intentional way."
This month, the arts council is teaming up with the Forsyth County Health Department to provide music at the Fairgrounds COVID-19 vaccination site from 9 a.m. to 11 a.m. now through March 31. Performers will receive honoraria from The Arts Council's Artist Relief Fund.
"That's all about getting our artists back to work and exposing the arts to new audiences," Law said.
Musicians, like other members of the arts community, have faced economic hardships because of the coronavirus pandemic.
Joshua Swift, Forsyth County's health director, said in a press release that having musicians perform at the county's vaccination site has dual benefits.
"Actually, getting the COVID vaccination itself is simple and painless, but for some people the process is stressful," Swift said. "Having music on site, we hope, will create a welcoming environment while also giving local musicians a place to perform."
Also this year, the Arts Council will focus on drafting and creating a strategic vision and plan for the next 10-plus years.
"That's like a master plan for the next stage of the Arts Council," Law said.